Halloween Sale 2019: Fang-tastic Assignments Coming Your Way with 5% Cashback
25 Oct 2019
1181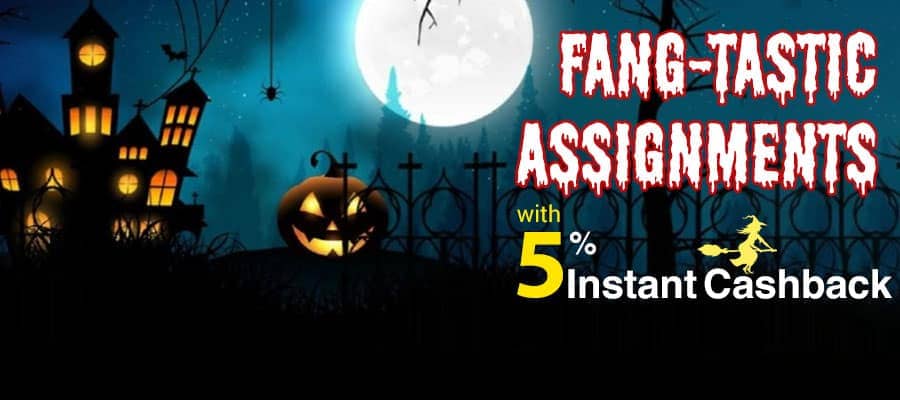 31st October is almost here, and you did not shop for your costume yet. Not just this, even you haven't planned for the Halloween party, and your pumpkin still waits to turn to Jack 'O Lantern. Sad. So less time and so much to do. And to add to the troubles is the piled bunch of assignments that were given to you.

Woah...Woah...Stop Panicking...

Assignment Desk experts bring to you the easiest time-saving methods that would help you write your assignments and make time for the shopping spree. Let's give this a quick read and get ready to add the quirkiness of the festival quick.
Time-Saving Tricks to Write Fang-tastic Assignments
Time Saving Trick 1: Be Ready with the Prompts
As soon as, you settle up with your writing equipment, all you need to do is narrow down the writing domain. The wider the area, the more confusion. So, better keep calm and jot down a few essential things that would help you identify the purpose and the information of the document. Assignment writing service providers share points that would act as writing prompts and help you wind up your work really quick.
1. What does the reader intend to ask in the question?
2. What are the key points that are needed to be covered in the question?
3. What aspects of the topic do you need to include in the question?
4. How to frame the complete assignment?
These are some general queries that would save you time and let you complete your work quickly.
Time-Saving Trick 2: Know the Instructions Clearly
You are here, reading this write up to ensure that you do not miss the deadline. But there is one more thing that you can not choose to miss. The Guidelines!
Yes, the set of instructions your professor shared with you are the most important thing. Do not forget to read it twice. Take care of the following specifications,
1. Font Size
2. Font Style
3. Referencing Style
4. Any Other Major Specification
Make sure you stick to these points to ensure that your professor doesn't get a chance to deduce marks.
Time Saving Trick 3: Research Like a Pro
The experts at Assignment Desk ensure the assignments that are dropped to your inbox are not just well written but have no voids of confusion. Each word that is mentioned in your assignment must have a solid research background. For this, all you need to do is,
1. Pen down all the related information at one place
2. Divide the work according to different sections
3. Keep writing the sources separately to avoid a last-minute rush to writing reference page.
Secret Tip: Compile your research in an orderly way to avoid the last-minute hassle.
Time Saving Trick 4: Have a Simple Structure
You are already running short of time. So, don't waste your time writing the assignments in a confusing way filled with a lot of elements. Instead, fill up your work with clear information placed in a comprehensive manner that can earn you good grades. Easiest cheat trick to do so is,
1. Ask your seniors about the style. Look at their work and see how to structure the information to ensure you get the most of your hard work.
2. Check the samples and see if you can work on it. It is crucial that your assignment is flawless and doesn't compromise with the information.
3. Selecting a structure that could include all the elements of the research is essential.
Skim through a few samples and find a structure that suits your research the best.
Time Saving Trick 5: Divide the Time and Tasks
Maybe you do not have a lot of time to work on your assignments. But in the little time you have, if you use it properly, you can surely come-up with fang-tastic assignments that are easy to understand and can earn you excellent grades.
1. Short breaks are a must
2. Sticking to the plan is important
3. Stringent deadline means more sorted work
Time Saving Trick 6: Add Proper References
Yes, you had to include this in your work anyhow. So, if you have followed the instruction above and have enlisted the resources along with the writing task, then you can save your time here. Else, it is only going to be more difficult.
1. You can use the reference generator tool to get your work done efficiently.
2. If you have listed the references check for the style once and arrange them properly.
Time-Saving Trick 7: Do Re-Read the Document
If you are done with the writing task and are on time, then reread the document at least once to see if there are any errors in the work. In a rush to complete the work quickly, you may have missed a few points or mistakes that would cost you your grades.
(You may be wanting to jump in the market right now, but just a few minutes and you'll be done) When reading your work, check for following errors
1. Structural error,
2. Grammatical error, and
3. Factual error.
Secret Tip: Scanning your documents for better results is essential.
Now that you the trick to save time and write your assignment quick get ready with your shopping bags and enjoy! Still thinking can't work on your assignments?

Well, stop fretting!
Assignment Desk is here to help you. While you wander and enjoy Halloween, the experts accomplish your writing tasks. Easy. And the cherry on the cake is, you get 5% instant cashback on all the orders that you place with us. Thus, you add to your shopping budget a part of your academic budget.
FREE Tools
To Make Your Work Original
FREE Features
Topic Creation

Outline

Unlimited Revisions

Editing/Proofreading

Formatting

Bibliography
Get all these features for
USD 84.3FREE