How to Paraphrase Manually? 7 Steps to Effective Paraphrasing
25 Oct 2021
1815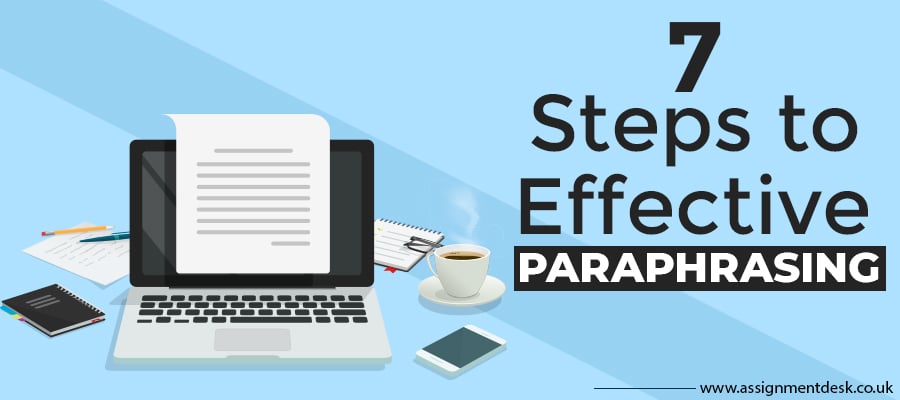 Table Of Contents
Manual Paraphrasing Process Explained by Experts in 7 Easy Steps
Paraphrasing has become a crucial part of every student's life due to its various benefits. Students who are low on time prefer paraphrasing their assignments so they can finish them faster and get over with their work. Paraphrasing is a technique through which you can use pre-existing content without attempting plagiarism. If done well, paraphrasing can even help you score an A+ with your documents. Professors have no issues with you paraphrasing the document, as long as there is no plagiarism found in your work. Copying the content directly is not acceptable.
There are many paraphrasing tools available online to use but not all of them deliver on the promised that they make. Paraphrasing is a delicate task that needs complete precision and should not be taken lightly. There are a lot of students who believe in finishing the paraphrasing task on their own, and if you are also looking for a way to finish the task effectively, you have reached the perfect place.
In this blog by the experts of Assignment Desk, you are going to learn a 7-step process of paraphrasing that is used by experts to finish the task for you in the shortest of time. Make sure you read the blog till the end, as there are so many things that can be of use for you! Without delaying anymore, let's get started!
Why One Should Paraphrase?
There have been a lot of debates related to why one should paraphrase and whether one should do it or not. In each of those discussions, one thing that came out, is that every student is free to use this technique as there is no prohibition on paraphrasing by universities. As far as the why is concerned, there are so many reasons that make this technique beneficial for a student, these are -
1. Saves Time & Efforts
While Paraphrasing, you do not have to work on thinking of answers on your own as you have the base ready for you to use. The efforts are surely less than that of writing a document from the very beginning, however, you still have to apply your understanding and brains to write a paraphrased answer.
2. Helps You Score Well
Since you use a reliable source to paraphrase and frame your answers, you can rest assured that you will score well, as there is no possible way that you could change the quality of the answer. You know that the grades will be good because the previous paper is already published and being used as a reference by thousands of students, including you.
3. Reduces the Risk of Plagiarism
When you use references and citations while working on your document, you have to be precise with the way you credit the original author else, there are always chances of plagiarism making its way to your document. Paraphrasing is different. There is no need to credit any author as you are technically writing on your own, and by framing the sentences.
The list of reasons can go on and on however, these are the common ones that apply to every student irrespective of their course, stream, or subject. Also, these three things clear the reason why students go down the paraphrasing lane. If you have the time, you must do the complete process including researching and framing your answers. If you are running low on time, paraphrasing is a good option.
7 Steps to Paraphrasing Effectively
Now that you are familiar with why students paraphrase and how it works, let's talk about the process that helps you finish your work easily. Paraphrasing, just like any other technique has a set process that one must follow. Students are often unable to get the best results with this practice because they do not follow all the mandatory steps to paraphrase their work effectively, leaving a void in the work that professors never appreciate. Have a look at the seven steps of the process that one must follow without fail -
Step - 1. Read and understand the content that you want to paraphrase. It is really important to understand the crux of what the concepts mean.



Step - 2.

While you read, tick mark the words that are too complicated for you so that you can target them while paraphrasing. You can use a dictionary to find their simpler counterparts.



Step - 3.

Highlight the keywords and topic of the content that you are working on. It is important to know which words you have to keep and which words you can skip.



Step - 4.

Write a rough draft without referring to a book. Just spell out what you understood when you read the paper. Use the simplest words to clear the concepts in your mind.


Step - 5. Match your draft with the original content to see whether you were able to cover all the crucial aspects of the paper. When you read it, you will instantly get an idea of whether it is working or not.



Step - 6.

Include everything that you had missed out on in the past. Your first draft is going to serve as your source for paraphrasing. Enhance that first draft with academic terms to form a narrative.



Step - 7.

Last but not least, match your documents to the original to see whether you have used a few sentences as it is by mistake or your document looks original. It will determine whether you were successful or not.


Students who do not know how to paraphrase must follow the 7-step process as mentioned by the experts. In the beginning, it might feel like a tough task, but it is not if you get familiar with the steps. Also if you thought that you will not have to study before paraphrasing you were wrong as the process requires you to understand everything that you have mentioned in your paper.
These 7 steps are the basic guidelines for paraphrasing. If you find these steps tedious, make sure you read the next section, as it might have something to ease you down.
Can't Follow the Process? Use this Tool to Skip the Steps!
We understand that several students start scratching their heads when it comes to following all the steps as most students who look for paraphrasing are short on time. There is no possible way for them to sit and finish all these steps. If you are one such student, you can skip all the steps and use only one step to get your documents paraphrased in no time with a paraphrasing tool by the Assignment Desk.
It is an easy-to-use tool that functions according to your requirements. All you have to do is copy and paste the content you want to be rephrased, and your task is completed within seconds, all thanks to the advanced algorithm of the tool. Simply, use the tool and get ahead of all your friends with a click!
Both the options are open for you. Either paraphrase manually using the 7 steps, or you can use the tool offered by our Academic writing experts. In both cases, get ready to score an A+!
FREE Tools
To Make Your Work Original
FREE Features
Topic Creation

Outline

Unlimited Revisions

Editing/Proofreading

Formatting

Bibliography
Get all these features for
USD 84.3FREE