Tips That Will Help Media Students to Get a Dream Job
03 Aug 2018
3410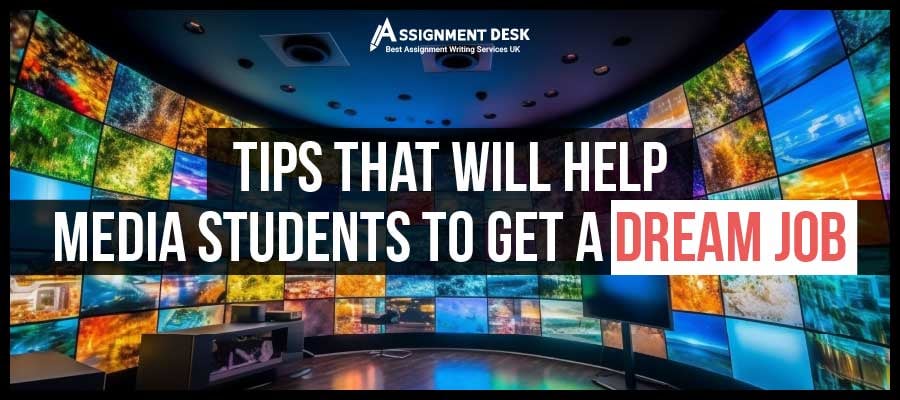 Mass communication and journalism is one of the fastest growing fields today and offers numerous lucrative and interesting jobs to the students who pursue a degree course in the subject. Be it television, blogs, newspapers, websites, PR, social media, advertisements, everything belongs to this sector. Scholars who are studying media are aware that this discipline requires excellent writing skills and creativity. However, they don't realize that it takes more to make a career as a successful journalist or media person.
Our media assignment help team has listed some prerequisites for finding the desired job in this field. Pay heed to these tips:
Get your basics clear
First and foremost point is that every field demands for a lucrative and better job is a strong foundation. So, when you pursue your degree course or diploma, make sure to master all the technical points of the subject. It should not be limited only to theoretical knowledge, but also include the practical aspect as this discipline requires more and writing. In case you are unsure about any point or has a query regarding your course material, do not hesitate to ask your professor for help.
Gain maximum experience
It's never too early to start your internship or part-time job. Nowadays, firms hire candidates who have enough working experience mentioned in their resume and know how to do their job efficiently. After realizing the industry that you want to pursue your professional career in, apply for an internship during your academic years as this will help you analyze your strength and weakness. You will be dealing with real clients, writing blogs or articles for online magazines and newspapers, reporting the latest news alerts to your audiences, etc., which will be a valuable learning experience for you. Remember to save your work, such as graphics, press releases, and other campaign materials to make your portfolio impressive and help recruiters see your capabilities.
Get tech savvy
As the world is embracing the digital world, especially when we talk about mass media sectors, it is vital for you to be a pro in handling different technologies that you might need to work on in your professional career. As a journalist and media scholar, you must jump on the bandwagon and keep the pace with the new digital trends from the first day of your college. Start familiarizing yourself with social media platforms, digital writing, blogging, and image-editing software too.
Make networks
Yes, there are some essential skills that every aspirant journalist must have, but it cannot be denied that landing a dream job is sometimes more whom you know rather than what you know. Get involved with college groups, communities, attend conferences, join online groups, discuss with your teachers, and go to events to meet new people who can advise you and share some useful information with you. You will get to know about firms that you might have never heard of, or meet someone who is interested in hiring you for his company. Also, be part of Twitter chats, group discussions, and follow industry leaders through their social media accounts like LinkedIn to get insights into their journey to the top.
Hone your writing skills
Majority of big brands are shifting towards press releases to inform users about their product and company, but communicators are still required to write flawlessly. An average person's attention span is eight seconds, and as a writer or media person, you must know how to capture readers' attention in such a short span of time. Yes, many media scholars struggle with their writing skills, but they need to ace this art in light of the fact that well-written and precise content paired with brilliant visuals has a greater chance of being read as compared to the one that contains jargons and boring content. Moreover, reporters look for relevant and short write-ups that can be shared more across social media portals.
The fact that media studies are more than merely writing and researching comes as a surprise to many students. However, this field demands regular practice and a broad range of skills to make the learning process diverse, exciting, and ensure constant growth. Follow these tips, and we are sure that you will be able to crack your interview easily and get the desired job in the mass media sector.
FREE Tools
To Make Your Work Original
FREE Features
Topic Creation

Outline

Unlimited Revisions

Editing/Proofreading

Formatting

Bibliography
Get all these features for
USD 84.3FREE