Don't Panic: Last Minute Assignment Tips to Tackle Any Trouble in Submission!
28 Feb 2023
662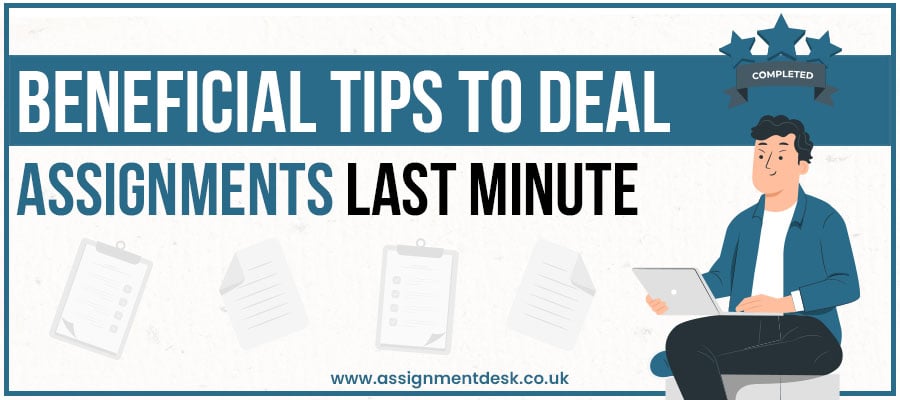 Assignments are an integral part of a student's journey. It plays a significant role in determining their performance. Though many pupils attempt to take their academic tasks seriously, there are times when situations are not in their favour, and they fail to finish assignments on time.
What Should We Do in Such A Crisis?
Pupils have no choice but to complete their papers by hook or crook.
No matter if they have a day or two left, they should put in extra effort to submit.
But last-minute assignment tips in the upcoming section of the blog will make work easy to a greater extent. Before taking an overview of the tricks and hints, it is essential to understand what stops or prevents students from timely submission and what key pointers to observe before submitting the final copy to the professor. Such pointers indicate the reason and motivate a student to work on it the next time.
Get Assignment Help
Preeminent Reasons Preventing You to Submit Assignments On-time!
There are various reasons preventing you from submitting the last-minute assignment to your professor. Here is a list of them.
Procastination
Procrastination is the root cause of being late or missing the deadline. You have an idea of the due date but start late because of your casual attitude. You set a duration and fix the timetable before starting. The time and days that you use to create your calendar have a mix of success and failure. Many of you have a keen knowledge of the subject and can ace the document in a limited time. On the other hand, some students need time for the ideating and writing processes. In such a scenario, it is essential to start working on your assignments as soon as they are assigned or seek last-minute assignment help.
Lack of Time
A student's journey is never easy. It is the stage in life where they must work extremely hard to achieve success. From preparing for their examinations to pursuing their hobbies or giving time to their close ones, they get little time to work on assignments.
It is due to a shortage of time; they do not work enough daily, and consequently, it breaks the flow and consistency of writing.
Unforeseen Circumstances
The future is unpredictable and unforeseen. You cannot imagine what is going to happen tomorrow or the day after that. Incidences—happy or sad—stop you from giving your best. For example, the due date for your assignment is next week, but all of a sudden you have to go on a family trip or attend someone's wedding. In such a case, despite your full dedication, you cannot complete the work.
Poor Communication
Communication with your professor is the key to getting work done quickly. If you are impotent in expressing your ideas and opinions to the instructors, there are high chances of slow progress. Displaying your viewpoint is crucial if you want your educator to be your right hand. It is best to ask your tutor about last-minute assignment tips or questions as soon as the task has been approved.
No Idea of Timeline
Deadlines are an essential factor to consider. There is no point in submitting your work after missing the deadline. So, before you begin working on an assignment, make sure you understand the time frame to avoid any inconvenience or difficulty in submission. Also, remember to stay updated with the target date if there are any modifications or alterations to the old dates.
Lack of Understanding
There will be no curiosity or passion for a particular subject if you are not clear about the fundamentals or concepts. Assignments mean conducting extensive research and understanding every minor aspect in detail. If you lag in studying or in-depth examination of the concept, it can keep you from writing a flawless paper.
It is crucial to consider the above-mentioned pointers or know about last-minute assignment tips next time you start working on assignments. But for the time being, if you are stuck in a situation in which you have to submit the work on priority or are left with no time, follow the tips discussed in the upcoming section.
Stuck with your Assignment?
Hire our PROFESSIONAL ASSIGNMENT WRITERS and
Get 100% Original Document on any Topic to Secure A+ Grade
Get Assignment Help
Also Read: 10 Effective Tips to Write an English Assignment
Last Minute Tips to Acknowledge for Untroubled Assignment Handing-Over!
An hour or a day left before the final submission, and you are leaving an assignment to the last minute?
Do not worry; here are some tips you can follow for on-time delivery. Also, if all of your work is completed, what are the critical factors you should consider to avoid grade reductions?
Start Early
As you are already close to the deadline, there is no solution other than starting early. Wake up early in the morning and start working on your assignment after making a pre-defined plan. Set the duration and divide the time slot for the introduction, body, and conclusion sections. Do not waste any time, and stick to the task at hand.
Take Small Breaks
As enough time is not there, you cannot waste a second, but working on something continuously exhausts your mind and leaves you in a situation of how to complete an assignment at the last minute. Therefore, stay focused and set an alarm or reminder clock at fixed intervals. Taking a break does not mean endless scrolling on social media. Ideally, the rest you take will not be too long, and the recommendation would be to take a deep breath, relax your mind, or chit-chat with your close ones. It will help to enlighten your mood and enable you to focus more.
Stay Hydrated
The human body consists of 70% water; therefore, it is imperative to stay hydrated for freshness. Drink enough water for focus and attention. The consumption of it makes you active, which helps in clearing the task before or on time. Water transfers oxygen to the brain, which allows you to do any activity productively and creatively.
Meditate in Between
If a constant fear of submitting the assignment triggers or overpowers your brain, the best remedy is to meditate or seek assignment help UK. Leave the work you are doing, take a break, and meditate. It helps overcome the fear and anxiety hidden inside. You will feel a change in yourself while working without consciousness or hope. Despite the alarming situation, you can fixate on your goals and ambitions with meditation.
Proofread Properly
If you are ready with your assignment, all you have to do is submit it to the respective authority.
Hold on for dear life. Spend some time proofreading your paper for minor errors such as punctuation, typing, spelling, and grammatical issues. Such mistakes seem negligible but create an embarrassing or negative impression. Re-revise your paper multiple times or seek college assignment help so that there is no scope for errors and the professor does not get a chance to deduct your scores.
Clear Sentences
Clear sentences are easy to read and understand. Furthermore, they create a positive attitude among educators towards you as grabbing information becomes easy for them. They tend to get engaged and find the written information factual and worthy if there are no language barriers. So while overlooking the document, if a particular paragraph does not justify what you are trying to say, make some alterations for proper understanding or take an academic writing service.
Focus on Quantitative Data
Quantitative data forms the heart of your assignment. It forms a crucial part of your argument or counterclaim. A professor will probably read the entire content and focus more on the analytics and figures because that will justify what you have written. It is crucial to analyse tables, diagrams, and data from scratch so that your instructor does not have the motive to deduct marks.
Don't Neglect the Importance of Page Numbers
Even in the assignments, chronology is essential. When you bind pages together, it is vital to mark the correct number to avoid last-minute assignment stress. Sometimes, because of misunderstanding, pages can be misplaced, so it is imperative to jot down the page number on each page, to avoid the problem of connectivity and relevancy.
Stick to Guidelines
Do you know the most vital aspect of writing your academic project?
It is sticking to university guidelines and norms. Your assignment can be exceptionally outstanding and contain solid facts and data, but it is of no use until and unless there is adherence to rules and norms. Therefore, if you have finished your paper, once again check the regulations of the educational institution so that you are sure of your part.
So these are some last-minute assignment tips you should take care of before handing the paper to personnel. If you still get goosebumps and do not know how to handle or tackle the state of urgency or trouble, it is better to seek advice from assignment experts. Learn how Assignment Desk experts avoid the last-minute trap and provide you with a valuable paper.
Need to Consult Directly With Our Experts?
Contact Us
Still, Assignments Are a Strain? Get Expert Opinions!
If you do not desire or want to see yourself in a situation of worry and tension, it is better to seek last-minute assignment tips knowledgeable person. Placing an order with us in advance will guarantee quality. It does mean last-minute orders will not provide you with significant results. We believe in quality, and whether you remind us at the end of the day or a few days before, there will never be anything issued in writing. Time is only a factor to be determined, but for those who have had professionals or experts for years, this does not seem like a burdensome task. Practice and experience over the years have made our writers pros, and even in a time crunch, they curate exemplary papers that meet university and educator expectations.
Order Your Assignment
FREE Tools
To Make Your Work Original
FREE Features
Topic Creation

Outline

Unlimited Revisions

Editing/Proofreading

Formatting

Bibliography
Get all these features for
USD 84.3FREE