The Art of Passive Listening: Definition, Pros & Cons, and Difference
28 Sep 2022
649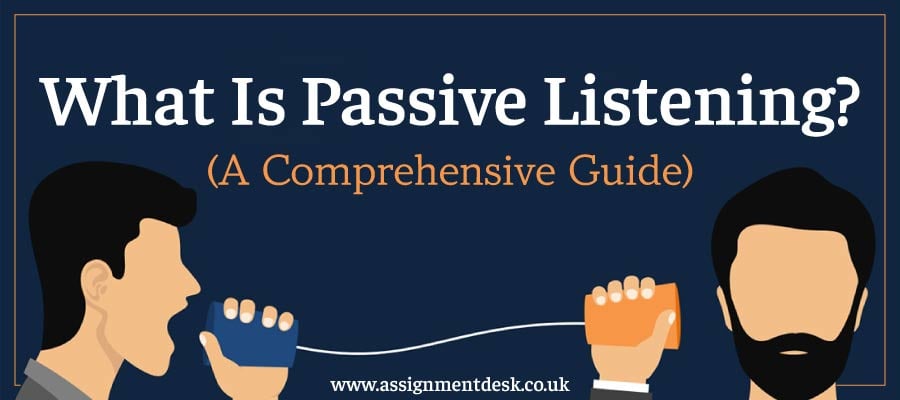 Have you ever talked with someone and felt they weren't paying attention? Although you want them to hear what you have to say, they are just not listening.
Well, it seems that there are several styles of listening. There are two types of listening: passive and active. And among both skills, passive listening is common. In the universities and colleges, passive listening is a widespread skill that may harm both your relationships and productivity. With the help of this blog, we will define passive listening, its pros and cons, comparison with active listening and provide advice on how to communicate more effectively.
What is Passive Listening? A Brief Explanation
It is referred to as passive listening, when someone listens but does not completely comprehend or respond to the information. It can be caused by various circumstances, including distractions, a lack of interest, disorientation, or boredom. Passive listeners are frequently disengaged from the discourse and may forget what was said.
This sort of listener may be unaware that they are not actively participating in the discourse. Instead, they might think about work, the grocery list, or something else.
For example, if you are at a meeting at work and someone is speaking, but you are not paying attention because you are thinking about your to-do list, you are engaging in passive listening.
What Are the Drawbacks of Passive Listening?
Passive listening can be defined as hearing without responding. We are often overly eager to get our thoughts through, which results in our speaking over other individuals during meetings. Passive listening can assist you in overcoming communication hurdles, but it is not without consequences. Let's look at the drawbacks of passive listening to see where it works and doesn't.
Cons of Passive Listening
1. Hamper the Performance
If you are a passive listener, then it can hamper your performance in class. For example, if your professor is explaining to you any academic task or any other tasks, and during that time, you become a passive listener, then you may not be able to complete that academic work with the proper information. As a result, you may face difficulty in completing it.
2. Poor First Impression
One of the most common quotations is "first impression is the last impression". If you are not able to provide the correct answer or you don't answer someone, then it might create a bad impression. Likewise, when the other person wants you to respond, and you are not actively participating in the conversion, it might have a bad impression.
3. Ignore Important Information
Students who do not actively participate in what another person tells might create a big problem. Let's have an example of the disadvantages of passive listening; you have to complete an academic task and not listen to any important information and points. You may not get high marks because you have not included the vital points in the task.
The above stated are the disadvantages of passive listening. To clear all your doubts and questions. Let's look at the table below that provides a great comparison between active and passive listening.
Also Read: 4 Ways in Which You Can Enhance Your Social Skills
Active Listening VS Passive Listening: What is the Difference?
| | |
| --- | --- |
| Active Listening | Passive Listening |
| Active listening is when you react while listening to others. It is done in order to emphasize understanding. | Passive listening is listening to others without reacting or responding to their communication. |
| It involves feedback and questions and two way communication. | It does not involve feedback and questions. It is one way communication. |
| Active listener concentrates to the other person, understand and responds while communicating. Also they remembers what was said to them. | Passive listener's mind may move to the other topics. |
| Active listening is aided by nodding, eye contact, and, if required, questioning. | Passive listening, on the other hand, is characterized by awkward posture, roving eyes, and so on. |
| Active listening is a two-way conversation that includes appropriate replies, indicating that the listener is not just hearing but also understanding what the speaker is saying. | Passive listening is a one-way communication method in which the listener or receiver does not offer feedback to the speaker. |
| In active listening, the listener concentrates on, understands, responds to, and recalls the speaker's remark. | In passive listening, the listener is frequently preoccupied with his or her ideas and does not pay attention to the speaker, just seeming to listen. |
| An active listener will provide nonverbal cues such as a change in facial expression, rolling eyes, indicating interest by inquiring or smiling, and so on. | On the other hand, a passive listener usually shows nonverbal cues such as yawning, glancing around, exhibiting boredom, remaining silent, and so on. |
Do you Need Help in Understanding Passive Listening Skills?
We have covered all the information regarding passive listening and how it differs from active listening. If still, you have a query, are not able to understand the concept or not able to develop passive listening skills, then you can take assistance from the Assignment Desk. We are one of the best academic writing assistance providers. Our experts have vast knowledge and experience in providing the best academic writing services. You can consult them to understand how to develop passive listening skills and proper passive listening meaning. They are subject experts with immense knowledge to tackle all the students' queries. Also, you can ask them to get examples of passive listening. So get a reliable consultation with them and eliminate all the hassles arising in your academic path.
Get In Touch With Us
FREE Tools
To Make Your Work Original
FREE Features
Topic Creation

Outline

Unlimited Revisions

Editing/Proofreading

Formatting

Bibliography
Get all these features for
USD 84.3FREE