Quoting or Paraphrasing? Which One is Better for Academics?
22 Oct 2021
792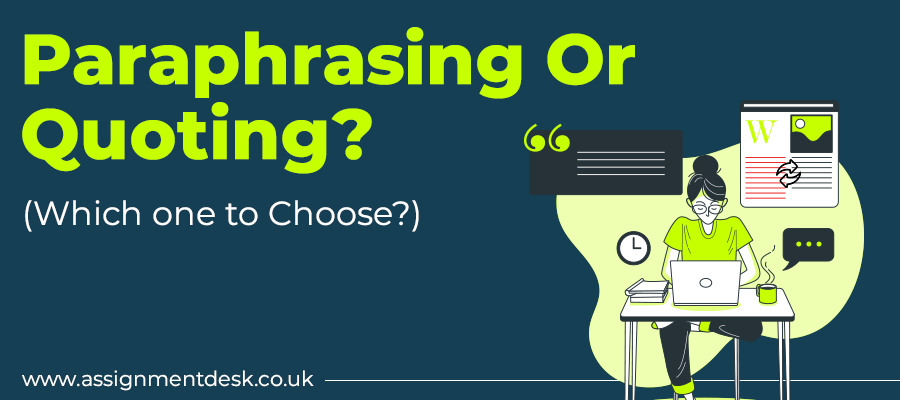 Table Of Contents
What is Quoting & Paraphrasing? Are They Any Different? Find Out Here!

Academic writing is not an easy task to finish. There are so many things that one has to understand, especially in assignment writing. One such concept that students often find difficult to differentiate between is quoting and paraphrasing. Yes, if you have never heard about both of them, you have never actually written an assignment that involves research, which is not possible.
The concepts of paraphrasing and quoting have a thin line between them and often confuse students when they work on the assignment. The confusion occurs due to the terms of usage. In both cases, you work on content written by a different author. They have their differences, but using one has more advantages over the other changes the game for every student who has to make a decision.
In this blog, let's closely examine their differences and understand which one is more vital than the other. We will also look at them as individual concepts so that you can grasp the concepts easily.
What is Quoting? When Should you Use it?
Quoting can be termed as borrowing a few lines or excerpts of content directly from the author. It is a word for word use, meaning you can not modify what has been written or said by the entity that you are referring to. You have to use proper citation and quote signs (" ") to represent that you have quoted the sentence. Using quotes is often vital as it adds more value and relevance to the content that you write. When you are writing about a particular topic, using your time to find an experienced scholar's quote that relates to your own opinion is always helpful as indirectly you can support your claims with that quote.
You should only use it when you are okay with using references and citations. Quoting someone without crediting them might lead to plagiarism, and that is why students always find it more of an extra effort to find a related quote and then add references to it. The best use case for quoting is when you are writing a paper or a literary analysis as you will have to keep your audience's attention on the things you are discussing, and for that, you have to present the quote as it is.
What is Paraphrasing? How does it help?
Paraphrasing, on the other hand, is a technique to convert pre-written text into original and unique sentences. It is a way to finish your document faster without research, as all you have to do is take a source and change the sentences to spin the content without directly copying them. A lot of time, students get to know that their documents have plagiarized sentences that they can not submit. To change them and remove plagiarism from the document, students use paraphrasing tools that spin the sentence without changing its meaning.
It is a really helpful tool for students as it helps them to stay ahead of their confidence. There are times when you can not use quotes from a source as it is not allowed, but you still need to display the information that you have found in the research, as it is really helpful for you. In that case, paraphrasing quotes can be the solution as now you do not have to put that information in quotes. Paraphrasing is not direct copying as a student puts his efforts into finishing the document. If you are working with an established source or a published author, you must cite your source with paraphrasing.
Which is Better? The Moment of Truth!
A lot of students often get confused as they have both options open to them. Some will say that it is easier to quote and get over the risk of plagiarism while others support paraphrasing as it helps them grasp the idea behind the sentences and use them to their full potential. While both of them are correct in their stances, the majority of students choose to paraphrase. That is because it is more effective, impressive, and above all easier to finish.
There are various tools available in the market that not only help you paraphrase but also ensure that the content stays plagiarism-free. Also, the applications of paraphrasing go beyond quoting as quoting is just limited to directly using a sentence or two from a source, but paraphrasing is used to grasp the gist, convert the sentences, and most important, remove plagiarism.
All in all, in the comparison of both based on applications, definitions, and functionality, you can say that paraphrasing is better than quoting a sentence. The biggest plus point that goes in its favor is the fact that there are professional tools available to help students complete the process without breaking a sweat.
Need Assistance With Paraphrasing? We Can Help!
Knowing the perks of paraphrasing, you might have an urge to start implementing the technique in your documents. As simple as it sounds, the process of paraphrasing effectively requires a student to put in a lot of effort. Manual paraphrasing is tougher than actually writing original content. We at Assignment Desk understand the limitations of students, and that is why we have brought in a smart paraphrasing tool that is free to use and finishes your task in a flash.
You can easily log on to the tools section and find the tool to finish your task effectively. In case you d not have enough time to generate the paraphrased content yourself or you do not want to rely upon tools, you can ask our experts to finish the task for you manually. They have an excellent command of writing original text by referring to your desired resource. In all cases, we are always there to assist you with your work.
This marks the end of this blog. We hope you might have understood the basic differences between quoting and paraphrasing. Good Luck!
FREE Tools
To Make Your Work Original
FREE Features
Topic Creation

Outline

Unlimited Revisions

Editing/Proofreading

Formatting

Bibliography
Get all these features for
USD 84.3FREE