Samsung PESTLE Analysis
05 May 2022
1657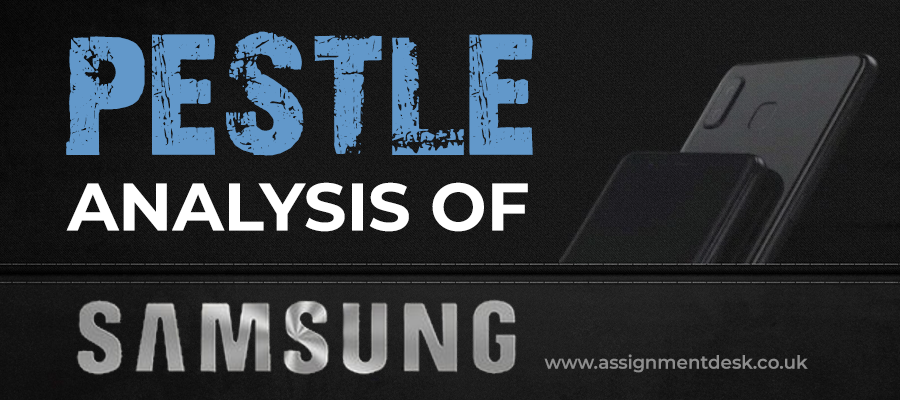 Table Of Contents
Nowadays, gadgets have become one of the most essential accessories for most people. As an integral part of the modern world, your gadgets act as your navigator, personal assistant, and entertainment source. If you are also a fan of gadgets, this blog is going to help you. This covers a complete guide to the South Korean multinational electronics company, Samsung. So let's dig in to learn about Samsung PESTLE analysis.
Introducing SAMSUNG: A Design Powerhouse of Electronics
Samsung is one of the world's largest producers of electronic devices and is a South Korean-based company. Samsung is specialized in the production of a vast variety of consumer and industrial electronics, which also includes appliances, digital media devices, semiconductors, memory chips, and integrated systems. Samsung has become one of the most recognizable names in the technological world. It produces about a fifth of South Korea's total exports. However, Samsung is one of the most famous companies because of its quality smartphones and other electronic accessories. Below mention are some of the points that provide clear insight in the startup of the multinational electronic company Samsung.
In the early days of its establishment, Samsung used to sell noodles and some of the other associated products. Noodle production started as noodles are a traditional food in Korea.
Samsung is very focused on the creation of the most possible equipment in-house. According to a survey, it is noted that Samsung produces almost 90% of its goods.
Samsung is a world-wide company; so, its manufacturing and brand are covered all over the world. Samsung is a company that employs a huge 4,89,000 employees in approximately 79 countries.
The word "Samsung" is a Korean word. It is said that in Korea, "Samsung" means "three stars," which means "powerful, big, and giant."
Samsung has contributed between 17 and 20% of South Korea's GDP. Samsung is the number one company that earns revenue for South Korea.
Samsung was the first electronic company to introduce a phone with CDMA technology.
PESTLE Analysis of Samsung
There are many ways in which one can be able to analyze the workings of the company for the purpose of tracking growth. To track a company's growth, one can easily pick from external factors, internal factors, competitors, markets, and much more. All of these factors are picked to graph a chart of the company's growth and success.
Let's dig into PESTLE ANALYSIS SAMSUNG
For a successful organization, political stability plays a vital role. An organization thrives if the major political factors are conducive to its operations. Samsung has faced some minor issues in India. On the other hand, it faced some political pressures in African and Latin American countries. Currently, Samsung has faced major drawbacks in its home country, South Korea. The reason behind this is the country's strained relations with North Korea.
The economic crisis is one of the factors that can adversely affect the consumer's disposable income. Economic factors drive Samsung to expand profitable ventures in emerging markets.Some of the serious implications for Samsung's financial health are due to the high volatility and constant fluctuations in exchange rates.Despite this, Samsung was able to survive the Korean economy's crisis.Samsung earned approximately KRW 200.7 trillion, even when Korea was facing higher household debts. Therefore, these companies are affected by the economic conditions that also have an important impact on the economy as they hire thousands of employees.
The social factor contributes to the variation of customs, traditions, and practices that exists among various groups. One of the major differences in socio-economic standing has an effect on product demand as well as people's willingness to work. It is a worldwide electronic corporation that has successfully implemented its global thinking and local action philosophy. It accepts the fact that corruption can have bad repercussions for the company's brand image.
In today's technical world, branding is one of the best ways in which you can communicate with your audience. Thus, branding plays a vital role. Consequently, Samsung, being a technology organization, has been able to drive innovation as an advantage. It is a company that launches innovative products into the market. It also makes use of a variety of digital technologies for the marketing of products as well as establishing great customer relationships.
Previously, Samsung has had to face a lot of heavy penalties for its alleged imitation of Apple's iPad and iPhone. This issue led Samsung to take a beating as far as public perceptions and consumer approval of its strategies are concerned.
Samsung is aware of the needs of its products and is making its products to satiate the ethical consumer. They face the rise of the ethical consumer who wants brands to source and make their products in a socially and environmentally responsible manner.
Incomprehensible to Samsung PESTLE Analysis? Talk to Experts
The above-mentioned analysis explains that the Samsung PESTLE Analysis has its task cut out for itself. It navigates the faithless global consumer market landmine. Samsung is one of the organizations that will be standing tall in the smartphone business. With the help of the best quality and great customer support, it became one of the most successful and recommended companies across the world. Due to its new innovation, features, and techniques, this giant is becoming more gigantic. During the time of going through this PESTLE Analysis of Samsung, if you have any queries, you can easily reach our Assignment help experts. Our experts will solve your every query and provide you with great assistance. Given below are some of the reasons why Assignment Desk is one of the great choices for students:
We provide 24*7customer support service.
We meet all the deadlines.
We provide free Plagiarism report.
We provide quality content.
We aim to offer Plagiarism free content.
FREE Tools
To Make Your Work Original
FREE Features
Topic Creation

Outline

Unlimited Revisions

Editing/Proofreading

Formatting

Bibliography
Get all these features for
USD 84.3FREE