11 Trending Topics to Score A+ in Your Next Digital Marketing Assignment
04 Apr 2019
3311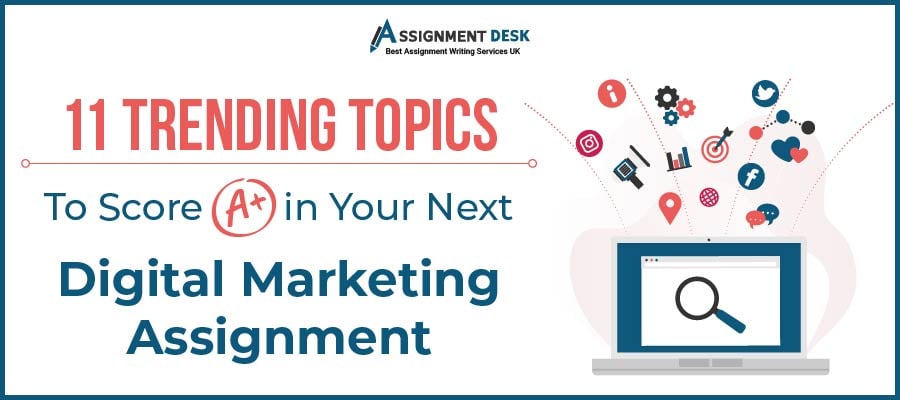 Amazon knows exactly what you want.
Flipkart shows products according to your previous choices and so does many other apps. Interesting, Isn't It???
Well, it is just a marketing strategy. This is how far digital marketing has come to. A lot of students choose to pursue a course in the subject for a promising future and the scope it has to offer. Framing an assignment on the subject often feels confusing. Reach to our digital marketing assignment help providers who can help you write an interesting document in no time.
Here they have listed some very interesting topics that can help you get interesting grades and enhance your knowledge.
1.Artificial Intelligence
Artificial Intelligence has played an important role in confining the world in a box. Not only it has marked its significance in the conventional IT industry, but also in the not so conventional advancing industry. For digital marketing assignment, you can consider the topic and talk about how it tracks consumer behavior and search patterns. Also, you can talk about the further advancements the technology has to offer to online marketers.
Tip: A little research of the topic can help you come up with some future technologies, that can form an interesting assignment and help you score the highest grades.
2.Programmatic Advertising
This is almost an application of artificial intelligence but has earned itself great importance in the digital marketing industry in recent years. It is majorly used for real-time bidding and auctions. Frame an interesting digital marketing assignment around the topic and impress your professors easily.
Tip: Find some statistical data related to the subject and how it has been influencing the digital trends. It would add an extra element to your document and reflect how well you have researched on the topic.
3.Chatbots
These are other interesting elements that digital marketers need for their business. The real-time instant messaging chat bots prove how important customers are for your business. Also, it marks the presence of the business in the digital domain all the while. When writing your digital marketing assignment you can talk about different chatbots and their advantages and disadvantages.
Tip: Talk about the latest chatbots and how the marketers are implementing those in making a strong digital identity.
4.Personalization
Talk about why is it important to personalize the services and how it can be done. When writing your assignment use examples of the leading companies that have excelled in impressing the customer base with the trick. It would be interesting to involve real life stuff that can help you deliver better results.
Tip: Involve interesting products and discuss them and their significance for the marketers. Using real-life examples would make your document interactive and intriguing.
5.Video Marketing
Another trending topic that is running the digital marketing scenario. When framing an assignment on video marketing talk about the video quality, lengths, matter, and tone. Also, you can discuss some of the best video marketing techniques and the videos that have made a significant influence in the domain.
Tip: Discussing different techniques to reflect perfect videos that convert would impress your professor and help you ace the grade game.
6.Influencer Marketing
Talking about Influencer in your digital marketing assignment may sound cliche but if done inventively it would look interesting. Influencer marketing is a big thing that experts in digital marketing recommend.
Tip: When you talk about influencer marketing, it is important that you clearly reflect its difference from affiliation marketing as many confuse between the two.
7.Social Messaging Apps
When working on the digital marketing assignments make you frame an interesting document on the smallest elements of the subject. Social messaging apps are one such element. Make sure each time you discuss these veteran topics, you mention how they have evolved over the year.
Tip: When you mention social messaging apps in the document make sure it does not talk about their usage but their importance in the field.
8.Visual Search
Visual search is one of the trending topics that has impressed the digital marketers around the globe. It has made the search process easier and more interactive. When you decide to work on your digital marketing assignment writing task just go through the latest advancements of the topic and frame it in an impressive manner.
Tip: Visual search is a very interesting topic to explore. Discuss how the technology is helping the marketers to reach to a better customer base.
9.Micro-Moments
It is important that the documents you have worked on are quite interesting and talk about all the interesting elements that help digital marketers build their identity in the domain. Also, it is important that the assignment that you would submit to your professor not only deals with the technology in the present day but also about the future it offers.
Tip: Micro-Moments is one of the latest advancements in the field of digital marketing. To ensure you prepare an informative document on the topic, it is important you go through technical research as well as other aspects too.
10.Voice Search and Smart Speakers
"Alexa, what's the time now?"
Smart speakers and voice search have influenced the marketing industry at a significant level. With all the things considered and people relying on technology a lot, it is important that the work that you want to accomplish is supported by it. The digital marketing experts suggest that using the topic for your assignment can help you deliver a world-class document.
Tip: Stay updated with the latest trends and research thoroughly when working on the topic as it has a large ground to offer for your assignment writing task.
Here's a blog listing most effective tips for formulating a successful Digital Marketing Strategy.
Woah...
Interesting Topics These Are, Aren't They???
While working on your digital marketing assignment writing task, make sure you leave no stone unturned. Let technology extend its bits of help to you to prepare some interesting and unique documents that too in the trending topics of the subject. If you want an assignment on any of these topics or have a topic of your own, you can always reach to us and we would be more than happy to help.
FREE Tools
To Make Your Work Original
FREE Features
Topic Creation

Outline

Unlimited Revisions

Editing/Proofreading

Formatting

Bibliography
Get all these features for
USD 84.3FREE