Quarantine Tips: 9 Ways to Improve Your English Writing Skills During Lockdown!
28 Apr 2020
754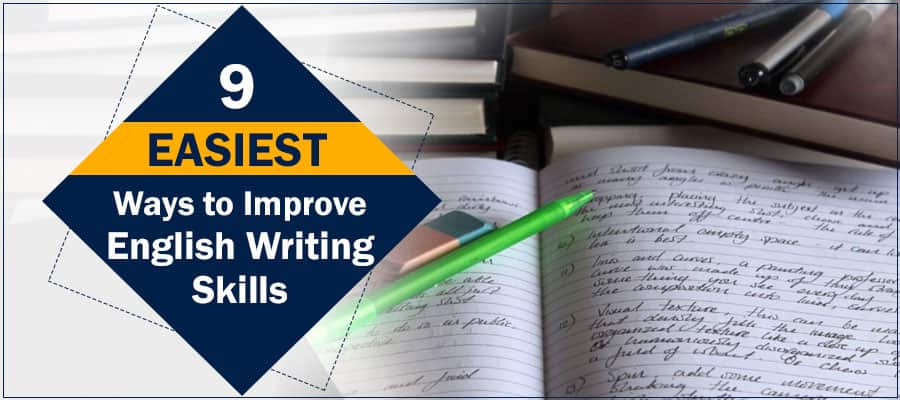 Table of Contents
Introduction
Let's eat, grandpa
I like cooking cats and children
I like cooking, cats, and children
The above two examples clearly indicate the importance of comma(,) in a sentence. Here, the proper usage of comma has saved lives. Similarly, proper usage of punctuation, spelling, grammar, etc., can save your academic grades.
Hello, UK students! Welcome to another informative blog. This time the experts providing English homework help have come up with some interesting yet effective tips for improving English writing skills easily. Thus, the time has arrived to break the shackles of boredom while quarantined and learn the art of mastering the subject. Grab yourself some snacks and continue scrolling the page further.
EASIEST English Writing Tips (2020) Are Ready to Make Your Lockdown Days Interesting!
Do you struggle to write English homework answers? Do you possess poor command on the language? If the answer to both the question is 'YES' from your end, then the time has come to end your worries. All you have to do is practice the tips mentioned below while maintaining social-distancing. Furthermore, the best thing about these tips is that they are tried and tested by the English homework helpers. Without much ado, let us raise the curtain from the techniques.
English Writing Is an ART & You Can Be the Next ARTIST!!!
9 Helpful Tips for Improving English Writing Skills EASILY:
Read, Read & Just Read- If Science is to believe, then listening is related to speaking. Similarly, writing is related to reading. Therefore, try being an avid reader. Read plenty of books, articles, academic journals, blogs, newspapers, etc. This tip will prove to be one of the best effective ways to write English homework assignments easily as you will gain a plethora of knowledge regarding vocabulary, sentence structure, grammar, to name a few. For instance, if the professor has assigned you to write a summary as a homework writing task, then it would be a good approach to have a glance at some summaries written by others. Hope the first tip is clear to you.
English Dictionary Is a Must: According to the professionals providing English homework help, a dictionary is a vital tool that can help students in drafting a paper rich in vocabulary. Keep a dictionary with you and refer it when you see or hear a new word. Clarify the meaning of the word & repeat it several times until the word becomes familiar to you. Try structuring 1-2 sentences using the word. In case you find it difficult to keep a physical dictionary, then consider using an online dictionary available on various English homework helper app
Write Something Each Day: The academic discipline is well-grasped when you 'practice' grammar rather than you decided to just 'study.' The fundamental concepts of grammar, such as tenses, active & passive voices, direct & indirect speech, are easier to learn when you practise writing. Make it a habit to write at least one page in a day. Choose a random topic and write whatever that comes in your mind. Furthermore, select the best time of the day and the right place to become a writing maniac.
Conquer the Art of Elaborating Sentences: "Who can do my English homework?" is a common question which comes in the mind of the students when they fail to meet the word count. If you also the one struggling to meet the word limit, then learning the art of expanding sentence is something which you should not miss. In general, there are 5 types of sentences structure:
Subject-Verb (Tom studies; My friend is writing)
Subject – Verb – Object (I love grapes; Many play soccer)
Subject-Verbrb – Adjective (Henry is smart; Julia is pretty)
Subject-Verbrb – Adverb (He speaks fluently; These grasses are everywhere)
Subject-Verbrb – Noun (My father is a doctor; You are a teacher)
Now here are some examples of how you can expand the sentences:
Tom, my brother, studies at the library. My childhood friend is always writing.
My father, who holds a doctorate degree, is a well-known doctor.
Simple, isn't it?
Learn Paragraph Structuring: The English homework writing help experts explain that an organized paragraph not only clarifies the meaning but also doubles the chances of scoring an A+ in your English homework sheets. Begin the paragraph with a topic sentence,e., a sentence which illustrates what is your paragraph all about. Follow with supporting sentences, i.e., sentences consisting of arguments for backing the topic sentence. At last, finish the paragraph with a conclusion sentence; a sentence which summarizes the whole paragraph. Learning how to make paragraph transitions will be a cherry on the cake after grasping command on this tip.
Listen to English Songs & Translated Them: This tip, recommended by the online English homework helpers, may sound weird to you but if practised effectively, it can do wonders. Plug-in your earphones and listen to English songs. Repeat the lyrics loudly and try to translate the song into your own words. This approach will help you kill two birds with a single stone- first, it will make you familiar with new words, and second, it will bring fluency in your writing skills. So, what are you waiting for? Start playing your favourite song NOW!
Learn English Spelling & Confusing Words: "Can you write my English homework?" is the common query our experts receive from students who fail to impress their professor. Well, the reason is simple; viz., they often commit spelling mistakes and use incorrect words. Are you also confused between the words- there, their, they're? Do you write 'tommorrow' instead of 'tomorrow'? If 'yes' is the answer to both of the questions, then start learning English spelling and confusing words. You can use the Internet or a grammar book for help.
Ask Elders for Help: Need help with English homework? Try asking your elders for editing your drafts. It is always a good technique to get your writing edited by a person who is fluent in English. Doing so will undoubtedly, improve your writing. Also, seeking help from others will provide you with creative and innovative ideas to express your arguments differently. Moreover, pay heed to the flaws in your writing and leave no stone unturned in rectifying them immediately.
Maintain an 'English' Diary: The writers of one of the best English homework help websites are advising you to keep a diary in which you can write grammar rules, new words, phrases, idioms, etc. Obviously, you cannot memorize everything which you read, and thus, it is important that you take short notes and compile them in a diary. Also, referring to a diary is easy rather than trawling through multiple sources for revising the concepts. Hurry up! Time to take notes has arrived.
Summing Up All!!!
The best tips for improving your English writing skills during lockdown must be known to you. However, in case you fail to practise the techniques and need urgent English homework help, then the professional team of Assignment Desk is just a few clicks away.
Who Can Provide English Writing Help in UK? Here's the Answer!
Assignment Desk, the No.1 English homework assignment in UK, is the perfect platform to get your writing worries killed. The website is the home to the highly skilled and experienced English homework writers, researchers, editors, quality analysts, and proofreaders; who are proficient enough in delivering a flawless piece of paper. Rated 4.9/5, the online platform is trusted by 3 out of every 5 UK students for English homework answers. Here are a few guarantees, which we offer to the students:
100% Plagiarism-Free Document
Cheap English Homework Help
Refund Policy
Timely Delivery
24*7 Customer Support
Need help with English homework? Visit the website and place your order!
Read all about dealing with Writer's Block in this blog and never hit the wall again.
FREE Tools
To Make Your Work Original
FREE Features
Topic Creation

Outline

Unlimited Revisions

Editing/Proofreading

Formatting

Bibliography
Get all these features for
USD 84.3FREE