Contemporary Issues In Nursing Practise and Study: 10 Untold Secrets
29 Jul 2022
6508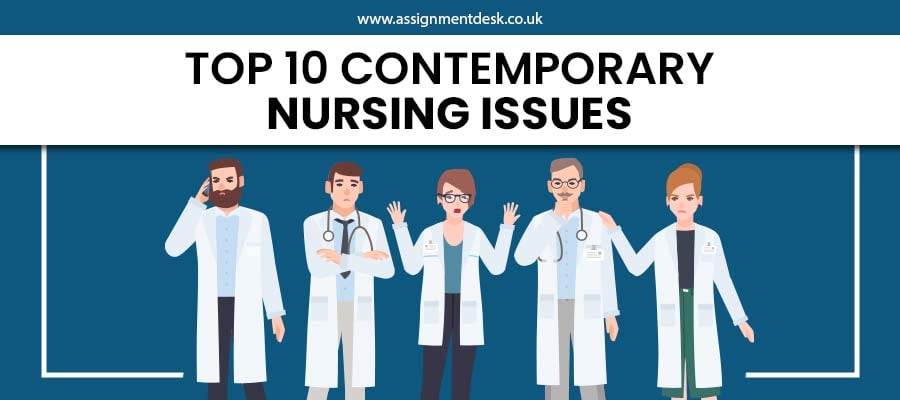 It is Not Easy to be a Nurse
Being a nurse is no less than being in the army. A nurse also has to be at the forefront, risk their lives and save people like an army. It is a service to the nation. Apart from taking risks, nursing is a stressful profession also.
A nurse has to be responsible for a variety of tasks, including reporting to various departments at the same time, assisting with operations, updating documentation, helping patients, helping doctors and more. Although after going through the pandemic, the world has witnessed the vitality of the nursing profession. We all have understood the thing at the core that, practitioner nurses, midwives, manager nurses, anaesthetics nurses and home-based nurses, the whole nursing department is the backbone of the health care industry.
Still, many contemporary nursing issues make it difficult for nurses. This blog will point out some of those obstacles in the nursing study and practical training and some tips to handle them as a nursing student as well as will discuss about contemporary issues in nursing UK.
Need Personalised Assistance from Our Experts?
Share Your Requirements via Whatsapp!
Chat Now
Contemporary Nursing Issues
1. Insufficient staff
A lot of nursing graduates and diploma holders enter the nursing profession with open arms but because of the scarcity of potential instructors, a high percentage of turnover, and an unequal distribution of the workforce, the nursing profession continues to have shortages.
In fact errors, increased morbidity and mortality rates, and nursing shortages are all interrelated. Patients have greater death and failure-to-rescue rates in hospitals with high patient-to-nurse ratios, and nurses in these facilities report feeling burned out and unsatisfied as compared to hospitals where there are higher no. of nurses for patients.
2. Assuring Patient Satisfaction
Patient expectations regarding healthcare can be very high and difficult for nurses to meet during their shift due to a lack of time or resources (such as staff). For patients to get the best care possible, nurses must have time on their hands so they can give them what they need when they need it most. Patients go through physical and mental issues being in the hospital and nurses have to be superhuman, emotionally intelligent and physically active all the time. Therefore nurses also need to be well-rested to deliver high-quality care each day because fatigue can negatively affect their ability to do their job properly and safely.
Tip1: As a nurse, take your mental and physical health seriously, do not ignore the signs of fatigue and get fit.
3. Horrendous Working Hours
The majority of nurses work shifts that are more than 50 hours per week and some even work shifts longer than 72 hours per week! Patients expect their nurses to do their best to meet their needs and meet them on time too. This means working long hours outside of their normal routine unless it's an emergency where they need immediate medical attention. Some nurses have revealed the fact sometimes they don't even have time to eat lunch or get a washroom break for hours.
Tip2: Meditate and exercise to take the burden off your shoulders for minutes at least.
4. Delivering On Seniors' and Peer's Expectations
Being a nurse is also part of a big team. Nurses have to be at the receiving end of advanced training, daily learning, healthy criticism and feedback regardless of their knowledge and experience. Nurses also have to coordinate with busy doctors to provide timely and accurate care to ailing patients. In the ICU and delivery rooms, nurses are the right hand of doctors and surgeons. Human errors are inevitable parts of any profession, but in nursing human errors are not acceptable. Hospital management keeps nurses accountable for any error small or big. A nurse has to be alert 24X7. Also, it's difficult to deliver on seniors' and peers' expectations all the time because seniors and pressure are handling an equal amount of pressure at the same time. So a nurse cannot be argumentative or bossy at all.
Tip3: Maintain a positive attitude towards your job, praise and appreciate your peers and learn from seniors.
5. Violence at Work
Violence against nurses can take many different forms, from verbal abuse to something slightly physical in most cases unintentionally by patients. The constant risk of mental or physical abuse and contemporary issues in nursing in the healthcare context contributes to the nursing shortage by escalating an already stressful workplace. Physical and emotional abuse has a significant impact on the healthcare professional's physical and emotional wellbeing, which in turn affects their job happiness and productivity.
The patient demographic in emergency rooms and psychiatric hospitals puts nurses there at a higher risk. According to a study by WHO, between 10% and 40% of healthcare professionals had experienced some form of physical abuse at some point in their careers. Despite the rarity of these incidents, nurses have to undergo intensive training to ensure that they are ready for them when they do arise.
Also Read: What To Mention In Your Nursing Assignment To Make It Perfect?
6. Hazards at Work
Nurses have to handle sharp needles, heavy tools and complex machinery at the hospital and they are always on their toes. Therefore potential workplace hazards are inevitable parts of the job. Sometimes the floors are wet, stretchers and wheelchairs are on the way and nurses are in hurry. So to avoid these hazards nurses are provided with appropriate uniforms and are trained to handle any type of workplace hazard. As nurses have an added responsibility to keep their staff and patients safe from accidents.
Tip4: You have to be responsible and accountable for the job.
7. Personal Health
From working on a holiday, and seeing the death of a patient to working with sore feet and backache for 24 hours long. Nurses have seen it all. But that does not mean that nurses ignoring their health should be appreciated. Nurses are primary health care providers for patients. So, they have to be fit to keep us fit. Taking a dip in personal health while studying and practising can have very serious consequences. It will hamper the strength to learn further and grow as an individual.
8. Gaining Theoretical Knowledge
Acquiring sufficient medical knowledge, in theory, is also essential in the nursing profession. We are all aware of how difficult it is to learn medical science. To pass nursing entrance examinations and study such challenging courses, a student must be better than average. Many general students are terrified by the idea of cutting a frog, which can be a part of the special training required of nursing students.
9. Exams Plus Practise
Apart from tough physical, mental, instrumental and practical training nursing students also have to prepare for their exams. Nursing students have to face a lot of competition to get into internships at the best medical college and hospitals. Nursing is a fiercely competitive field from the time you apply to the time you obtain your degree.
Tip 5: Do not study alone, get academic help from experts, peers and seniors.
10. Lengthy Assignments
Being a nurse, there is a lot to study and learn, the exams are difficult, the schedules are complex, and the assignments continue to pile up. And we all know that college assignments are compulsory to complete to get a nursing degree in hand. Apart from medical and nursing training nursing students got to witness the full dimension of human emotions like witnessing birth to death and it's not easy to see all of this as a teenager. As a student, all of these variables can make life difficult.
Also Read: Nursing Essay Writing Secrets Revealed! Quick Guide for Winsome Arguments
Stuck with your Nursing Assignment?
Hire our PROFESSIONAL ASSIGNMENT WRITERS and
Get 100% Original Document on any Topic to Secure A+ Grade
Get Assignment Help
How Assignment Desk Can Help in Completing Nursing Assignment
Apart from the aforementioned points, many factors can cause problems for nurses, and there is no way that all the issues can be solved. Students have to be fierce to face several contemporary nursing issues. However, there are some things that you can do to help yourself and others in your work being a nursing student Get Academic Assignment help and nursing essay help from Assignment Desk UK.
Assignment Desk is the best Nursing assignment writing service in the UK. We understand the contemporary issues in nursing student has to face therefore, we provide 24X7 help chat for nursing assignment help. We can complete your pending nursing assignment on time and according to your requirements. Our nursing PhD experts can help you solve all your nursing assignment queries from scratch. 100% customer satisfaction and 100% original work is our guarantee.
Let Us Help With Assignment
FREE Tools
To Make Your Work Original
FREE Features
Topic Creation

Outline

Unlimited Revisions

Editing/Proofreading

Formatting

Bibliography
Get all these features for
USD 84.3FREE