Driscoll Reflective Model | How to Include It in Your Assignment?
27 Jul 2022
33288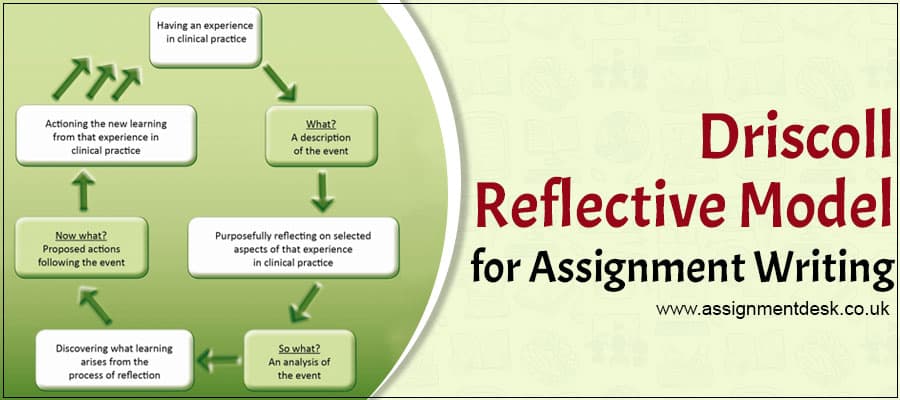 "Bella was sitting in the waiting hall when a patient approached her. He was their regular patient, Mr Mark, who was suffering from Asthma. Mr Mark said that he recently found out about a new treatment online and was enquiring whether he could be prescribed for that. Bella politely replies that she wasn't aware of this treatment, and thus, for the time being, it is better that he continued his current medication."
What would you do if you were in her situation? How would you deal with that particular patient? Will you be able to tackle the problem better than Bella or worse? Are these questions revolving in your mind? If yes, then the reflection is the tool you need right now!
Students pursuing nursing education or undergoing clinical practices use reflective models and tools like reflection. They help them demonstrate their everyday learning and are helpful in processing thoughts after any critical incident.
If you are also pursuing nursing, you should read this blog until the end to learn about the Driscoll reflective model, one of the most popular reflection cycles. Let's get started…
Need Personalised Assistance from Our Experts?
Share Your Requirements via Whatsapp!
Chat Now
What is a Reflection and Reflective Models?
A reflection is a tool used extensively in health and social care. It is known as the reviewing experience of the practice, where students describe, analyze, evaluate, inform, and make changes in their future practices. In simple words, reflection is looking into the actions of the past. And, based on that, taking and modifying the changes for the future. It is thus, known as user experience for growth.
Reflection uses a framework of 5R's for deep and purposeful thinking. They are reporting, responding, relating, reasoning, and reconstructing. One can easily use this framework to reflect their experience on any particular incident. Now, there are many more models which are used for reflection purposes, such as:
Gibbs Reflective Cycle
Kolb Reflective Cycle
Schon Model
Rolfe et al.'s Framework for Reflexive Learning
John's Model for Structured Reflection
Atkin's and Murphy Model
Brookfield Model
Mezirow Model of Transformative Learning
Driscoll Model of Reflection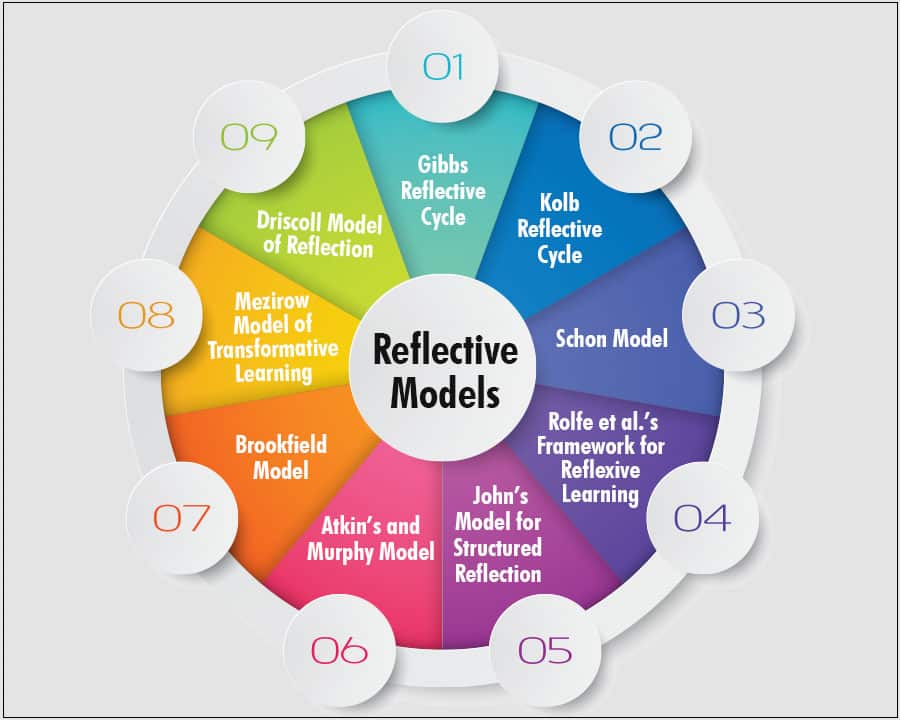 Among these, the Driscoll model of reflection is the most popular. So, we shall look into it in the below section.
What is Driscoll Reflective Model?
Driscoll's reflective model, as the name suggests, is a model used to reflect on something. This is one of the simplest models used to remember in any nursing practice. This was developed in 1994, 2004, and 2007 by Driscoll, after whom this model is named.
This model includes three phases of the experimental learning cycle. The three stem questions inspire these three stages asked initially by Terry Boston in the year 1970. They are: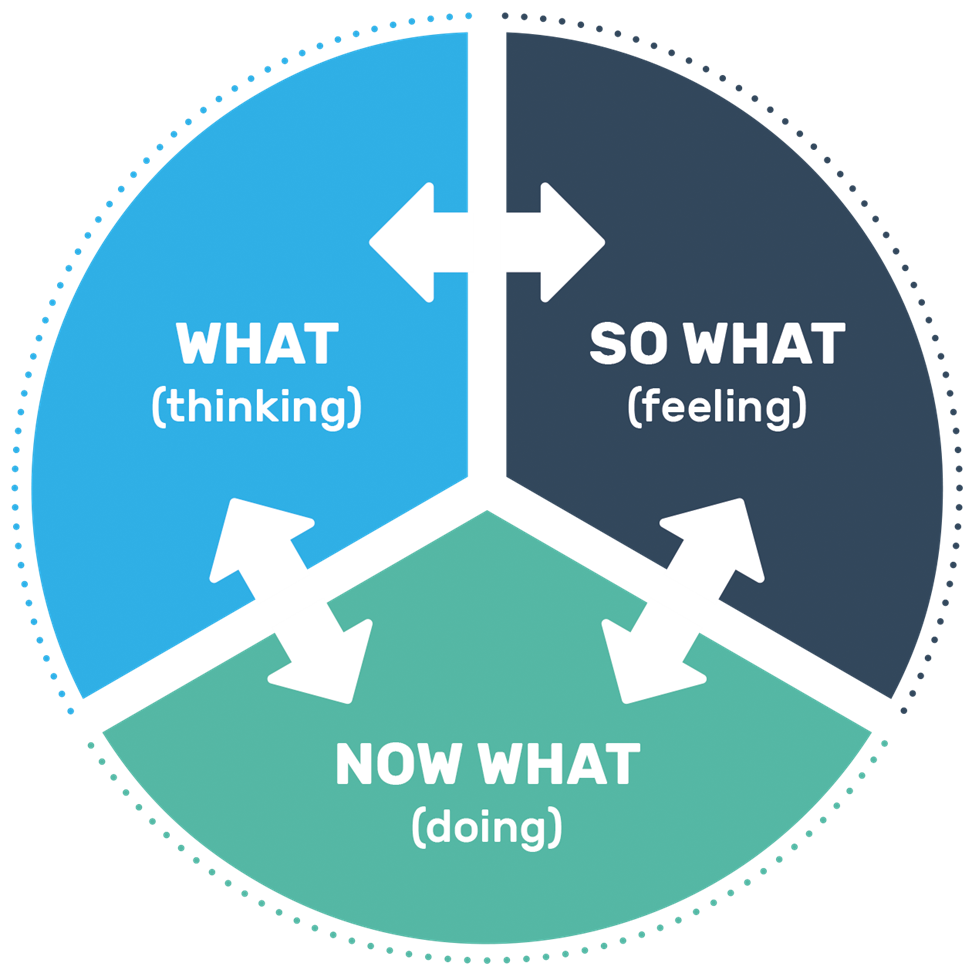 Now, we shall look into each of these questions in detail:
1. What?
'What' is the first stage of this process. It is the stage where you describe the major incident. It again covers the following points:
What happened?
What did you observe?
What was your reaction?
What is the addressed issue?
What is the purpose of recollecting this situation?
2. So what?
It is the second stage of the process. Here, you analyze and understand the context and the situation. Here, you focus on the below-mentioned points:
Did you clarify an interest?
Did you learn any new skills?
What did you like about this experience?
What did you dislike about this experience?
What are the troubles you faced if any?
3. Now what?
This is the last stage of this process. Here, you represent the proposed actions after the occurrence of the incident or experience. This raises questions like:
What are the root causes of the addressed issues?
How to apply this learning through your experience?
What do you need to face a similar situation like this?
What should you do to alter the situation?
What will happen if you do not alter anything?
Now, this is all about Driscoll's reflective model. Are you wondering what about assignment writing? Then, move to the below section to know how to include this model in your assignment.
Stuck with your Assignment?
Hire our PROFESSIONAL ASSIGNMENT WRITERS and
Get 100% Original Document on any Topic to Secure A+ Grade
Get Assignment Help
How to Use Driscoll Reflective Model in Assignment Writing?
Now, as we have already looked into what a Driscoll Reflective model is, we shall move to how to include it in your assignment. During your nursing course, when you are asked to reflect on any incident, you can follow the below steps and implement this model:
Understand the assignment topic well so that you can proceed further in the right direction.
Choose your reflective cycle model. While there are more of them, Driscoll is the most commonly used model for its simplicity. (If it is already mentioned in the question, skip this step).
Take a blank paper and write down the three main questions, the three stages of this model. They are, "WHAT," "SO WHAT," "NOW WHAT."
Brainstorm, research, discuss, and finally come up with answers for the above three questions related to your experience.
Once you have answered these, go deeper into each category and answer the other questions in every category.
So, this is the five-step process following which you can quickly implement this model in your assignment. Also, do not forget to read, revise, edit, and proofread your work before you submit it to your professor. Also, when you are writing your work, focus on achieving the 4C's of reflection, which are: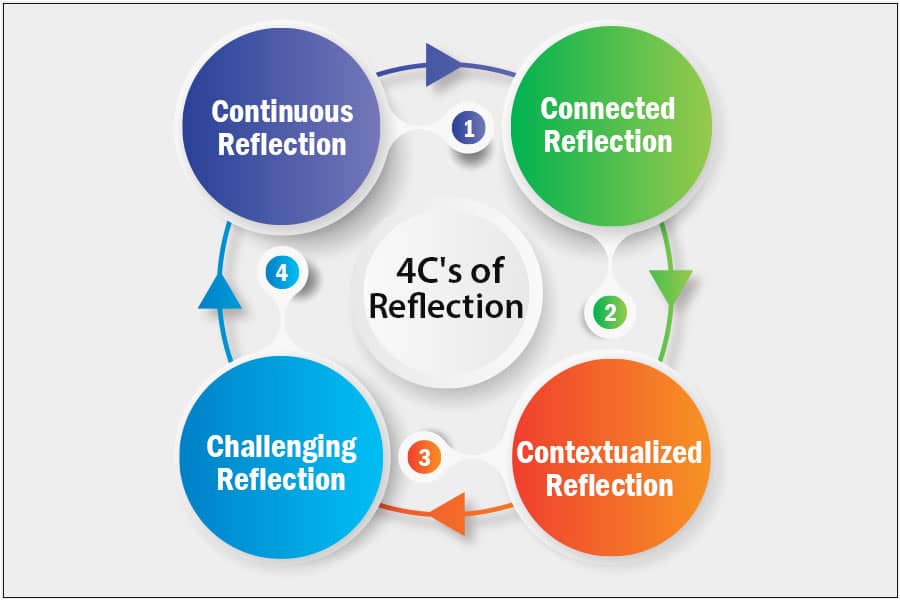 Let us look into the advantages and disadvantages of using this model in the below section.
Why Use Driscoll Reflective Model in Academic Writing?
Several students have a query: "why use the Driscoll reflective model" in academic writing? So here is the proper explanation to clear all doubts about the reflective model. It is utilized in various fields where the student's talents influence performance and job completion and are not employed in a straightforward standardisation procedure. According to a study, the reflective learning model is confined to education but applies to various settings and disciplines. The contemplative method aids in quickening the learning process and supplements personal experiences.
The model was created with consideration for real-world scenarios. The Driscoll Model of Reflection is employed in nursing practice. One of the required fields that makes use of reflective learning in nursing.
However, many aspects of nursing offer a wide range of scenarios that states for subjective judgement. The nurse assists patients with their different requirements by helping them obtain expertise in medical circumstances. It is more probable that the nurse will provide adequate care as she assists in acquiring knowledge and encountering medical conditions. It aids individuals in engaging effectively and exploring their experiences, which helps to foster fresh appreciation and understanding.
Need Academic Writing Help?
Seek the Best Academic Writing Help in the UK
Learn More
What Are the Advantages and Disadvantages of It?
In this section, we shall focus on the advantages and disadvantages of using this Driscoll reflective cycle for your assignment:
Advantages:
It produces quick results.
It is a very simple process.
It is easy to remember and follow.
It works like a simple questionnaire.
It is suitable for beginners to work with ease.
Disadvantages:
It cannot provide a deeper reflection.
It is not suitable for layered or extensive reflection.
This model has only two disadvantages and five main advantages. So this makes it clear that it is the ideal model for including reflections on your nursing practices in your assignment.
If you are wondering how to write a reflective essay that reflects your life experience, you can turn to assignment help. Wondering why? Read till the end to know more about it.
What Are the Reasons One Should Seek Experts' Help for Assignment Writing?
If you are looking forward to seeking help from the experts of the Assignment Desk for including the Driscoll reflective model in your assignment, and are wondering the reason why you should do so, then here are some:
When you lack subject knowledge, you should seek our services to clear the concepts through assignments.
When you lack a flair for writing, seek help from our experts who possess exemplary writing skills to impress your professor easily.
When you lack time, avail our help and get your document delivered before the deadline that too directly to your mail.
Hope you got some solid reasons to place an order with us for your assignment. And remember! You can contact us at any hour of the day via call, text, or mail, and we will be there to help you through it! So, reach us now!
Let Us Help With Assignment
FREE Tools
To Make Your Work Original
FREE Features
Topic Creation

Outline

Unlimited Revisions

Editing/Proofreading

Formatting

Bibliography
Get all these features for
USD 84.3FREE