Everything You Need to Know About Agricultural Engineering Is Right Here
27 Jan 2020
1140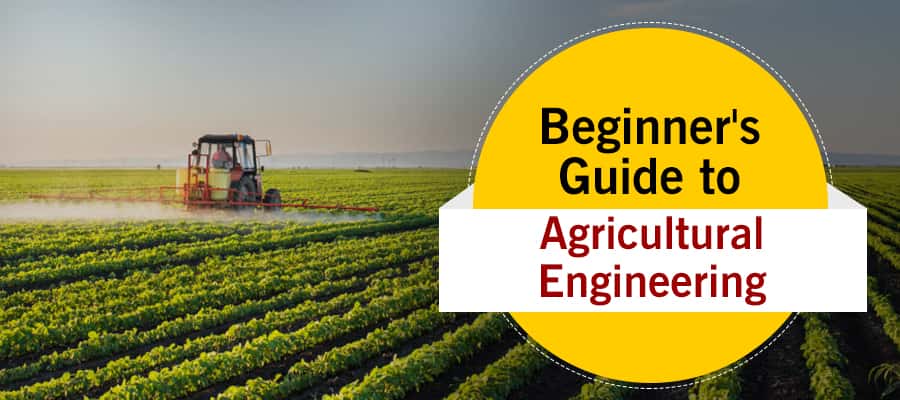 Table of Contents
What is Agricultural Engineering?
Agricultural engineering is a discipline that is related to the production and processing of agri-products, such as corn, cotton, rice, soybeans, et cetera with the help of certain technological equipment.
This discipline includes mechanical, electrical, civil and chemical engineering to increase the ultimate efficiency of sustainability in agricultural practices. Every discipline is an integral part of agricultural engineering subjects. In this, you get trained with advanced technology needed to maintain the productivity of various products through high-level farming. During your studies, you also develop new forms of fuels from non-food resources like algae and agricultural waste that help in maintaining the environment to its best.
To pursue a career in this engineering field, you need to cater to certain requirements that are indeed important.
What are all Agriculture Engineering Requirements That You Need to Fulfill?
Every now and then, it is being asked from various professionals that what are all requirements that need to be fulfilled in order to pursue it as an agricultural engineering career.
So, here we are stating a few characteristics that you must have while considering this course as a career.
A profound knowledge in the subject called mathematics.
You must have a basic knowledge of science and technology.
Skills related to designing and formatting structures.
Slight knowledge of the computer operating system.
Analytical agricultural engineering thinking skills.
Outstanding verbal and written communication skills.
A skill set to pay attention to every detail.
When you have all the above-mentioned qualities within yourself, you are the perfect fit to make a career in this discipline. Now, it is important to research various agricultural engineering courses that are offered by different universities.
What are the Best Agriculture Engineering Courses to Pursue?
These days, there are several universities that are offering numerous courses on agricultural engineering discipline. But, the question that arises in your mind is on what parameters you can select and reject the course and university easily. So, you need to understand that while choosing a perfect course for your agriculture engineering course, you have to check your accomplishments and abilities first. Right after this, you should look after course authenticity and how this course will drive your career in the right direction.
Evaluate every course related to this discipline on the below-mentioned points:
Learning environment
Faculty associated with the course
Professors-students interaction
Fairness of grading and exams
Global rating given to that particular course
Enthusiasm and flexibility of the course
Career objectives after pursuing this particular discipline
After knowing the basis on which you can evaluate the agricultural engineering course, you need to focus on your studies so that you can land your dream job. Right after completion of the agricultural engineering degree, you need to look for various job opportunities to make your career excel.
How to Get the Best Agriculture Engineering Jobs After Completion of Your Degree?
Most of the time, you have to search for agricultural engineering jobs in UK to earn handsome salary. But, no one is pretty sure that he will secure a perfect job that suits his expectations. If we talk about agricultural engineering, then the scope is immensely wide. This is the reason various companies in the field of farming are hiring top-notch students directly from universities and even through references. These companies are well established and operating their businesses for quite a long period. So, here is an opportunity to secure a job by applying through the below-mentioned link.
https://www.findapprenticeship.service.gov.uk/
We believe after going through the link, you will surely secure your dream job. Along with this, we also understand that you must have a query related to the salary that you will get as an agriculture engineer.
How Much Salary Does an Agriculture Engineer Get?
According to the survey conducted in the previous years, it has shown that you can expect an average salary of £32,091 per year or £16.46 per hour. But for this, you must undergo practical training during your course in the university. It is because most of the companies hire an agriculture engineer to run their equipment well and to increase the efficiency of their farming products.
Where Can Agriculture Engineering, as a Career, Take You?
It has been seen that an effective and efficient agriculture engineer may get promoted to the position of supervisor or manager and can expect the salary between £42,000 to £57,800. Apart from the agricultural engineering salary perks, they also get some additional benefits such as recognition, rewards, authority, and responsibility.
From having a thinking of studying agricultural engineering to getting an astounding job, this blog has everything that you need to know. For any further knowledge you can check, what are the fields of agricultural engineering. It will be going to help you attain every information related to it.
FREE Tools
To Make Your Work Original
FREE Features
Topic Creation

Outline

Unlimited Revisions

Editing/Proofreading

Formatting

Bibliography
Get all these features for
USD 84.3FREE