Developing a Growth Mindset for Political Science Assignments: 5 Proven Ways
13 Sep 2019
1882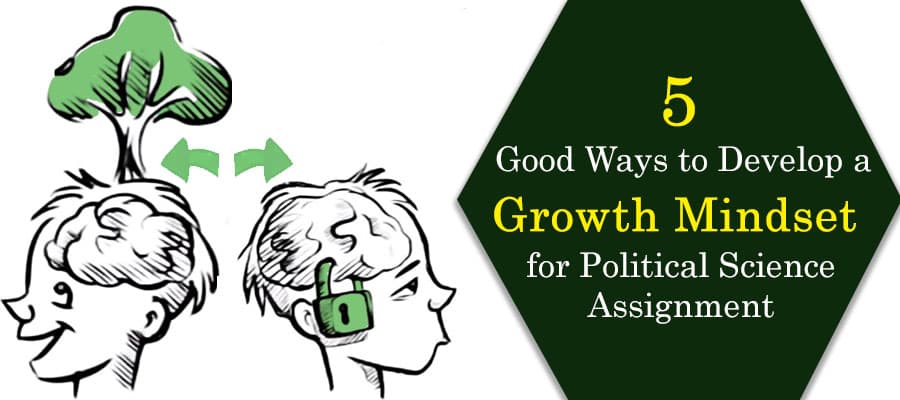 Table of Contents
"It's Not How Good You Are, It's How Good You Want to Be"
This is the formula of growth mindset people. It may sound a simple saying but is quite complex to apply in real life. Some students may believe in it since their birth, while some are like they are nothing and cannot do anything in their life. The latter ones are fixed mindset people and unable to change. When writing an assignment, one must have a growth mindset to take full benefit from it, whether it is learning about the topic or improving writing skills.
Wondering which one you have? If you have the growth mindset, then it is well and good, and even if you have a fixed mindset, you can develop it to the growth one. Here are 5 ways to do so. These amazing ways are given by our expert writers and surely going to help you.
Ways to Develop Growth Mindset for Political Assignment
1.Learn: When writing a political science assignment, most student's sole purpose is to complete the assignment and submit it before the deadline; however the reason why professors assign the assignment writing task to students is to learn from them. Students should learn different concepts about the subject while doing research and writing the document.
2.Forgive: It is very obvious that students will commit some mistakes while writing the assignment. Instead of getting frustrated and irritated, students should learn from those mistakes. In other words, if you make an error, simply consider it as a part of the learning process.
3.Be Realistic: Some things take time, accept it. Whether it is to learn a new skill, language or complete an assignment writing task, it takes time. Stop being unrealistic like you'll be able to complete the assignment in 2 hours. This will lead to nothing but a poor quality document. Instead, take online political science assignment help, if the case is urgent.
4.Embrace Feedback: When some friend, family member, or even teacher provides some feedback regarding anything related to the assignment, then we should consider it rather than just ignoring. The more one is open to feedback, the more he increases his chances of success. It generates progress if taken seriously.
5.Make Efforts: It doesn't matter what the result will be, our work is to make efforts. Remember perseverance is the key. Be persistent in your efforts and you will surely be successful. There is no obstacle too great for you to give up. If your topic is complex, try your best because it is complex for everyone and not just for you.
There you go now!
These were the effective ways to have a growth mindset but here's a surprise waiting for you too, a bonus tip. Yes, a tip! Do not skip it.
Bonus Tip: If you want to be successful, you just cannot be jealous and be intimidated by the success of others. Celebrate other people's achievement and also learn from their mistakes. Analyze the obstacles they faced while doing their task and learn from them.
So, these were the ways of developing a growth mindset for your political science assignment. A growth mindset is very necessary, not only for your political science assignment but also for you, as a person. Every person needs to believe in every cell of his body. This will make us thrive, learn, grow, and then finally flourish. Thus, it is not about your assignment writing task but about your whole life. For assignments, you can take help from us but for life, you need to develop a growth mindset if you wanna succeed.
Till then, keep learning, keep growing!
FREE Tools
To Make Your Work Original
FREE Features
Topic Creation

Outline

Unlimited Revisions

Editing/Proofreading

Formatting

Bibliography
Get all these features for
USD 84.3FREE