How to Write a Personal Statement that reflects your true self?
26 Feb 2021
370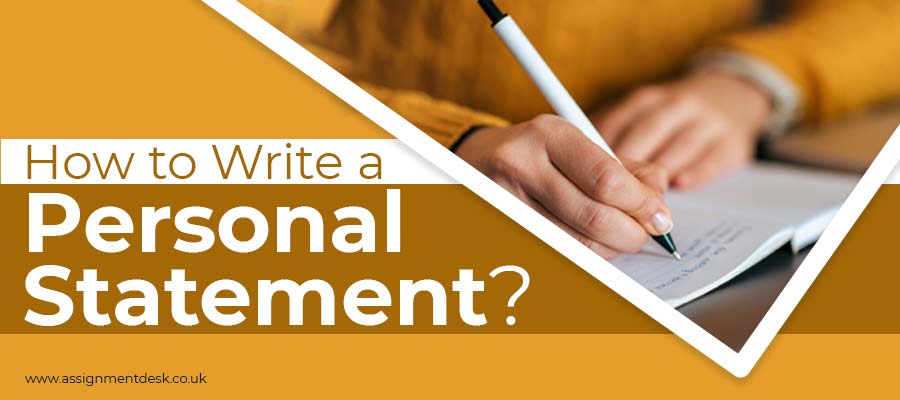 If you are a student applying for admission or scholarship, or a graduate seeking a job, you must have come across the term 'personal statement.' It is required by universities mainly to gain admission into their programs and at times by employers, along with your resume. Although it is a common document, students are not very familiar with it as it is not something they are trained to write during the education. This is why they take to the internet to look for- "How to write PERSONAL STATEMENT?" To write any document, you must first be clear with its meaning and purpose. Read on to understand everything you need to know about this important document.
What Is a Personal Statement?
If you are applying for a scholarship, graduate school, or an employment opportunity, you might have encountered the concerned institutions asking for a document that says "describe yourself" or "tell us about yourself." This is essentially them asking for your personal statement.
A personal statement is a brief personal summary that helps the selection committee to separate you from the rest of the applicants. It helps them understand you better personally before they call you for an interview. It should describe both your skills that are relevant to the application as well as your personality and personal details. The focus in a personal statement is more on you as a person and your reason for seeking the position than your skills.
Purpose of a Personal Statement
Most universities in their admission application ask for your GPA, letters of recommendation, and a personal statement. In the case of job applications, it is a resume/CV, letters of recommendation, and a personal statement. While your GPA and resume provide your skills and academic accomplishments, it is not enough. The applications for any purpose will have a lot of CVs and resumes coming in that have the same kind of skills and academic qualifications, which makes it difficult to differentiate and choose candidates based on mere skills and/or grades.
In this situation, your personal statement provides your individuality and gives an insight into your personality. Given that, your personal statement has more chances of making you win the place you are eyeing than the other criteria.
How Long Should a Personal Statement Be?
Often, the length of any document is overlooked. This is a grave mistake, as not having abided by any rules prescribed by the institution you are applying to doesn't sit well with the reader. Pay attention to what length is dictated by the application. Typically, applications have a 500-800 word limit. Mistakes are often made by the student when the application specifies 'maximum' or 'minimum' words. If the application asks for a maximum of 1500 words, you don't necessarily have to write to the limit.
Generally, it is advised in all kinds of writing to keep it short, so the reader doesn't lose patience. But don't make your personal statement too short so as to keep it "short and sweet." For example, if an application allows you to write 1000 words, you don't have to compromise on half of the word limit, as that would just be an opportunity missed. However, always make sure that you do not cross the word limit as it is very likely that parts of your write-up will not be read at all, no matter how good you write.
If you are filling out an application online or you have to cut-paste the content, your word limit might vary, depending on physical space. In such cases, you can alter the font and space adjustments. If you are sending the application electronically and using cut-paste, make sure you proofread after you have pasted the content, as the word count may sometimes change, and special characters may be eliminated. It is therefore, always safe to proofread and take these precautions before you click on send.
How to Plan for a Personal Statement?
After you have developed an understanding of what a personal statement is and what purpose it serves, you might have better clarity on what information you must provide in it and how to present it. But before you start with writing, you need to plan and research certain things. Here is a list of a few things that you must consider before you move to the writing part:
Carefully read the question or the information they are asking for, as your points should always flow in this direction.
Research the course/ job position you are applying for. You will need to explain why and how you fit in.
Research about the university/organization you are applying to. Their core values, mission, and vision will give you inspiration for points.
Ask yourself why you want the degree/job position? You must have an answer to this as this will be shaping your write-up.
Once you have taken care of these points, you will successfully establish a base for your personal statement. Now you are ready to move on to the writing part of it.
How to Write a Personal Statement?
Whenever one starts to write an important document, it is normal to get a creative block. Usually, one struggles to conjure up all the things that one needs to include in a personal statement. What format to follow? What kind of language to use? What points to include? There are a million such questions looming in mind. You need to address each one of them separately to write efficiently. Here are the three major things that require your attention:
Language
Your tone is as crucial in a written document as it is in spoken language. Setting the tone right is very important. Here are a few things that you should pay attention to:
Always maintain a formal tone and language.
Pay attention to grammar, spelling, and punctuation.
Don't use complex or extravagant sentences and stick to simpler language to ensure clarity and readability.
Keep the tone enthusiastic and positive.
Your opening paragraph should be engaging with hook words.
Proofread your statement several times to check for any mistake. Get a third person to do it as well.
Structure
The structure provides the framework for any piece of writing. Here are some things you should consider:
First and foremost, adhere strictly to the word limit.
Apply maximum creativity to the introduction part as it is the make or break part for most personal statements. Avoid using cliched statements like "I always wanted this job" or " I always wanted to get into this prestigious university." Say these things without being blunt or sounding corny.
Your body should be engaging along with being informative.
The conclusion part must be clear and concise. It should sum up and reflect on the main points.
Keep the sentences short up to 25-30 words.
Provide evidence to all the things you claim. For example, to say that you are sincere, provide an anecdote or habit to justify it.
There is no fixed structure to a personal statement. You can write it in a general essay format which has an introduction, body, and conclusion. The paragraphs in the body will vary based on the word limit and content. You can even break up your content and present it using subtitles if that feels appropriate.
Things to Include
The content is where you get to present all of your points regarding why you are a suitable candidate that should be considered for the position. Here are the things you should include:
Paint a picture of yourself: The main purpose of a personal statement is to provide the institution you are applying to with a brief description of yourself. Make sure to mention every significant thing about yourself here. You are the artist here, and you can creatively present yourself.
Indicate your priorities, judgments, and opinions: Your personal opinions, judgments, and priorities tell a lot about you without being blunt. They are indicative of many aspects of you that you may not present yourself consciously. These are the things the selection committee usually looks for as it is the non-constructed, more honest part of your personal statement.
Strong reasons why you should be accepted: Explain why you want to study/work at the institution, how it will enhance your career, how you will contribute to the institution, Back each of these up with ample evidence.
Mention your key skills: You need to highlight your skills like critical thinking, teamwork, communication, research,, through the write-up. But don't be straightforward about it; imply them in a subtle way through a story or experience- this serves as evidence of your skills.
Relevant accomplishments: You can mention all significant projects or papers you have worked on, relevant competitions you have taken part in, and other such accomplishments. However, mention only relevant and significant ones.
Experiences outside of your field: You don't have to highlight only things relating to your field. You can share a significant personal experience that helped shape you or taught you something.
Your goals and ambitions: Your personal statement should contain clearly where you see yourself in the future. Based on this, the institution can decide whether these goals align with theirs or not.
Mistakes to Avoid While Writing a Personal Statement
Since most people are not clear about what purpose a personal statement serves, they tend to interpret it themselves and write according to that. This means that there is a high chance of mistakes. Here are some common mistakes people make while writing a personal statement that you should avoid:
Too much focus on accomplishments: Remember that your personal statement is not your resume. Most people tend to make the mistake of thinking that your accomplishments should be the prime focus of your personal statement. The committee doesn't want to read a paper about your accomplishments but wants to learn about you beyond that.
A request: Don't make your personal statement a request letter to get selected. Don't try to present it blatantly as why you deserve it more than other candidates and go on justifying that. Especially don't use your struggles as the main reason for your candidature.
Trying to write from the committee's perspective: Don't waste your time trying to interpret what the committee's perspective is. And don't go about writing a statement focused on this interpretation as it is always hard to guess these things, and at the end, your write-up will likely look manicured and ungenuine.
Being too formal: Students are always used to writing everything formally. Generally, an academic paper doesn't allow you to use "I" in them or present personal opinions or perceptions, but keep in mind that your personal statement is not an academic paper. Although you are expected to maintain a decent formal tone, you are encouraged and expected to present yourself.
Journal entry: Not being too formal doesn't mean that you adopt a casual tone. As mentioned above,you have the liberty of expressing yourself, but a decent formal tone needs to be maintained while doing so. Don't make it a journal entry where you are recounting a personal experience.
Present personal information you are comfortable with: As already discussed, you are encouraged to share any relevant personal experiences, but you need to be conscious of the ones you share. Make sure you are comfortable with the ones you provide, as you can expect them to be discussed in the interview, which follows. Make sure you don't share any illegal or illicit experience that you find thrilling or quirky, expecting it would make you stand out, as you could get in trouble for it.
Want to Get a Custom-Made Personal Statement? We Can Help!
A personal statement might seem like a lot of work, and it is. As discussed above, it can be an all-deciding factor for your application most of the times; hence, students get very anxious while writing it, and that is pretty normal. They tend to get a major writer's block when writing it and can't seem to get anything on paper. Worry not! In such situations, Assignment Desk is always at your aid. You can get custom-made personal statements written by experts that will get you closer to your dream college/job. When you order a personal statement from us, these are the features you get-
Expert writers
24X7 support
Delivery before the due date
Free unlimited revisions
Ownership guarantee
Plagiarism-free report
Unique content
And much more! So what are you waiting for? Head to our website or download our app (and get an additional 5% discount) if you are struggling with writing a personal statement or any other kind of document.
This May Be Helpful:
FREE Tools
To Make Your Work Original
FREE Features
Topic Creation

Outline

Unlimited Revisions

Editing/Proofreading

Formatting

Bibliography
Get all these features for
USD 84.3FREE