Guide on Criminology Personal Statement with Examples
06 Sep 2022
804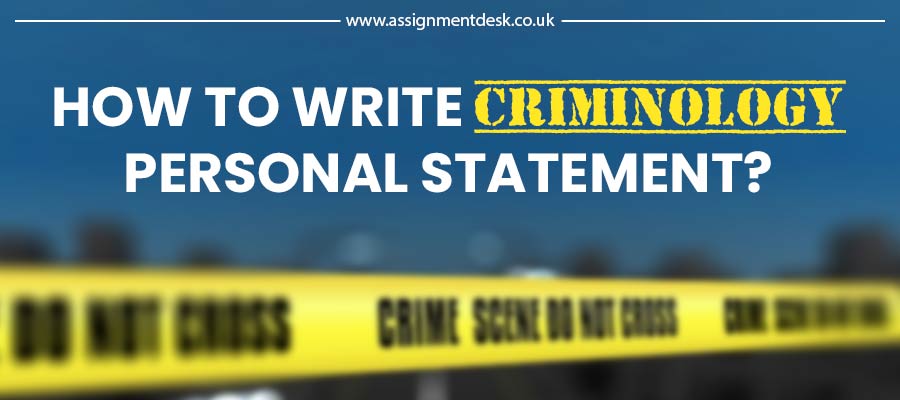 Table Of Contents
"Naturally, it is a terrible, despicable crime when, as in Munich, people are taken hostage, people are killed. But probing the motives of those responsible and showing that they are also individuals with families and have their own story does not excuse what they did."
by Steven Spielberg
It is one of the famous quotations on criminology by Steven Spielberg. Students pursuing criminology are required to write a personal statement for the same field. Have you ever thought about how tough it would be to write about crimes and relate them? Students find it tough to complete the whole section. At that time, taking assistance from experts was one of the best solutions. First, understand what is criminology personal statement.
What Is Personal Statement for Criminology?
Everyone knows that crime is a complex and multi-faceted subject. It is most often dealt with the fairly simplistic terms managed by the news media. For this reason, it is one of the areas studied to get a skewed idea of problems or challenges that are the most important debates and topics around crime. They are causes, the effects and the best responses. Regarding the personal statement criminology, it is one of the parts of the UCAS application.
It is sent to all of the institutions that students are applying to. One of the significant purposes of it is that it wants to convince the reader that they are one of the perfect candidates for studying Criminology. It should be personal, about your interests, background, aspirations and why you want to study Criminology at university. With this section, students can learn what a personal statement for criminology is. Let's move on to learn about the essential skills criminology student demonstrate.
What Skills Criminology Student Exhibit?
When it comes to the skills that the criminology student for the study requires, we have listed below some required skills that are necessary to enhance the career in the same.
1. Communication Skills
If you are choosing the criminology field, both written and verbal communication skills are necessary for this area. In this field, students are required to communicate with many people. They can be the policymakers to the police. Several things can enhance the communication skills of the students. They can be perhaps clarifying, listening and offering advice. So basically, these are some key qualities necessary to engage in the activities. Activities such as interviewing or gathering the data for the write-up.
2. Research and Problem Solving
Research plays a vital role in every field, whether it is criminology or other than that. Every student pursuing a career in criminology must have the skills to conduct research and, at the same time, explain the results of the scenario. These qualities are helpful in criminology to predict and manage criminal and deviant behaviours.
3. Reading Skills
With the pointers mentioned above, students can understand the importance of communication, research and problem-solving skills. In addition, critical reading of the data and the written documentation is critical for correctly interpreting research. So if you are also one of those students looking to write personal criminology statements, then it is necessary to maintain the reading skills for the write-up.
4. Data Handling Skill
Trust in technology and analysis is essential when dealing with vast volumes of data and other information. Can you give examples of how you've used technology to gather information or collaborated with others? Can you elaborate on how you researched this information and give any solutions? Speaking with offenders and victims, acquiring information, and analysing the results all help to develop viable theories and answers to society's problems.
5. Additional Research and Reading
It is preferable to be interested in broader research and current events on both a local and global scale. Can you show that you are aware of social, organisational, or global issues for personal statements for criminology? Or how about demonstrating an awareness of local problems and how they might be merged into a broader global perspective? Be specific, specify a topic of interest or a recent news piece - and make sure you are genuinely interested in it, as you may be asked for further details during the interview.
Also Read: What Are the Challenges International Students Face in the UK?
Personal Statement Criminology Examples
The above-mentioned are the recommendations for the skills necessary for students. According to expert writers, it is said that the quality of the criminology personal statement depends on the many indexes. On the other hand, passion, skills and dedication to the task are most important for the students to pursue a career in the same field. Some students are at sure about the results. Also, they may have some comprehensive knowledge of crime and law but be unable to make a flawless text for admission. If you want to pursue the same career or need to write the criminology personal statement examples, then take help from the experienced ones.
It is because inexperienced students create risks by making mistakes due to a lack of experience in the field of criminology or writing art. Suppose you are stuck with writing the criminology personal statement. One of the best and most effective methods for preparing it is to attract people to rely on the professional helper. Still have queries and cannot get a reliable solution to deal with challenges arising in writing, so they can seek an experienced and reliable professional writer. They can mention all the requirements and bring your personality to the next level.
Also Read: How to Write a Personal Statement that reflects your true self?
Eliminate All Worries of Writing Criminology Statement | Get Help
Academic writing is one of the hectic tasks for students. Several challenges arise in the path of writing academic tasks. Are you also one student stuck with writing the criminology personal statement? Then you are in the right place. Here expert writers will help you in completing your academic task within a short period. Also, they have vast knowledge and rich experience in dealing with all the issues arising in students' academic paths. So what are you waiting for? Just get the consultation and get a reliable and relevant solution for academic issues.
Students can secure higher academic grades by taking assistance for the criminology personal statement through our personal statement writing service. Here, Assignment Desk expert writers will help students complete their academic tasks with a catchy eye personal statement for criminology. Our experts focus on providing high-quality and well-researched content to the students. So what are you waiting to get? Get the consultation or examples of personal criminology statements and stand out in the class with a brilliant piece of paper.
FREE Tools
To Make Your Work Original
FREE Features
Topic Creation

Outline

Unlimited Revisions

Editing/Proofreading

Formatting

Bibliography
Get all these features for
USD 84.3FREE