What Are the Challenges International Students Face in the UK?
07 Dec 2020
539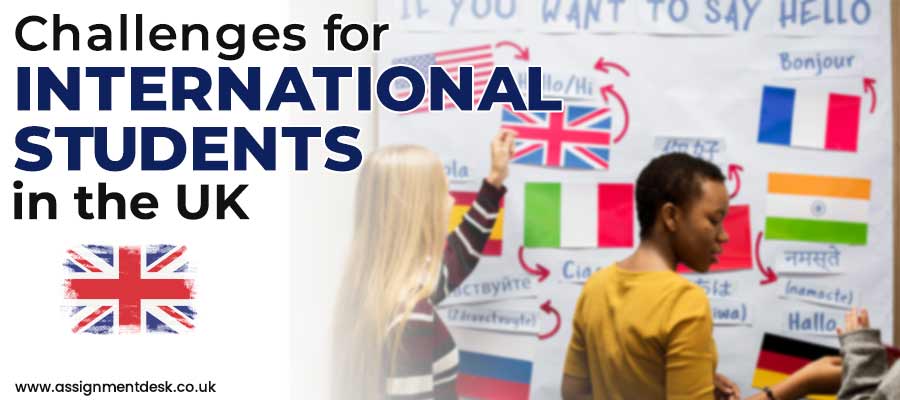 The United Kingdom, a great choice for students who are looking to study abroad, right? You might've heard your cousin moving abroad for further studies, a friend applying for IELTS or any other such language tests, or you might be preparing for one, and millions of questions run across your mind, right?
Out of so many questions and doubts, you might lose focus on your academics and type on google, 'What are the challenges for international students in UK?' 'What are the must-haves to move to UK' and so on.
If these are some random questions that came into your mind, too, then this blog is especially for you. Yes! The experts of Assignment Desk, who have been assisting native and international students across the globe with their academics, have decided to draft this blog for you and other students like you who are planning to study in the UK and want to know more about it. So, without wasting any more time, let's get into it.
Why Students Prefer Studying in the UK?
First things first- why students actually want to study in the UK? Basically, people around us, family, relatives, friends, and others might have put this thought in your head. But do you know why they actually prefer studying in the UK? If not, then here are a few of the many reasons why students love to study in the UK:
High-Quality education
Of course, the very first reason is the high quality of education. The UK is known to provide degrees in various courses that are recognized worldwide. So, indeed this provides a great foundation for a student's career.
Skill development
Better career opportunities come to those who have both theoretical and practical knowledge. Bookworms, sorry, but this is the truth. And, unlike many countries that make students mug-up bookish knowledge, the UK's education system believes in developing the skills of a student.
Better opportunities
The UK is known to provide a vast range of opportunities for students. Right from the ample number of course choices, postgraduate facilities, and employment opportunities, UK ensures a student has a complete view of the available career choices for him.
Non-Academic development
Students who are looking for a chance to pursue their career in the UK have another benefit of non-academic development. The cross-cultural learning, work permit after study, internship programs, and many more that help in the overall development of the student.
These are a few reasons why students love to study abroad. If you've now known the reasons, you might get tempted to know the courses you can apply for studying in the UK. So, we listed a few for you in the next section.
Courses International Students Can Take Up in the UK
When you are a non-native student who is looking up to pursue a career in the UK but is confused about the courses you want to take up, then choose one from this list:
Architecture and landscape
Art and design
Biological sciences
Biomedical science and biochemistry
Building and construction
Business
Chemistry
Pharmacy and pharmaceutical sciences
Computing
Construction and surveying
Creative industries
Creative writing
Criminology
Drama, dance, and music
Economics
Education
Engineering
English
Environment
Film and media
Forensic science
Geography
Health and social care sciences
Humanities
Journalism and publishing
Language and literature
Law
Life sciences
Management, marketing, and advertising
Music
Nursing and midwifery
Politics, human rights, and international relations
Psychology
Social work and social care
Sociology
Sport, science, and nutrition
These are some courses you can pursue from the undergraduate, postgraduate, foundation, pre-masters, and research programs in the UK. Now, let's take a look at some challenges international students face in the UK.
5 Challenges International Students Face in UK
Though studying abroad is every student's dream; but, only a few can succeed it with satisfactory results. This is because they face some challenges that act as an obstacle in their academic journey. Wondering what they could be? Here we listed some for you:
Language barriers
People who moved into the UK for education might have come from different countries with different languages. And, there is a high possibility that those languages are different from the ones used in the UK. This stands as a barrier between the students, teachers, and others.
Currency issues
The currency used in the UK is pounds, and not all countries use this currency. Thus, students face difficulty with meeting their daily needs, making purchases, and fulfilling other requirements as the currency exchange process isn't easy as well.
Cultural differences
People around the world come across seas to live and study in the UK. When people are from different countries, there are various cultural differences that are inculcated in them. These also bring a separation border between the natives and non-natives.
Homesickness
The UK is not an hour distance for many students who are from far off countries. So, they cannot just go and come back to college every now and then. The more they stay away from home, the more they feel lonely and homesick that distracts them from their studies.
Racial discrimination
When you are at a new school, you find it a bit tough to make friends, now that you are in a new place, to be exact- a new country, you may face racial discrimination. This often leads them to loneliness and anxiety and, in turn, depression too. This isn't healthy for the student both physically and mentally.
These are some challenges that international students studying in the UK face during their academics that leads them to fail in their work. If you are too occupied with these struggles and can't get over them, then follow the tips mentioned below section to overcome these struggles.
How to Overcome Obstacles Faced by Students in the UK?
There might be possibilities that you've and/or are facing the struggles mentioned in the above section. If that is the truth, then you should try implementing the tips mentioned here as they can help you overcome the struggles you've been facing. So, let's take a look at it:
Learn the language
The first thing to do is try to learn the language as it can help ease the struggle of communication. You can also use a translator for the time being so that you can manage things till you learn the language for basic communication.
Find people of your culture
To drive away loneliness and homesickness, try to find people who are from your culture. This way, you will have someone to share your feelings with and someone who can understand you and your culture.
Make new friends in that country
You cannot only depend on friends of your culture to survive and stay in the UK. You should make new friends, learn about their culture so that you can know about them, their country and learn to adjust and cope up with living in that country.
Stay in contact with family/friends
In this digital era, staying in contact with your friends and family is just a tap away. Yes! Now reaching out to your loved ones is just at your fingertips. You can use FaceTime, Skype, WhatsApp, and other such applications to connect with your family staying overseas.
Do not give up and stress about anything
Sometimes the biggest struggle an international student faces in the UK is stress and anxiety. This is because of a new place, friends, courses and so on. But, instead of getting anxious, you should stay calm and try to cope up with the task.
These are some simple tips that you can follow for overcoming the obstacles that international students face when they move to the UK to pursue a career. But, if you still cannot deal with it, then turn to the next section.
Who Can Help Students Studying in the UK with Their Struggles?
If you are in UK and struggling with your academics, then you should seek help from online experts. When you turn to reliable assignment writing service providers like Assignment Desk, we make sure to deliver your assignments on time and in the best quality so that you can score the top grades in no time. This is not it; when it is about us, you can be stress-free of plagiarism and prices as we believe in delivering unique content with zero plagiarism and at pocket-friendly prices. So, what are you still waiting for? Reach out to us right away and get your work at the most affordable prices.
FREE Tools
To Make Your Work Original
FREE Features
Topic Creation

Outline

Unlimited Revisions

Editing/Proofreading

Formatting

Bibliography
Get all these features for
USD 84.3FREE