Stuck with Beginning a Descriptive Essay? Here's a Complete Guide for You!
02 Mar 2023
680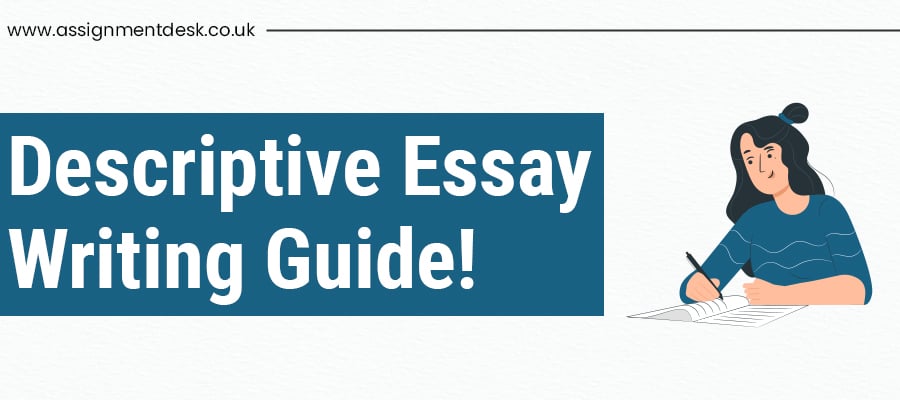 Table Of Contents
Writing essays is a challenging task as it requires you to stay focused. A similar case happens when you are working on a descriptive essay. It requires you to deeply concentrate because it means expressing your viewpoints in detail.
Pondering how to write it?
Do not worry, this blog discusses how to write it flawlessly and create an ever-lasting impression on the professor.
What Is a Descriptive Essay?
A descriptive essay means describing something, such as a place, object, person, emotion, concept, experience, or event. It is a broad concept because you have to technically describe everything in detail, such as colours, feelings, sounds, and sights. Some descriptive essays consist of a little argument in the thesis statement, but they can also be simple and straight to the point. A descriptive essay comes under the umbrella category as it includes expository, personal, narrative, and analytical essays. Like a narrative essay, it requires you to be more creative and innovative than academic writing. It assesses your ability to describe anything in detail to create a memorable and long-lasting image in the mind of the reader. It is a prevalent writing exercise in high schools and composition classes.
Get Essay Writing Service
What Is the Purpose of a Descriptive Essay?
A descriptive essay helps the reader understand a particular topic by giving concrete details with the aid of a metaphor or any other literary device. After reading a descriptive essay, a reader should have a clear picture or image at hand, whether it is a historical episode, location, or artistic work. It can also pick a personal topic, such as your favourite movie, place, or hobby, and express the peculiarities of the subject via the art of descriptive writing. Now that you are well-versed in the motive and understand the hidden meaning behind writing an essay paragraph, it is time to have an in-depth discussion on how to write it.
How to Write a Descriptive Essay?
The descriptive essay is detail-oriented and uses more sensational and visual language. The description of a particular event or place involves facts rather than opinions. Here is a step-by-step process or procedure to write a descriptive essay like a pro!
Select a Specific Topic
Before outlining or preparing a framework description, it is crucial to understand the intent and reason for writing it. The best idea is to summarise your central idea in the thesis statement. The point to remember here is that the thesis statement should not focus on personal opinion or viewpoint but rather point the reader in the right direction based on what you have written to create a dominant impression on the reader.
Gather Information
As a descriptive essay focuses on describing a place, person, or object with minor details such as dates, physical characteristics, background information, and names, it is imperative to implant your preeminent information in advance. Gather all of the information and categorise it so you can write flawlessly without wasting time on concluding and thinking.
Prepare an Outline
Group the main points of every paragraph. The preparation of a blueprint or a sketch beforehand makes the work easy and maintains the flow of writing. It ensures that you do not get stuck overthinking and lag because, until and unless there is a structure prepared, it will lower the speed and efficiency.
Write an Introductory Paragraph
A good introduction is the roadmap of the entire paragraph. After you prepare the structure or a summary, start your introduction with a rhetorical question or a bold statement. It tends to engage or hook the reader. The thesis statement comes at the end of the introduction.
Write the Body Paragraph
Every body paragraph should start with a topic sentence to give a gist of what is going to be there in the upcoming passage. Include every detail in the passage as discussed, and try to be specific. The use or narration of things or events with a custom writing service will make your content appear overwhelming and exaggerated. Clear-cut examples or details have a higher engagement rate as compared to the general description.
Need Help With Essay Writing?
Get Custom Essay Written by a Professional Writer on any for TOPIC.
Get Help
Conclude or Summarise
The conclusion is the synopsis of the entire essay. Make use of them to establish what you have written in the previous paragraphs or include key elements from them. Never use this section or paragraph to tell or introduce something new. If you think there is some information left that you have not included yet, it is best to create another paragraph rather than including it in the last section.
Invigorate Your Language
When you reach the endpoint or assume the work is complete, overview or revise look for a chance to include sensory or vivid details that can enhance the description. In case you do not possess such qualities, seeking an academic writing service is the best solution. The use of descriptive language and literary devices will create an everlasting impression in the reader's mind after they finish reading.
Descriptive Essay Example
With a better understanding and a good approach, you can write a descriptive essay independently. Here are some examples from each section to guide you in the right direction.
Example of a Descriptive Essay Introduction
Your introduction is the beginning of your content. It should provide a little background on the topic without going deeper. What is challenging here is that the introduction means to intrigue the reader with little information, and that is a task for which you can use the essay typer tool.
Here is an example of it.
"A home is a place where the heart is, but everyone's heart is not the same." For a few, it can only be four walls, a desk, a dining table, or a fireplace. Others may find it flowering and fragrant in the garden. Comfort is a priority, and for me, my comfort or my home is "Mother."
Example of a Descriptive Essay Body Paragraph
Unlike other essays, it is not essential to prove evidence or an argument stated in the thesis statement. You can make it evident or demonstrate your personal experience with the subject. Evidence or testimony is purely secondary. Read the following example to understand the essay example or how to write the body paragraph for a descriptive essay.
"Mother, be my back support, my pillar, and my strength."
Without her, home seems like a boring place. What she does is out of our reach. Taking care of everyone in the house and living up to our expectations is phenomenal. She is the house's hidden treasure whose value cannot be calculated or estimated."No one in the world can sacrifice how a mother does."
Example of a Descriptive Essay Conclusion
The essential feature of the conclusion is that it is concrete, as it focuses on the subject at hand and lays out your experience. It is that portion or section where you go beyond what you have gone through and include big ideas or themes. You can use the conclusion to form an opinion that could become part of your thesis statement.
"Even if your mother prevents you from going out or imposes restrictions, she has several reasons for doing so." She never wants her child to be involved in a traumatic situation; all she wants is for you to be safe. There is no hidden reason for your mother to prevent you from going on a trip or having fun with your friends. All she wants is for you to be disciplined and work towards your goals in the early stages of your career.
Also Read: Is Writing a Short Essay Really Easy? A Step-by-Step Guide
Still, Have Doubts? Seek Experts Help
Descriptive essay writing means expressing your emotions and talking in detail about a particular object or thing that requires you to be creative and good with words. Because not everyone possesses such a skill, essay experts assist you in the best possible way.
Look for a perfectionist in this field who can deliver an essay as per your expectations. The answer is Assignments Desk professionals; they have years of expertise and can help you curate papers as per your expectations. There is no point to distrust us because our quality is exceptional, and we guarantee good grades to anyone who takes assistance. Nothing is impossible or uninteresting with guidance and assistance. The professionals provide essay writing services and guide you in the right direction to balance opinions and facts.
Do not hesitate; our professionals possess the innate talent to help you deliver a professor-friendly paper that gauges their interest at a glance. Seek help and see your academic graph rise to another level. The excitement and joy you gain after performing well and scoring high are bountiful!
From now on, writing a descriptive essay is no longer an arduous job or a task!
Avail Essay Help
FREE Tools
To Make Your Work Original
FREE Features
Topic Creation

Outline

Unlimited Revisions

Editing/Proofreading

Formatting

Bibliography
Get all these features for
USD 84.3FREE