Is Writing a Short Essay Really Easy? A Step-by-Step Guide
12 Jan 2021
552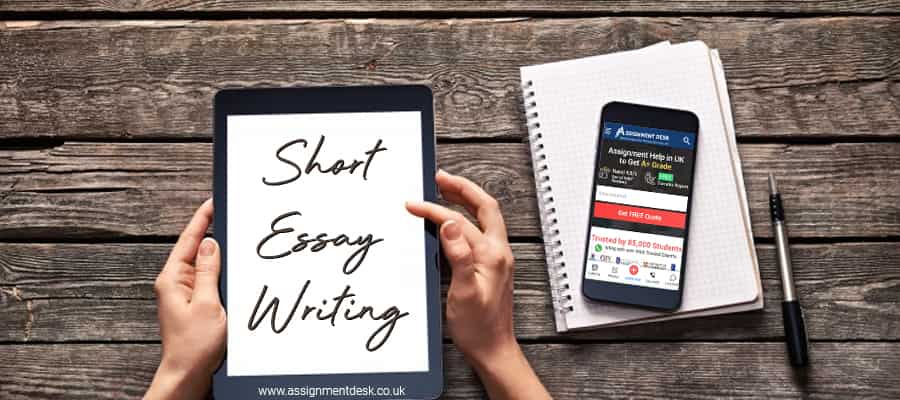 In today's scenario, students have to deal with various types of documents in their academic careers. The journey starts with writing a short essay and ends with a lengthy dissertation writing. Writing a lengthy academic paper is easy as you can include the data related to the topic. But in a short essay, you have to include the information precisely. It must be to-the-point. So, to make your document readable, you have to include limited data concisely.
Many students get stuck in writing a short essay. They have no idea about the word limit, structure, guidelines, or components. They write a short essay like normal ones. They usually think about how long is a short essay? So, to clear their doubt, have a look at this blog and get the query resolved within the time. The experts of Assignment Desk have provided all the required solutions that students need for writing an effective short essay.
How to Write a Short Essay? Guidelines Included
Writing a short essay is usually a part of the academic life of a student. It is a typical type of academic document that aims to provide an excellent description to the students. Short essays are written in different courses such as; literature, cultural studies, film studies, etc. Students need to give an overall description of the topic in detail.
Short essays are a tedious task to do, not because you have to spend too much time, but also you have to concise your thoughts in defined words. Short essay writing cannot be described as steps. To write it smoothly, you have to keep in mind the word limit and few points. Let's have a read!
An essay should approach a topic or its edge in a way that generates both interest and passion. Make sure that your choice must not be broad and narrow as well.
Once you have chosen the subject, you have to collect data related to the topic. Try to familiarize yourself with it from different sources to get a complete understanding and a clear idea about the subject.
Before writing, it is convenient to outline your thoughts that will serve as a script or an essay skeleton. It will help you in telling the appropriate order to approach each idea or argument.
You have to proceed writing according to the script, which means exposing the ideas as clearly as possible in the most logical order. Afterward, read the entire text, and correct the mistakes. You have to ensure that it says what it intends to say.
What Are the Components of a Short Essay?
Have you ever seen a pizza without the base or topping? Well, obviously not. Similarly, to make your audience feel engaging, there are some components that you must include while writing a short essay. It is crucial to let the reader be convinced & adequately informed. The academic paper must contain several vital components to make it logical. The main parts or sections are the introduction, body, and conclusion. A short essay format consists of four to five paragraphs. It is sufficient to provide the information in a short amount of space. The first paragraph must include a compelling introduction. The next two or three are the body paragraphs where you have to write accurate information and the arguments to support your opinion with the relevant evidence, and the last will be your concluding paragraph. Let's see how to manage all the sections effectively.
Introduction:
It must sound interesting so that it can grab the attention of the reader. You can begin with a quote, fact, question, or metaphor about the particular topic.
You must ensure that the introduction moves from general to the specific viewpoint related to the topic as it can provide a road map of the essay to the reader in a logical order.
Also, you must include the thesis statement, arguably the most crucial component of the introduction. The thesis statement states the aim of the topic and also gives insight into the examples and evidence.
Body:
After writing a compelling introduction, you have to write a body paragraph. It must include the evidence and support of the topic in addition to your opinions or ideas.
Your essay must have sentences that relate the discussion to the thesis statement. You can make your paragraphs more attractive with the chronological, spatial, or emphatic order as per the type of essay.
You must ensure that your paragraphs must contain proper transitions to create a better flow to the essay.
You can include examples and pieces of evidence to support your argument, but make sure each example is relevant to your particular topic.
Conclusion:
It is a summary part of your essay that wraps all of your arguments and points.
Make sure it should restate the main arguments in a simplified manner. It will help your reader to understand your opinion on a particular topic.
How to Formulate Title for a Short Essay?
Writing a short essay is not an easy task to do. Many students get stuck on how to formulate a title for a short essay. Well, it is tricky and time-consuming. The academic document consists of limited information, and to make the title accordingly is not a piece of cake. To help you with this, we have some qualities that you need to keep in mind to form the title smoothly. Take a further read and make the heading as per the required needs.
Titles are the first seek of attraction for everyone. So, always make it eye-catchy. The university professor prefers a document to read whose titles are phenomenal. He does not go ahead with the lame and vague headlines. The professors are more inclined to look for something interesting, out of the box, and unique.
In making the title catchy, many students make it incomplete, which does not convey any meaning. They walk away from the truth, and it leads to making the headline inaccurate or a completely blatant lie. Nothing will anger your professor like a title that does not deliver any sense.
Nobody likes complicated and difficult-to-understand titles, not your professor or a reader as well. While making a title, stay away from strange phrases, complicated structures, even some uncommon fonts. It can ruin the document by getting an F grade in it.
While making a title, you have to include active voice verbs instead of passive voice. It will engage your professor and reader as well. For example, if you are framing the title- Is the upliftment of society caused by freedom of speech? You should write; How does freedom of speech contribute to the upliftment of society?
As a reader, a title must contain a question and hidden answer as well. If possible, you can make an essay title slightly brief. It helps you to gather the attention of the professor smoothly. Well, there is a difference between long headlines and brief titles. Make sure you do not mess up with both the terms.
A title must give your readers a clear vision of what they are going to read in your document. You cannot write an inaccurate title in any circumstances. Try not to mislead while writing the academic paper. It can harm the overall quality of the essay, and your professor will not appreciate it.
7 Ways to Develop Arguments in a Short Essay
Apart from the titles, you need to keep in mind the arguments while writing a short essay. It is up to you how you convey your thoughts to the audience who are against it. To state your opinions, you have to organize your thoughts and mention the supporting arguments in a short essay related to the statements. Being a student, if you have this perk to persuade your reader with your point of view, then no one can stop you from scoring high grades. To develop the arguments adequately, you have to follow the 7 C's.
Let's take a look.
To build an argument in a short essay, you have to consider the situation effectively. You have to ask several questions related to your topic. It will help you provide the appropriate answer to the reader. Know how broad you can think about the essay topic. The more you go in-depth, the more you will able to develop an argument.
An argument is developed to convey your thoughts to the relevant audience. To do it proficiently, you have to clear your thinking in your mind. You can smoothly develop an argument in a short essay after clarifying your thoughts.
Once you have clear your opinions, you have to construct a claim to produce an argument. It must consist of truth, value, and policy to make an argument.
After stating an accurate claim, you have to collect a strong piece of evidence to support your argument. You can use facts, statistics, reasons, results, examples, etc. It will help you to make the reader understand why you have stated the particular argument.
An argument consists of two or more than two verdicts. You have to justify your ideas and major key points. It will strengthen your debatable statement in a better way.
You have to state your views, connecting them with the future. It will be a strong final thought to develop an argument in an essay.
Finally, you have to structure your argument as per your audience. You can provide support upfront and reply to objections at the end.
Is Short Essay Still Giving You a Headache? Turn to Experts!
Writing a short essay is not everyone's cup of tea. You have to keep all the mandatory details in mind and draft the content concisely. If in case you are not able to write the essay, then you can ask for essay writing help. The experts of Assignment Desk will help you out at every single point. You can avail of the online essay writing service at any time of the day. They will provide you the 100% satisfaction along with some specifications such as;
24*7 customer support
Certified writers
100% plagiarism-free
50% off for new members
5% off via app
Quality work
Privacy policy
Money-back guarantee
FREE Tools
To Make Your Work Original
FREE Features
Topic Creation

Outline

Unlimited Revisions

Editing/Proofreading

Formatting

Bibliography
Get all these features for
USD 84.3FREE