How to Write a Thesis Paper Matching the University Standards? 7 Easy Steps
17 May 2021
1086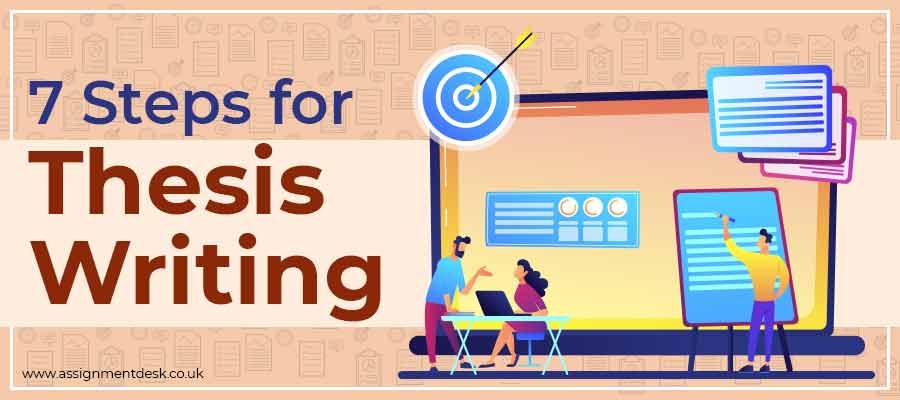 Get Ready to Discover How to Write a Ph.D. Thesis in Just 7 Easy Steps!
Writing a thesis that meets the Ph.D. level of quality is difficult as it is a lengthy paper that requires lots of aspects. Most of the students turn to the experts of the Assignment Desk for the solution. .
Many students search how to write a thesis, research paper, Ph.D. level academic papers, etc., on the internet. But sadly, they only find some tips & tricks. That's why we are here with a detailed step-by-step guide that will help you create exceptional standards of the document.
So, let's begin with the process of thesis writing that matches the Ph.D. level.
7 Step Process to Write a Ph.D. Level Thesis Paper!
Step 1: Get Familiar with the Guidelines
Always read & understand the various rules & regulations required to follow while writing a thesis. It will help you create a paper that can impress your professor & urge them to give higher scores.
Step 2: Pick a Research Topic
You can start with choosing a theme that is most trending & available for elaborate research. Your thesis idea should interest you & make you seek more knowledge around the concept.
Step 3: Research
Now, it's time to do in-depth research, as you have finalized what kind of topic you will research on. So, gather a lot of information and jot down all the references from resources you are taking the data from.
Step 4: Create an Outline
Now, you have all the data that you will require for your further research. So, create an outline mentioning all the chapters of the thesis & other additional headings & sub-headings. It will help you to distribute all the data in the perfect section.
Step 5: Draft an Initial,& Then the Final Paper
Start your writing process. You should write a rough initial paper & then finalize it into the submission paper. Include the 6 chapters- introduction, literature, design, results, discussion, and conclusions in your thesis. The bibliography & appendix are the two other sections that you should add at the end of your paper.
Step 6: Edit & Proofread for Content & Grammar
Now it's time to edit & proofread the entire content as soon as you have completed the writing part. Check every spelling, grammatical issue, and other element that affects the document's flawlessness.
Step 7: Reread & Submit Your Paper
At the end read your paper once more time & submit it to the university. Follow the proper procedure & provide all the documents required along with your thesis.
Above is the solution for the students asking how to write a Ph.D. thesis? These steps will lead you to your paper completion & will help you draft an impeccable document.
Now, we will move to the necessary sections or parts of the thesis that you should focus on. So, here are the three principal attractions of a research paper that you should concentrate on more. Let's have a look!
3 Main Attractions of the Research Paper!
The thesis proposal, thesis statement, and introduction are the three main sections that attract the audience & grab the attention. These are the three pillars of the thesis that make a paper attractive & better. Let's read more broadly about these sections.
Thesis Proposal
Every student needs to get approval from their professors by writing a thesis proposal. If the mentor approves your research topic, then only you can start with your further research. Students, who wonder 'how to write a thesis proposal', here's a complete structure that can lead you forward with your writing.
Title page -Create a page introducing your title effectively.
Abstract –Draft a concise summary of the entire thesis.
Table of contents –Create a list of heading that you will include in your paper.
Introduction –Provide a brief about your chosen topic and all the points that you will cover.
Thesis statement -Write a 2-3 sentence introduction of the title.
Approach & methods –Elaborate on various used methods & strategies to achieve an accurate outcome.
Preliminary Results -Give a brief about the expected outcome through your research.
Expected Time -Provide the assumed date of completion of your research.
List of References –Cite all the resources you will be using for your research help.
Thesis Statement
There are three types of thesis statement that require different information in the content, which are:
Argumentative is the one that makes a claim.
Analytical is the one that analyze an issue.
Expository is the one that explains a topic.
If you want to know how to write a thesis statement,below are the sections that can help you.
1st Section: State your topic.
2nd Section: State your primary idea about this topic.
3rd Section: Make a claim/ analyze/ explain to support your main idea.
4th Section: Provide another reason to defend your main idea.
5th Section:Provide one more reason to uphold your main idea.
6th Section:Insert an opposing viewpoint to your main idea, if applicable.
Thesis Introduction
If you are curious about how to write a thesis introduction, you can present all the following points in sequence to create a perfect one.
Primary topic with some background information
Review of the idea-related literature
Topic terms and scope
Current situation outline
Pros & cons of the evaluation of the current situation & gap identification
Proposed research importance
Research problem & questions
Research aims and objectives
Hypotheses
Table of content
Methodology outline
A Complete Checklist for Your College Thesis Paper
Make sure your thesis fulfills all the demands of the primary topic.
Make sure your content is around the primary question of your thesis.
Make sure you used credible, reliable, and logical resources for your thesis information collection.
Make sure you have created a crystal clear & arguable thesis statement.
Make sure your paper is organized logically and easy to understand. Consider checking the outline and structure for the same.
Make sure there is no plagiarized content in your paper.
Make sure you proofread the content to remove grammatical mistakes & errors. Make all the improvements required.
Make sure your paper is well-formatted.
Make sure your paper is absolutely ready to submit.
It is a complete checklist of thesis writing that will help you to remember & cross-check all the needed points in your paper. If you are still confused about how to write a Ph.D. thesis, you can come to our experts without any hesitation. We are available 24*7 to serve students from various countries.
Who Can Write My Thesis for Me That Can Match the Ph.D. Level?
We have highly qualified experts who hold years of experience in writing academic papers. Our thesis help have excellent skills & vast knowledge to draft high-quality content that matches the Ph.D. standards. You will get lots of benefits if you come to us, such as 3 free topic suggestions, perfect formatting, unlimited revisions, a well-drafted outline throughout the paper, and editing & proofreading. We have specific experts for various subjects of writing. So now, you won't have to struggle to find a discipline specialist every time you need help. We will provide you all the facilities in one place.
So, come to us as soon as you feel stressed, or struggle while creating a well-researched thesis paper. You will get your document on the promised date without delay as our professionals manage their time & complete the writing task as fast as possible. They make sure that you don't face any penalty because of late submission. We will provide you an attractive content that will match your professor's expectations & will impress them to give higher scores in the result.
So, don't wait for long!!!
To get the best thesis matching the Ph.D. standards, come to us now!
FREE Tools
To Make Your Work Original
FREE Features
Topic Creation

Outline

Unlimited Revisions

Editing/Proofreading

Formatting

Bibliography
Get all these features for
USD 84.3FREE