What Is the Importance of Vocabulary in Assignment Writing?
03 Nov 2018
3500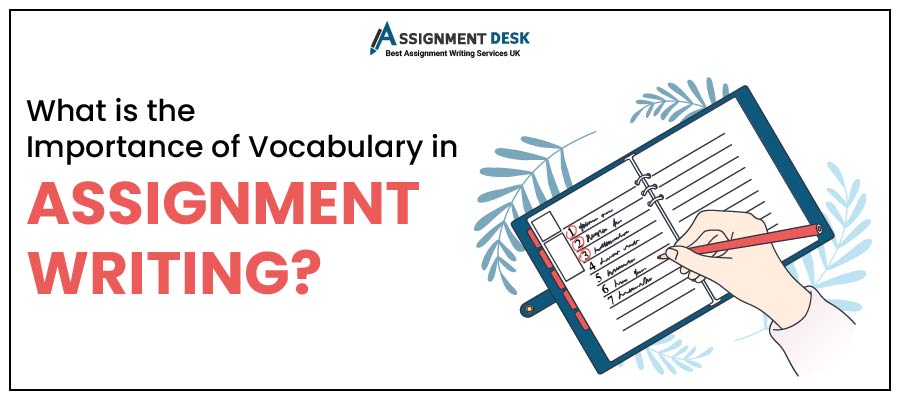 A well- written assignment always gather the attention of the readers. The efficiency of a written document depends mostly on the usage of great vocabulary. Most of the students are naive writers; therefore vocabulary poses a hindrance in writing exceptional writing. Limited vocabulary bound you to use the words again and again. Repetition of the words in a document makes it dull and uninteresting. Vast vocabulary also improves your comprehensive skills which further help you explore new words in the process of reading. There are some tips to enhance your vocabulary which will make assignment writing more fun and less tedious.
1. Improves Writing Skills
Never miss an opportunity to write anything. Make writing a regular habit so that you will have an expanded knowledge of vocabulary. Take a single word every day and utilize it in a different context. Using relevant vocabulary in a document will make your document reader-friendly.
2. Makes Your Work Presentable
The document which describes each word precisely and beautifully breaks the monotony of using common words more often. Using a vocabulary which is uncommon and unused will make your work stand out from the crowd.
3. Boost Your Confidence
Mastering a skill is not an easy task, but constant devotion and practice help you achieve it. Learning new words will let you have the upper hand on using vocabulary in your assignments. It will also help you score better grades which will increase your confidence. This confidence will make you write all the assignments with new and improved vocabulary skills.
4. Elevates the Quality
Using a strong vocabulary has a direct effect on the influence of your paper. It enhances the quality of your work by giving accurate words for the description. The words which are used from strong vocabulary will not only convey the actual meanings but make your paper ornamental.
5. Shows Your Creativity
A wide range of vocabulary produces creative work. It helps you focus on divergent thinking and creative thinking. Using an efficient vocabulary shows creative quotient which will give a new perspective to your writing.
These are some of the relevant reason pointed out by assignment writing service experts to help you produce an extraordinary assignment by using impeccable vocabulary. To use remarkable vocabulary, one should also know those words. Hence, we have provided some of the steps which will help you gain command of usage of vocabulary in a proper sense.
Steps to Improve Your Vocabulary
Read Regularly
This is the essential step to upgrade the quality of your vocabulary. In free time, indulge yourself in reading something. Start it with reading something simple and then move on to something complex.
Understand What You Read
Reading without understanding the context is just like writing without an objective. While reading whenever you explore new words check out the meaning at that time. It will fulfill the real purpose of reading.
Communication
While talking, use words which are different from the usual ones but express the same meaning. By doing so, you will be aware of those unusual words which you skip while talking
Word Puzzles
Doing word puzzles is both fun and helps in learning new words. Crosswords make your brain working by making it hard to search for words in your memory.
Take Help From Dictionary
Always keep your dictionary handy. Whenever you find a new, always looks for the meaning in the dictionary. This will extend the level of your vocabulary.
Note Down New Words
Try and keep a journal with you, accommodating all the new words you have searched for till that time. It will help you make your dictionary available with you all the time.
Know the Synonyms of the Word
Knowing synonyms helps expand the vocabulary of an individual.
Editing and Revising
Revision will help you detect the overused words in your document. And while editing, you will be able to spot the writing errors related to repetition of the phrase. It will help you use words which will give the precise and definite meaning which will not mislead the concept of the assignment.
Ask For Help
After writing an assignment, taking feedback will produce fruitful results. As now there will be two opinions involved in the same project. The second set of eyes provides a much clearer insight and can easily spot problems related to poor word choice.
Using vocabulary which is relevant to the topic makes assignment more readable. Above write-up explains the importance of using fresh vocabulary and how it can elevates the quality of the paper.
FREE Tools
To Make Your Work Original
FREE Features
Topic Creation

Outline

Unlimited Revisions

Editing/Proofreading

Formatting

Bibliography
Get all these features for
USD 84.3FREE