Some Inspiring and Weird Firsts That You Must Know
23 May 2018
3655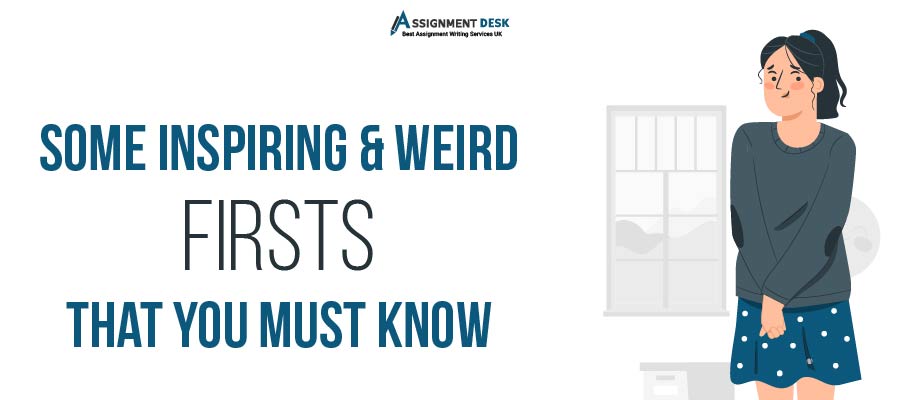 You all must be aware of the first man to step on the moon, the first person to climb the Everest, or the first computer ever made. Along with these, there are many other firsts that are very popular and became the indelible part of history. However, there have been some not-so-famous incidents in the past that happened for the first time, and people don't even know about them. They are not just ordinary moments, a few of them are really inspiring while others are weird and absurd, but the bottom line is they are significant due to a number of reasons.
Today, our assignment help team has decided to recognize such people and moments that have been lost in the pages of world history. Have a read:
First telephone call
It was Alexander Graham Bell who made the first ever phone call on March 10, 1876, to his assistant named Watson, who was sitting just in the next room. His simple words "Mr. Watson, come here" became so prominent in global history. We are sure that he would have chosen something more significant if he'd known that his words on first telephone call would get so famous.
First person to walk all the way around the world
Dave Kunst was the first person to walk all the way around the globe (of course, excluding the oceans) on foot. After walking out of the Waseca, Minnesota, from the east, he went back into it from the west on October 5, 1974.
First selfie
Although Facebook, Instagram or other social media platforms didn't exist in the 1800s, people still loved to take pictures of themselves. Robert Cornelius who used to work at his family store decided to take his own photograph, i.e., the first ever selfie in 1839. No, it was not the famous 'duck face' or 'pout,' but we do think that he might have to hold for the several minutes before clicking the final one.
First Olympics gold medal
It was in the 1904 Olympics when gold medals were introduced as the first prize in the games. At that time, it was quite a thing because medals were made from the real solid gold until 1912. After that, it seemed to be a too expensive prize, and from then till now, winners are given a medal that is cast in silver and coated with gold.
First world map to be published
There was a time before GPS was developed when people used to get lost while searching for their destinations and it would take hours to reach the final point. In such scenarios, map was definitely a priority for directionally challenged travelers. The first atlas was published in 1570, it was a 53-page book and named 'Theatrum Orbis Terrarum' which means theatre of the world. It was created by Abraham Ortelius who was the Flemish cartographer.
First woman to fly solo over the Atlantic
Flying planes and jets was a risky affair less than a century ago, and pilots didn't have access to technological advancements, like autopilot system. At that time, Amelia Earhart became the first woman to fly a transatlantic flight that too solo. She earned herself the top position in the list of high-flying adrenaline junkies on May 21, 1932. The U.S. Congress awarded her a Distinguished Flying Cross for this incredible achievement.
First television sitcom
Nowadays, there are hundreds of television series and shows that we just love to watch every day. And all of us have a list of favorite actors that we admire. But do you have any idea about the first ever TV sitcom? No? Well, let us tell you. It was Pinwright's Progress which started on November 29, 1946, on the BBC. It narrated the adventures of the world's smallest store. The first episode showed the life of the proprietor J. Pinwright, along with his arch nemesis, pretty daughter, and "helpful" staff who made things worse. Who wouldn't love to watch that?
First pedestrian hit and killed by a car
Well, this might seem a bit weird to you now when incidents about pedestrians getting hit by cars have become quite common that they hardly make the news. We are sure that no one would have even thought about the first person who was killed by one such fast running machine. She was Bridget Driscoll who was hit by a demonstration car. It was on August 17, 1896v when the car was running at the speed of four miles per hour. We know it is hard to understand how in the world that tragedy happened, but it did.
First humans to fly
Please don't take it literally. By 'fly' we mean 'hot-air balloon.' Marquis d'Arlandes and Pilatre de Rozier were the pioneers who went up in a hot-air balloon on November 21, 1783. Their sky ride lasted for only 20 minutes but still continue to inspire dreamers, inventors, and jigsaw-puzzle makers.
First baby conceived by IVF
There have been thousands of revolutions in the field of medicines in the past few years. One of them is 'in-vitro fertilization' which gave hope to parents who weren't able to conceive baby due to certain reasons. Before this modern fertility medicine, such people were left with nothing other than prayers, and complicated procedures. On November 10, 1977, Lesley Brown was impregnated with an embryo through this IVF technique and nine months later delivered a daughter named Louise who was the first baby born by IVF.
We are sure that you have enjoyed reading about these amazing (and bizarre) firsts. You might have heard or read about some of them earlier, while others must have left you to wonder. Do let us know which one was the most interesting (or not so interesting too).
Assignment Desk provides academic writing assistance to the UK-based students at a pocket-friendly price. So if you are also struggling with your documents, then get in touch with our team now.
FREE Tools
To Make Your Work Original
FREE Features
Topic Creation

Outline

Unlimited Revisions

Editing/Proofreading

Formatting

Bibliography
Get all these features for
USD 84.3FREE