A Detailed Pestel Analysis of Netflix
15 May 2022
4134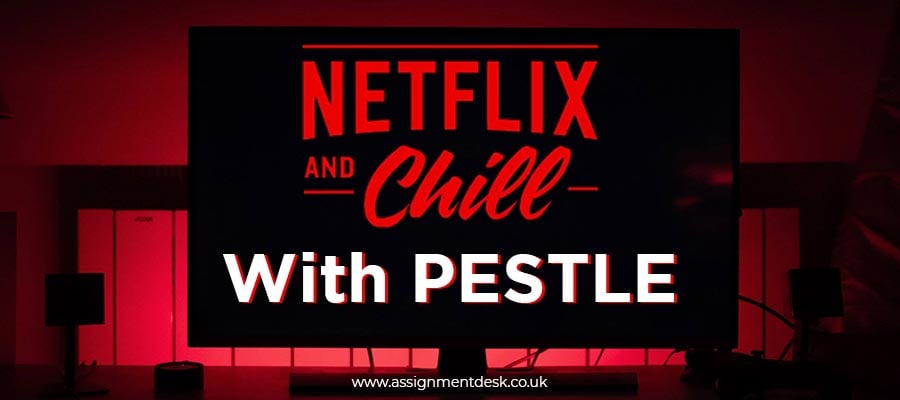 Table Of Contents
The economical boom in previous years has made the market much more competitive than ever before. Businesses are always on the edge, trying unique ideas every time to survive the cut throat competition. PESTEL analysis is a proven method that helps company devise new strategies to change their game in the market. It is a tool that aids companies analyzing their environment that affect their growth. In this blog we will conduct the PESTEL analysis of Netflix
Glance of Netflix
Netflix is the leading provider of entertainment streaming services all over the globe. It has more than 221 million users as of 2022. In recent years, the company has seen rapid growth because of people staying at home because of lockdown. Moreover, the popularity of Netflix is mainly because of its great user experience, variety of content to watch, and great marketing strategy. Here is some more information about the company: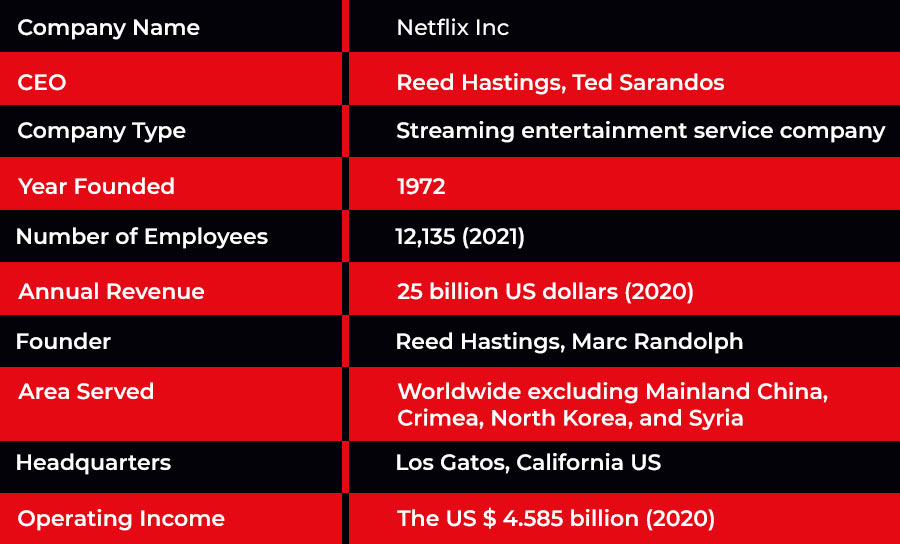 Netflix PESTEL Analysis
A PESTEL Analysis of Netflix will tell you about political, economic, sociological, technological, environmental, and legal factors that can affect the business of Netflix. Let's start with them:
As the world is leaning its dependency towards technology, political factors are becoming relevant to technological companies. Netflix, being a streaming company, also comes under the category of a tech firm. Political factors can be in the form of taxes, foreign trade policies, and fiscal policy. Censorship has been a major obstacle for Netflix, as it has prohibited the growth of the company in certain economies like China, i.e., one of the biggest markets in the whole world. Several Netflix content is restricted and not available to watch due to government restrictions, and as a result, Netflix, the tech giant, has very few options for its customers in some countries, and thus suffers losses in such situations. Restricted access does not allow Netflix to operate their business in several countries. Even after the brand agreesto the new terms, the respective government and their norms don't allow them to do so.
Economic factors also play a direct role in the international business of a company. The higher the economic activity of a country, the more its people spends on leisure products. In recent years, the overall performance of the world economy has improved substantially, which has resulted in people spending more on services like Netflix all around the globe. Factors such as economic exchange, growth, inflation rate, interest rate, and others leave a long-lasting mark on the company's financial condition. There have been a lot of complaints about Netflix's increasing subscription prices; even loyal customers have complained. . There were several streaming services before Netflix, but the company out-shined them all. But presently, there are numerous streaming services from which Netflix faces a lot of competition. Additionally, content piracy is a major theft, as it threatens the personal information of customers and affect the company's profitability.
As the world becomes more diverse, more and more companies are becoming involved with social factors, considering them a crucial part of business and making marketing strategies around them to capture more of the market. Netflix is offering its services on a global scale. As a consequence, it is essential for the company to cater to the different tastes and preferences of people all around the world. For this purpose, the organisation conducts thorough study of different cultural trends, demographics, societal norms, customs, population analytics, and more. Netflix has proven to be a phenomenal work environment for its employees in such a way that they are allowed to do anything, with the single condition that their work should be in the interest of Netflix. Its CEO is widely known for his generous nature. They have a fixed amount of around 2% of their annual income which they donate to the black community. And they also help families and students with low incomes. Being the biggest streaming company, it also goes big on video marketing too. Netflix puts out more video content than any other content type. It connects current social media trends to upcoming movies and series and has also captured the mobile market by introducing mobile streaming.
A revolution in technology gives shape to a better business. And as in the case of Netflix, it solely depends on technology. Inside Netflix offices, all you can see is stuff related to technology alone. The company has improved its user interface through the advancement of technology, which has attracted a lot of new users. Factors like technological advancement, automation, and technical awareness play an essential role in the operation of a company in the industry and its popularity. Through better tech, Netflix has offered its customers high-quality video streaming with minimal data usage. And this has been a major USP for the company. The company runs various algorithms and machine learning to cater to its customers and present them with shows and movies according to their likings. This makes their interface flow like a river and plays content with just a tap. The company further invests a large amount of money into their research and development department to make their experience even better for viewers.
These factors are relevant to every large business operating in any part of the world, as environment has become a major talk among the globe and companies action towards it are also accountable. So obviously, Netflix being a global company, its actions when concerned with environment are a major news makers, even though it's entire operation runs online. But the fact remain that a global business cannot operate without consuming resources. Environmental concerns like reusable resources, eco-friendly service, low carbon emission, and focus on sustainability are the basics of ecological awareness. Netflix's recent venture with EPA by investing and partnering with them, showsits willingness to shift to reusable energy. And such partnership with environmental awareness companies can lead to substantial growth. Another step that Netflix has taken is to reduce the amount of paper used in the office itself. A part of the energy that the company consumes in its Netflix's operations including its offices and studios as well as the telecommunications facilities comes from non-renewable sources and so in order to minimize its environmental impact the company matches that portion with regional renewable energy certificates.
Such factors will always play a major role in the context of technological and digital businesses, as the laws in this particular area are still developing and governments around the world are joining hands to create a safe space for every user of such services. Legal factors mainly refer to the laws of a country that the organisation must abide by if they are conducting their operations there. Some aspects are health and safety, consumer law, labour laws, copyright, discrimination laws, and more. Recently, there was a sudden hike in the price of subscriptions, which led the company into conflicts with its existing customers, some of whom even filed a law suit against the company. Numerous copyright claims mean the business faces challenges with small sections of its customers. And instead of blocking users from countries, the company must come up with a preferable strategy.
Stuck with your Assignment?
Hire our PROFESSIONAL ASSIGNMENT WRITERS and
Get 100% Original Document on any Topic to Secure A+ Grade
Get Assignment Help
Still Not able to Chill with Netflix? Watch Your Favourite Movie While Experts do the Work!
The foremost stage in starting a PESTLE analysis is to understand the nature and workings of the specified company. In this blog, we conducted a PESTEL analysis for Netflix. This company is well known all around the globe. And by doing its PESTLE analysis, we gathered various information on factors affecting its operation. These factors included:
Political
Economic
Social
Technological
Environmental and
Legal
And if you are still not able to clear up your doubts regarding pestle analysis of Netflix with this blog, then you can contact our assignment help experts. They will easily clear all your doubt about Netflix PESTLE analysis, and to even excite you more, we have features such as:
Free Revision
Free Plagiarism Report
100% Satisfaction
100% plagiarism free
Ownership Guarantee
D. Certified Writers (4500+)
FREE Tools
To Make Your Work Original
FREE Features
Topic Creation

Outline

Unlimited Revisions

Editing/Proofreading

Formatting

Bibliography
Get all these features for
USD 84.3FREE