5 Principles of Mass Communication That Every Student Should Know!
29 May 2020
3918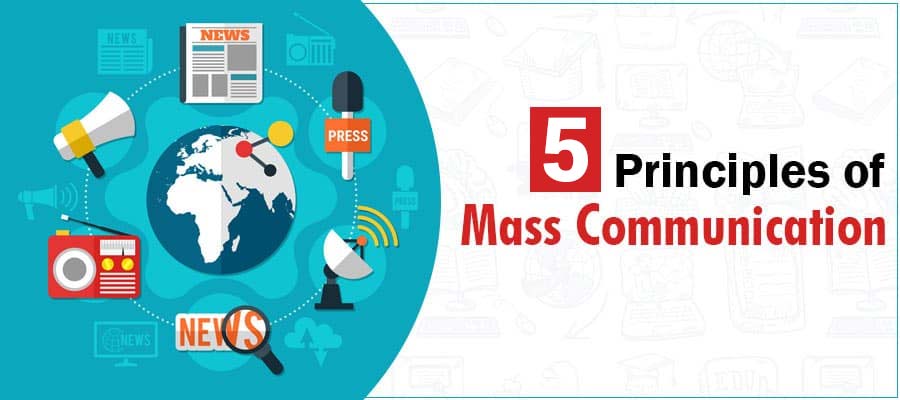 Table of Contents
Mass communication is about exchanging information with a wide range of people on a large scale. It is a discipline of journalism, which is related to covering any event and presenting the truth in front of the public. So, if you are studying this subject, then you are more likely to receive tasks related to covering news and events happening around you. To excel in this course and perform every task with perfection, you should know some principles of mass communication. So, read the next section of this blog with the utmost dedication.
What Are the Principles of Mass Communication?
When you are writing an assignment for college, you need to keep the principles of mass communications in mind is to ensure you convey the right information to right people. We have discussed five most important mass communication principles below.
Need Personalised Assistance from Our Experts?
Share Your Requirements via Whatsapp!
Chat Now
1. Eliminate the Communication Barrier
People mostly trust what they listen to and what they see. Due to this reason, sometimes there are scenarios where newsmaker tries to manipulate the news and highlights the wrong event that impacts society as a whole. So, you must eliminatee the entire communication barrier between the event and the people. It is because the information travels like fire, which may further result in occurring of some other wrong happenings. Besides this, you also need to learn about forms of communication barriers that you or others may encounter while covering any real news.
Misconceptions
Lack of Understanding
Opinion Differences
Inability to Understand the Language
Poor Listening
2. Identify Myths & Let People Know the Truth
When it comes to the authenticity of the news, one should not be judgemental and try to identify myths so that the truth can be presented in front of everyone. It is because people always believe what they listen to and what they see. So, it becomes your responsibility to make people aware of actual happenings around them. This can be done with some effective research on the authenticity of the news. If there is no way to check whether the news is real, then just present it as the source without adding your opinions.
3. Have Codes & Conventions
Mass media can easily build blocks to construct the meaning of any event with the help of codes and conventions. Media codes are about technical writing of the news that involves the use of the camera, acting, editing, lighting, etc. However, media conventions are generally accepted ways of informing people about any event. It includes media products like story principles, story arcs, hyperlinking, and more.
4. Hold Beliefs & Ideologies
It is believed that mass media contain beliefs and ideologies that help the news writer to transform the event into authentic news so that people take it as evidence of truth. When you present the news with a strong belief, you are more likely to win the trust of people. It is because the power of mass media reflects certain values that people are not aware of.
5. Respect the Profession
There are a number of times when you might get a situation when any person or company offers you money to manipulate the news and present the edited version to people. But, you need to respect the profession and must not change or manipulate any news. It is because the truth always stands tall than a lie. If you start to present fake news, then sooner or later, people will find out, and they will not trust you anymore. So, always remember to respect the profession.
These are the five principles of mass communication that students study while pursuing journalism. We believe that you have understood all the principles which are mentioned above and enjoyed reading this blog.
If you have any doubts pertaining to the principles of mass communication due to which you are not able to write your assignment, then you can consider taking help from the best writers of the Assignment Desk.
Why Should Students Seek Mass Communication Assignment Help from Us?
If you are looking for an authentic mass communication writing service, then Assignment Desk is the one you can trust completely. The reason why most of the students seek help from us is that we provide a number of exclusive guarantees, which are mentioned below.
Quality Content
Conduct Rigorous Research
Zero-plagiarism with 100% Guarantee
Free Plagiarism Report
Free Unlimited Revisions
24*7 Customer Support
Money-Back Guarantee
We believe that after knowing these guarantees, you can easily develop trust in our assignment writing service. So, now what are you waiting for? Place your mass communication assignment order on our website and avail the on-going deals. We assure you that our expert writers will help you with the best of their ability!
Let Us Help With Assignment
FREE Tools
To Make Your Work Original
FREE Features
Topic Creation

Outline

Unlimited Revisions

Editing/Proofreading

Formatting

Bibliography
Get all these features for
USD 84.3FREE