5 Questions to Know Before Submitting Your Android Assignment
03 Dec 2018
3300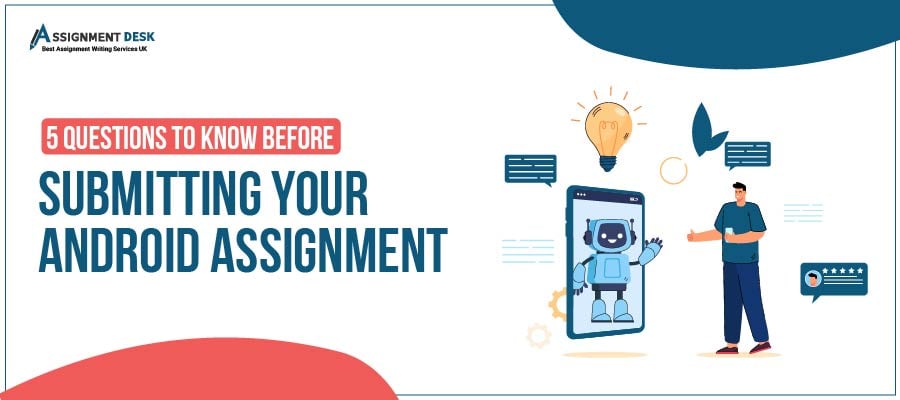 Our world these days fit in our pockets. We are so dependent on the digital world that even the smallest of the tasks we prefer doing online. The mobile applications have become part and parcel of our lives. As the trends of mobile applications are taking generations by storm, students see a strong career opportunity in the subject. The major discipline a student needs to excel to be a perfect app developer is Android. The student is expected to have in-depth knowledge of the subject and should be quick with his skills.
Due to the glitz of the subject, students passionately choose to pursue a course, but often get stuck with their writing tasks. They expect it to be a practical subject, and when it comes to prepare assignments and other reports they often fail to accomplish the task successfully.
To make sure they score good grades and reputation, students often rush to us for Android assignment help.
Having a well-written assignment is just a part of the evaluation, the other half includes a perfect question-answer session. Our Android assignment writing experts have come up with some common questions that you must prepare before facing your professor with your Android paper.
1). What is an Android?
This is a fundamental question that your professor will surely put up. Make sure you are quite well versed with the answer and basic concepts of the subject. Android is a simple open source operating system that is mainly used for smart-phones and tablets.
2). What are the most compatible languages for Android development?
Since you have opted to work in the field and are quite acquainted with the subject, this is the next genuine question that you may have to answer. The most important language that a student must be well versed with is Java. But, C and C++ are also supported when used with Android SDK.
3). What is Android SDK?
You have mentioned the term, so be ready to explain this too. Professors often try to confuse students with the question, but be confident when you are stating your answers. Android SDK is basically a set of tools that is used for writing and developing mobile applications.
4). What are the necessary components for a new Android project?
You are expected to create a small but new Android project for your assignment. And now that you have created a project, this is your professor's favorite question.
The important components for new Android projects are:
manifest: the main XML file
build/: this contains the build outputs
src/: this component is all about codes and resource file
res/: this contains all the non-source related information
assets/: it includes a file that is to be compiled to an .apk file
5). What are the essential core components of Android?
Now that you have prepared an Android assignment, it is important that you have the knowledge of the subject. Components are one of the basics of a subject that you must know.
The significant components of the Android are
Activity
Intents
Fragments
Services
Content Provider
These are just a few basic questions that your professor will surely ask. With each of the questions you answered, there could be more questions that may come up. For example, when you answer the core components, you can be asked to define each of them in detail or to explain its kinds. Similarly, you may be asked to write specific code in any of the computing languages that you may mention. The subject is very vast, and it is essential that to get a good score, you are at least well acquainted with all the terms.
Our android assignment writers make sure they come up with assignments that reflect all the questions in detail so that you do not face many difficulties while answering them. To see the quality of our services you can check the samples available. You can place your order from the website or install our app and enjoy our services.
FREE Tools
To Make Your Work Original
FREE Features
Topic Creation

Outline

Unlimited Revisions

Editing/Proofreading

Formatting

Bibliography
Get all these features for
USD 84.3FREE