7 Roles of Operations Management that Improve Efficiency in a Business
20 Oct 2022
1029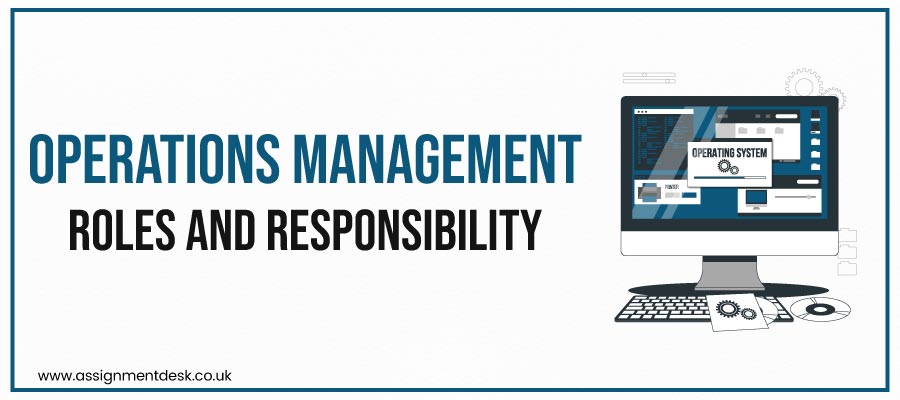 Table Of Contents
Have you ever wondered how so many international corporations operate in such an organised manner? What is their final approach to maintaining successful results? What is your opinion on the probable answers to all of these questions? A solution that ensures proper administration while also increasing the business's efficiency. This page is dedicated to aiding all management or business students to resolve operational problems.
You will learn about operations management here, the only meaningful answer to all the chaos ever produced in an organisation working on a specific project. As a business student, you want to establish your firm someday. All the information provided below will assist you in running it efficiently and effectively. So let us begin by delving into the fundamentals of this subject.
What Is Operations Management?
It is a method to effectively create a systematic work process in an organisation that also meets the highest results. Managing, planning, organising, and supervising the goods and services. All the firms that take up this practice are majorly concerned with creating the best possible profit. Managing business operations is not an easy task. It takes a lot of workforces, and changes must be made in every part of the operation. However, it is a unique production strategy that helps a company satisfy the needs of the manufacturing process.
These requirements are referred regarded as the customer's requirements. The demand is always high, but the production is low. While looking for a meaningful solution, you should discover this management method. This process ensures the optimum material supply and then hands it over to the employees, which is then converted into the final product to meet the requirements.
7 Role of Operations Management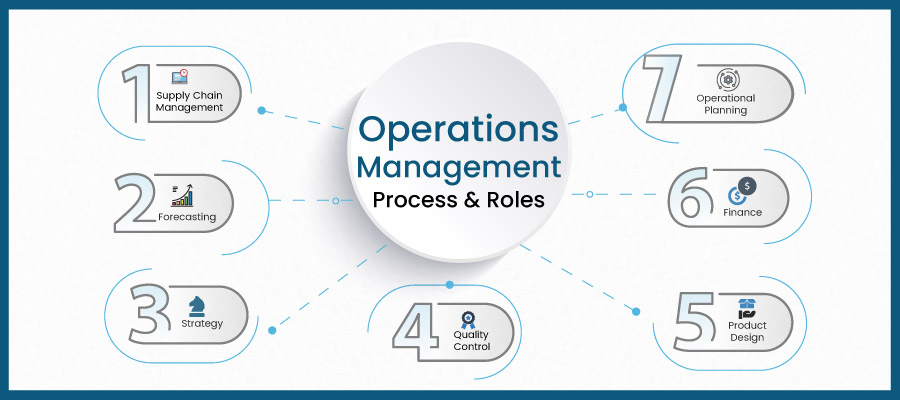 Managing operations involves almost every aspect of an organisation. It mainly consists of seven significant roles and responsibilities, among which some might take up most of the time managed and some comparatively less. Below is the list of the roles that business operations management complies with:
1. Operational Planning
The basis of any management system is operational planning. It must initiate at the initial stage of the process. Specific duties which are taken care of at this stage are:
Keeping track of the daily manufacturing of commodities
Inventory management and control
Monitoring team member performance and well-being
Production scheduling
The prominent role that this stage has to ensure is maintaining the efficiency of operation, so the final product is as expected. You will always have to keep an eye on coming to a better performance agreement.
2. Finance
Finance management is essential to any operation, as every company strives to reduce costs and increase profits. As a part of operations management, you will have to ensure that the budget is low and the revenue is high. Such as:
Making budgets to fulfil production targets
Identifying investment possibilities
Budgeting and resource management
Keeping track of all the expenses and being able to explain them is also a duty of a finance department that works in progress on the same system.
3. Product Design
Designing a product is a creative process that the artist handles with the firm's team. It is the part of managing business operations that makes the product attractive and eye-catching. The key features of this area are:
Consolidating market research into easily accessible findings
Communication of results to a product design team
Providing design guidelines to help designers create a product.
Without the support of the operations team, the design team will face issues in creating visuals. Again, it is because the market is constantly changing and needs progress.
4. Quality Control
Controlling the quality of the product goes hand in hand with an operations management system. It is the part of the process that ensures the standards of a product delivered to the customer are up to par. To maintain all the elements as accurately as possible in it. Such as:
Conducting a risk analysis to detect potential issues
Product inspection to ensure that quality criteria are met.
Developing tests to ensure the quality of your product
Keeping track of any product flaws or inadequacies
There is a distinct level of quality control in different industries. The lead role is to ensure that the customer consumes the product within the time frame specified and that all authenticity benchmarks are met.
5. Forecasting
It is not just a tool used for forecasting weather. Operationsmanagement demonstrates that any project's future situation is analysed. There are specific questions that the forecasting team uses to master this concept.
What will be the future demand for this product?
What marketing and promotion strategies should we devise for this product?
What marketing strategies should we develop for this product?
Can you provide us with an estimate of the inventory storage costs?
If you are a part of this team and can find answers to these questions, then your business operations management skills are up to the mark.
6. Strategy
There is a broad set of strategies that one has to carry with them to work in a systematic management firm. Monitoring and analysis are part of the planning and strategy-making process. That also includes:
Putting client pleasure first
Improving the Manufacturing System
Keeping expenses under control while preserving a competitive advantage
Only after considering these factors will an operations management system be able to deliver a solid final product successfully.
7. Supply Chain Management
After completing all the stages of making and monitoring, the final part is to supply the product to all the geographical areas. They must reach the consumer to arrive at their ultimate destination and destiny. A systematic process of supply chain flow is:
Raw materials
Supplier
Production/manufacturer
Distributors
Retailer
Consumer
After combining all these aspects, a management system can work properly.
Also Read: Practices That Would Ensure Effective Project Management
Importance of Operations Management
Operations management is an essential part of working in every organisation. It is the engine room of a firm that supports it in setting up effective results. Several factors set it up to high standards for proper management.
Product Quality
Following this procedure with quality ensures that the product's efficiency is maintained. In addition, the operations management unit is responsible for maintaining the durability and reliability of every piece delivered to the customer.
Customer Satisfaction
Customer satisfaction is the most rated section of operations management, ensuring the product qualifies for the levels of authenticity. A manager's job is to ensure that the product is of high quality, which is only possible in this management system.
Productivity
When it comes to productivity, there is always room for maximising it. However, when a systematic approach is taken to analyse any operation, productivity has a substantial positive impact. The result is better, and all the records are maintained effectively.
Firm Competition
There is a massive advantage to combativeness in the industry. It forces an organisation to improve its performance. However, it only means that your services and products will improve in many ways, and you will also have a chance to beat the competition.
Cost-Cutting
Just like productivity, for costing also, there is a massive room for improvement. Operations management makes it possible. All the different types of systems are followed in an organisation to ensure the minimal cost of production and other stages.
Also Read: 5 Management Skills That Every Entrepreneur Student Should Possess
8 Ideal Skills of An Operation Manager
Planning and maintaining any business is a critical task. That is why business operation management has team leads with specific skills that help them execute effectively. These necessary skills are as follows:
1. Technical Proficiency
Devices and computers are taking over the planet as time passes. A computer assists in maintaining accurate data and control. Such devices are also employed in management to keep track of smooth computations.
2. Data Processing Skills
Data is everything at the current moment in a technology-centric world. Therefore, keeping an accurate record of all the details and maintaining them to safeguard them is essential for someone managing business operations.
3. Communication Skills
To work in operations management, you must have excellent and professional communication skills. This ability to communicate with clients from various geographical origins and understand their demands is high order.
4. Strategic Planning
Strategic planning is one of the primary components of your management work. A person managing business operations must generate the expected outcome successfully and have the guts to approach challenges for better results.
5. Staff Management
Business operations management requires the manager to direct and supervise various personnel teams. They must be able to organise and monitor personnel calendars and perform employee assessments efficiently.
6. Critical Thinking
The amount of calculation and its severity are things that can be honed. It is straightforward since students are well-equipped to navigate the route of critical thinking. The essential component that will result in a beneficial outcome
7. Time Management
It is a skill all students need, whether in management or anything else. Maintaining responsible behaviour and using time is essential to properly managing business operations calculations in the future.
8. Leadership Skills
The stream has profound significance. You may be unaware of the importance of leadership qualities in the management industry. However, this trait will allow you to lead your crew effectively as you reach a higher level.
Also Read: Analyze Company Culture for Strategic Management Assignment With Simple Tools
Operations Management Examples
These examples provide a fundamental grasp of operations management functions.
Examples #1
Jack works as the operations manager for "Xyz ltd," a mobile phone manufacturing firm. The corporation wishes to sell a large number of new phones. As a result, Sam's responsibilities are as follows:
Analyse earlier data to verify that the goods are developing to meet the client's expectations.
Examine future requirements to ensure that output corresponds to market demand.
Protect the supply chain system. It entails organising and providing raw materials; monitoring existing stocks; ensuring a successful and flawless production process; certifying production figures; distributing them in the market, and ensuring sales.
Assuring the organisation suffers no loss by assessing the cost and available. As a result, it reduces overall pricing and administrative costs while ensuring efficient procedures and timely delivery of products and services.
Examples #2
Amazon, one of the largest firms in the United States, is an excellent illustration of great operations management. It is a US-based online business that began as an online bookstore and has now expanded into an e-commerce retailer and an online marketplace.
To stand out, it had first to establish a powerful brand image. As a result, it established a strong supply network. As a result, its services were more efficient, speedier, and capable of serving many consumers. It resulted in the establishment of the Amazon Prime service, which allowed customers to have their purchases delivered to them promptly. The novel concept of speedier deliveries from an e-commerce firm drew many new clients.
Due to its immense success and popularity, Amazon is now one of the critical instances of how excellent operations management can help a firm. The corporation created a supply chain with end-to-end visibility and modern technology to allow it to oversee all areas of it. To ensure speedier delivery, the corporation additionally automated its warehouse management and developed various distribution stations.
While being a student, you learn the key elements that make an operation successful. But, you should also know what might be a hurdle to reaching a manager position. And you might need support for your Management assignment. If so, then the best solution is to get MBA assignment help.
In any business, operations management holds a very high place. It facilitates compelling entertainment at all stages and maintains the flow's final result on the positive side. Even though these are not all elementary aspects of a system. They can still be born with a little will to work in progress. Hence, to have a successful career as a manager, focus on these elements.
Hire our expert
FREE Tools
To Make Your Work Original
FREE Features
Topic Creation

Outline

Unlimited Revisions

Editing/Proofreading

Formatting

Bibliography
Get all these features for
USD 84.3FREE