Everything You Should Know About Specialized Cells: Various Types and Functions
22 Sep 2020
1211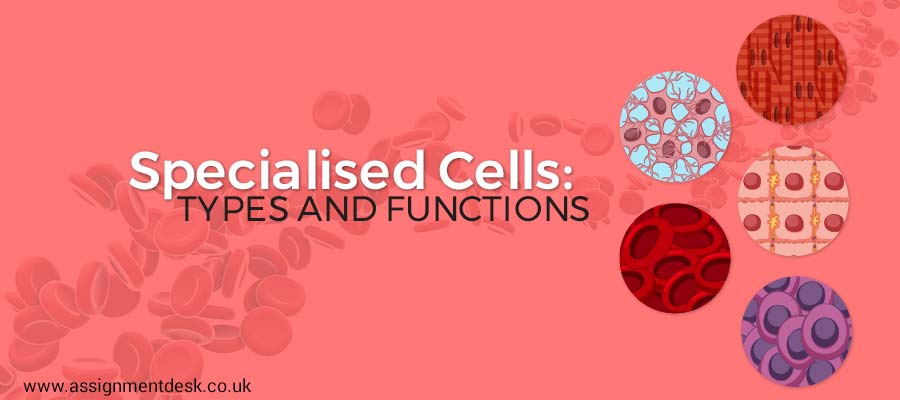 Are you writing a biology assignment or dissertation?
Need help with specialized cells: various types and functions?
If yes, professional assistance from the Assignment Desk is all you need!
Assignments to a student's career are like the cells to a human body: The basic and fundamental elements that contribute to the maximum extent. And, this blog will guide you through the process of writing a flawless biology assignment on specialized cells. So, let's get started…
Introduction to Cells: Everything About a Cell and Its Parts
Cells form the basic building blocks of all living things. These cells in trillions together form a human body. These cells have a very important role to play in living organisms. They provide a defined structure to the body, they absorb the nutrients from the food to convert it into energy; thus be able to perform various tasks and carry-out with numerous functions. Cells are further divided into different parts that perform various functions. Here are a few parts of the human cells:
1. Cytoplasm– It is a jelly-like fluid and other structures that surround the nucleus.
2. Cytoskeleton– It is a network of long fibres that make up the structural framework of cells.
3. Endoplasmic Reticulum– It transports the process molecules to inside or outside of the cells.
4. Golgi Apparatus– It transports and processes endoplasmic reticulum out of the cells.
5. Lysosomes and Peroxisomes– They digest foreign bacteria and get rid of the toxic substances around the cell and recycle the worn-out cell components.
6. Mitochondria– They are used to convert the energy in the food into a form that the cells can use. It can separate the DNA in nucleus and make copies of the same.
7. Nucleus– This is the command center of a cell. It sends different directions to the cell- to grow, mature, divide or die. This is the house of DNA, surrounded by a nuclear envelope.
8. Plasma Membrane– This is the outer lining of a cell, that separates the cell from its environment. It allows and controls the entry and exit of materials into the cell.
9. Ribosomes – These are the organelles that processes the instruction of cell's instructions to create proteins, float freely in the cytoplasm, and stay connected to the endoplasmic reticulum.
These are a few parts of a cell that every student should know for drafting an error-free biology assignment.
What Are Specialized Cells: Various Types and Functions in It?
Specialized cells are the cells that have a specific purpose and task to perform. And, these cells have specific features that help them in performing those tasks. If you want to know more about them, here are a few special cells in living organisms:
1.Specialized Cells in Plants
Here are three major specialized plant cells that you should learn for performing better in your assignment:
a. Root Hair Cells
The root hair cells in the plants help it in absorbing water and minerals to stay alive.
b. Xylem Cells
The xylem cells connect to form xylem vessels, which are used to transport water to leaves and stem of the plant.
c. Phloem Cells
The phloem cells are used to transport food to various parts of a plant and the holes in the walls of these cells make the movement of food particles easy.
These are some important specialized cells in plants. You can explain these in detail and impress your professor to score better grades in your assignment.
2. Specialized Cells in Humans
Here are a few specialized cells in human life that every student should know before writing an assignment on this topic:
a. Muscle Cells
The muscle cells in a human body are cylindrical cells formed of banded fibres that help in making movements.
b. Sperm Cells
The sperm cells are the highly mobile reproductive cells that move to locate an egg for fertilization.
c. Leukocyte
The leukocyte cells in the human body find and destroy microbes in the human body to keep the body free of infection.
d. Red Blood Cells
The red blood cells in a human body carry oxygen to various organs throughout the body. These cells are also comprised of hemoglobin, a chemical that carries oxygen.
e. Neurons
The neurons in the human body carry messages from various parts of the body into the human brain. They have extensions such as dendrites and axons that bring and release information from and into the cells.
These are the specialized cells in the human body that help them perform various tasks. If you are writing an assignment on this, then this is a must include the topic.
Other types of cells that students should learn about and include in your assignment are:
Stem cells
Bone cells
Blood cells
Muscle cells
Fat cells
Skin cells
Nerve cells
Endothelial cells
Sex cells
Pancreatic cells
Cancer cells
Are you looking for a way to improve your grades? Do you want to know the 6 tips to master your grades in biology class? You can follow the below-mentioned 5 steps and gain ample knowledge for your biology assignment.
"Who Can Help Me Draft a Perfect Biology Assignment?" We Can!
Are you stuck with your biology assignment? Do you need professional assistance from subject experts to draft an impeccable assignment? If yes, then turn to Assignment Desk. Our experts will give you excellent biology assignments help to score the best grades in this. Wondering how? Here it is:
Choose a Clear Topic
Conduct in-Depth Research
Outline the Structure
Prepare an initial Draft
Edit and Proofread
These are a few steps that our experts follow for drafting a perfect document to help you score the best grades. So, in case you need any help, then turn to our experts. We will help you deal with any task in just a snap of fingers. So, reach out to us NOW!
FREE Tools
To Make Your Work Original
FREE Features
Topic Creation

Outline

Unlimited Revisions

Editing/Proofreading

Formatting

Bibliography
Get all these features for
USD 84.3FREE