Tricks and Tips Every Computer User Must be Familiar With
08 Jun 2018
3091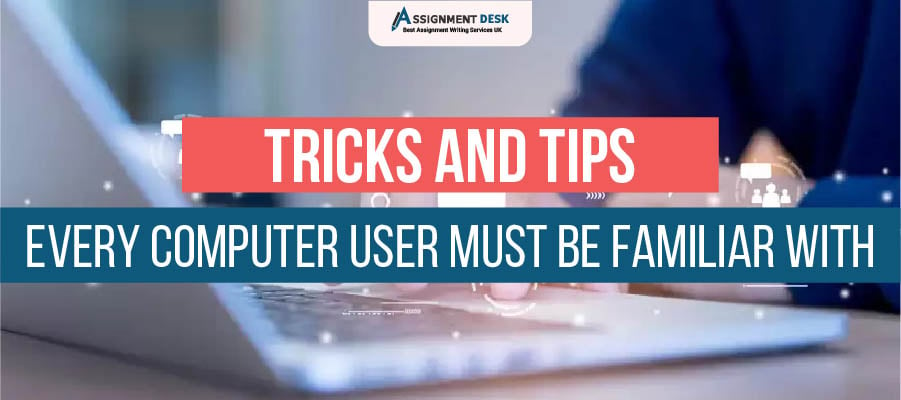 There are numerous technical glitches that even a tech-savvy has to deal with while using a computer and it might not be necessary that they handle those issues in a most effective and efficient way. This not only affects the desktop adversely but also hinders the productivity, which is the difference between the amount of work done and right work. Being a computer science student, you might know some of the simpler and complicated stuff concerning cyberattacks and how to safeguard your system from them. But there are some scholars who struggle with keeping their computer safe from viruses, using keyboard shortcuts, taking backup, etc.
Here are some tricks and tips that will help such college-goers to safeguard their computers and keep them away from cyberattacks. Take a look...
Use keyboard shortcuts
You might be aware of some common shortcuts that are regularly used while working on a computer, but there are some not so known ones that many of the computer science students might not know about. For example, Windows key + E is used to open the file explorer in Windows Operating Systems, or you can use Ctrl + Shift + T to reopen a closed browser tab in Mozilla Firefox. We understand that it is tricky to learn all the keyboard shortcuts at once but the more you will start using them, the faster they will become your friends. It will also reduce your time to finish your work as you won't have to use mouse or touchpad constantly.
Keep your PC safe from viruses
Gone are the days when window users have to bear the effects of viruses and malware. It has become quite easy and convenient to get rid of them nowadays by installing some effective antivirus software to safeguard your laptop or computer from such as Avast, McAfee, or Bitdefender. Also, you must get yourself aware of what is the main difference between trojans, viruses, and other sorts of cyberattacks and then select the antivirus accordingly. Most importantly, you should know to avoid these viruses, so here are some tips: never open suspicious links or websites, make sure that pop-up window that warns you against an infected computer is genuine, and never install anything from unreliable sources.
Prefer private window
It does get frustrating to logout and login account when you are asked to check other person's mail. And it is even more irritating to see weird ads in browser's history just because you have clicked on them mistakenly. In such scenarios, a private browser is nothing less than a blessing as they ensure that there are only significant things in the browser, like the ones you have bookmarked. You can also use multiple accounts in a single browser without logging out from your own.
Make Google your companion
We really do mean it, make sure that Google is your constant companion for lifelong because it is something that will give you the best answers to all your questions and you will surely need it again and again whenever you get stuck with any computer-related issue. Once you get yourself acquainted with Google, rest assured that it will not leave you even in your most difficult times. So if you have any technical glitch or couldn't understand something, ask Google about it, and it will answer all your issues just like our experts of computer science assignment help who offers academic writing assistance to the UK-based students.
Set up a backup system
Taking a backup of all your important computer data is something very obvious and helpful, but it is also one of those many things that you always procrastinate and set up for the 'next day.' You need a few minutes to take backup of all your files and information that are stored on your computer, and once you do it, you will be glad, trust us. No matter if your device is stolen, or experience any kind of error, you will have your documents, photos, files, etc. For backing up to an external drive, you can use built-in computer tools, such as Windows Backup or Apple's Time Machine. If you want to back up your computer online, then CrashPlan is highly recommended for you.
Get rid of crapware
For those who don't know, crapware refers to the software that is already installed on your system for one reason or another. It can be anything from browser toolbar that can change your search engine to legitimate programs, such as Netflix. This junk on your new brand device can create huge problems for you as they make your computer vulnerable to cyberattacks. You just have to know the right tools to avoid this crapware forever. Uninstall them from your desktop and know about the tricks some companies use to make you install the stuff that you don't want.
Access your computer from anywhere
Every time you go out with a laptop in your bag and realize you have left your important files on your home computer, you feel like kicking yourself. Don't you? Well, everyone does. But this can be resolved by using Dropbox, which enables you to carry your valuable data wherever you go. However, there are some handy ways which allow you to access your home computer even when you are miles away from it, and one of them is an app called TeamViewer. It lets you login your home desktop from another device, and you will feel like using it as if you are sitting right in front of your computer.
We assure you that these tips will definitely be helpful to protect your computer and important information and files. However, if you think that you have already mastered these points, then maybe you can help your technotard friends by suggesting them these tips.
Assignment Desk provides online writing service to the students who are stressed due to their pending assignments and other scholastic documents. If you are also looking for help with your academic papers, then contact us to know more.
Want to know how you can make use of your free time to make money online? Here's an interesteing blog on how a Computer Engineer can make money online.
FREE Tools
To Make Your Work Original
FREE Features
Topic Creation

Outline

Unlimited Revisions

Editing/Proofreading

Formatting

Bibliography
Get all these features for
USD 84.3FREE