Want to Make Thanksgiving Memorable? Here're Budget-Friendly Ideas to Do It
27 Nov 2019
602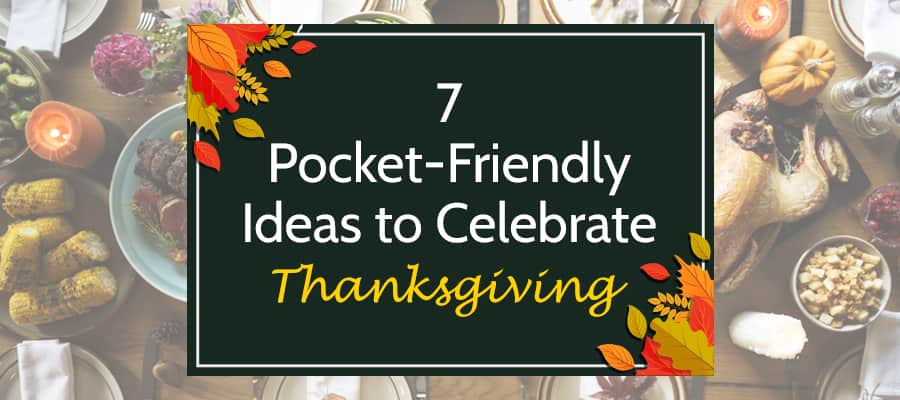 "Thanksgiving" a day for having fun with friends and family. Everybody enjoys on that auspicious occasion. You want to do the same too. But, then your eyes move towards your empty pocket, and a realization comes upon you that "Oh! I am tight on the budget, I cannot afford to invite my friends for a feast in such a situation." Well, you know what, you can easily host a party and make this day memorable even in the present condition. Yes, you heard it correct. Till now, it seemed impossible because you had not met us. Wondering how can we help you with making it a day worth remembering? Well, our experts have some amazing budget-friendly ideas for everything, ranging from the menu to decoration, to make thanksgiving exciting for you and your friends. We will share the same in the next segment of this piece of writing. Go through them with the utmost concentration.
Expert's Pocket-Friendly Ideas to Make Thanksgiving Special
Excited to know these amazing ideas? Well, here they are. Now, stop fretting and start reading them without letting any distractions hamper your attention.
Idea # 1 Start making a plan: Even lavish weddings can be hosted effortlessly without digging a hole in the pocket if one starts planning early. Therefore, our experts suggest that you should begin to make a plan for the day. While making a strategy, concentrate on the following points.
How many guests are coming to the party so that the resources don't go waste
Do you have enough space to host the feast? If no, then how can the arrangements be made
Can resources such as serving plates and dishes be borrowed from family or friends?
Idea # 2 Shop beforehand: We know everything cannot be already available at home or borrowed, such as groceries. But, you know what, as thanksgiving comes nearer, the prices of many items become sky-high. Therefore, our experts recommend that for saving money you should start shopping at the earliest and not wait for the end moment to fetch the required material.
Idea # 3 Be a smart shopper: Do you know what is meant by the term "smart shopper"? Well, he is someone who can get the best products at the cheapest price and does not buy useless things simply because they seem attractive. Therefore, according to our experts, you should also not spend unnecessarily and take advantage of amazing discounts available on Turkeys and generic brands.
Idea # 4 Serve seasonal fruits & veggies: Agreed that greenhouse gown fruits and vegetables seem tempting, but, due to shipping, they dig a hole in your pocket. Therefore, as per our experts, you can easily save money and make the party memorable by serving seasonal produce such as apples, oranges, kiwi, etc.
Idea # 5 Use alternatives: You know what, many costly things have amazing and cost-effective alternatives. Need examples? Well, the bird turkey can easily be replaced with a tofu turkey, and if you & your guests do not mind having vegetarian dinner, then it can be a lot tastier and affordable option as compared to the non-vegetarian meal. Therefore, believe our professionals and use alternatives to expensive items.
Idea # 6 Use Halloween pumpkins: Pumpkins, you love them on Halloween, right? Ever thought about reusing the lovely pumpkin? If not, then think now. Our experts say that they can easily be used again on thanksgiving as beautiful decorative candles.
Idea # 7 Use the fallen leaves: What is the use of a fallen leaf? It is a waste. This is what you think, right? Well, according to our professionals, it is an excellent money-saver. Wondering how? Collect and spray glitter on them, then see how beautiful they look. You can easily use them for decorating the walls and making a mantelpiece arrangement.
Now you must be thinking about gifts, right? Well, you can give beautiful handmade articles as a gift to the guests. Liked these ideas? We hope yes. Now, that you are ready to host an amazing Thanksgiving party, we know you must be wondering about how to complete the pending assignment and find time for shopping. Worry not, we'll assist you with that too. You can take assignment writing services from us to ease your concern. This will not only save your time but also money. Pondering how? Well, we are offering awesome discounts on every kind of academic paper ranging from the dissertations to essays. Here we share the same.
Our Amazing Thanksgiving Discounts
Up to 30% off on first order: Ordering for the first time? If yes, then you have a reason to celebrate. Pondering what? Well, we offer up to 30% discount on every document to our new customers.
Extra 5% off on app: We know like the other students, you also find mobile applications more convenient. Therefore, if you order from the app, then you'll get an extra 5% off on all the documents.
Order 5 and get 1 free: Do you like free things? Oh! What are we even asking? We know you love them. Therefore, we have an amazing offer. Order 5 documents and get one (lowest value order) free. Isn't this fabulous?
Our expert suggestions and these discounts have made Thanksgiving memorable, right? We hope your answer is yes. But, if it is no or you require any other assistance, then feel free to contact us for the best assignment help. We will be pleased to guide and assist you.
FREE Tools
To Make Your Work Original
FREE Features
Topic Creation

Outline

Unlimited Revisions

Editing/Proofreading

Formatting

Bibliography
Get all these features for
USD 84.3FREE