Five Ways to Develop a Growth Mindset
31 Jul 2018
5158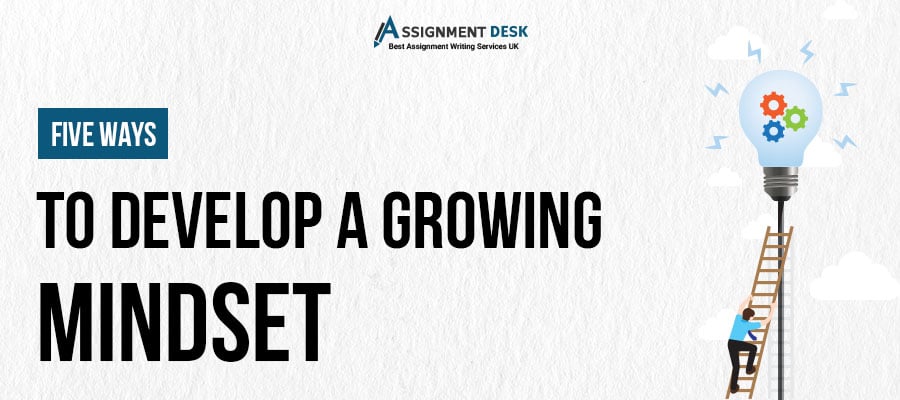 Optimists and pessimists have one difference, the former believe that the glass is half full while latter see it as half empty. The same can be said for the people with a fixed mindset and the ones with a growth mindset. Here is a truth: a fixed mindset increases the limitations in your life whereas a growth mindset provides you with ample opportunities. Success demands you to be engaged in the process of personal growth. Yes, we understand that it is natural to accept every failure with open arms but developing a growth mindset trains us to view deficiency as lack of experience and need of more determination and hard work. But closing your mind to changes can hinder your learning and developing your insight and knowledge.
Here are five techniques to adopt a growth mindset. Take a look:
Never stop learning
Instead of looking for others to approve, you must look up to them to help yourself improve. Avoiding obstacles will never enhance your talent, or develop new skills. It is your ability to take challenges that provides you an opportunity to learn and become a better person. Remember, the more you acquire knowledge, the more value you will have to offer your friends, family, and colleagues. Continuous learning means that we are keeping our brain freshly stocked with new and better ideas which is the primary way to add value to our productivity and get success.
Embrace challenges
Challenges are inevitable in our life and integral part of our worthwhile endeavor. You must learn to embrace them rather than hiding away from them because only hard times help us to develop our character. When we face our fears head-on, it builds our resiliency to deal with the greater challenges. We also become more responsible for our actions instead of blaming others or seeking help. The accomplishment of difficult tasks makes us generous, thoughtful, kind and compassionate.
Accept failure
Failures are actually matter of perspective. One can see them as the end of their life and career while for others they are the chance to apply extra effort to improve the outcome. Don't let your failure define you, use them as an opportunity to learn. Always keep in mind, that doors will open and close, and we all make bad decisions in our life, but living a paranoid or cautious life is not a solution. When we allow our fears to stop us from moving ahead, we miss numerous chances to garner knowledge in light of the fact that there is no better teacher than failure. It teaches us so much about ourselves that we couldn't have learned otherwise.
Perseverance
Frustration has the potential to single-handedly compel us to quit any task long before we actually should. And the primary reason for this is that we always focus on things that happen to us rather than what is happening for us. However, it is high time that we should start training ourselves to look for the benefits that difficult times and challenges add to us and not what they take away. Remember, there is no barrier too great for you to overcome. Learn to look for a way out or another path to reach where you want to be and turn your stumbling blocks upside down. Once you start believing that setbacks are temporary, you will know how to use them to empower and strengthen yourself.
Be happy for others
If you want to make your path to success enjoyable and fun, then stop being jealous or living an intimidated life. Commit yourself to be genuinely happy for the achievements of others as only believing in this motto can cure you of envy which can easily sabotage your own victory. Handling our peers' success positively even when things are not in your favor makes you mature and better person. Seize every chance that you get to celebrate others' success and wish them for their accomplishments. As they say, we reap what we sow. So, when we feel happy for others, we eventually add more joy to our lives.
Like all beautiful things in life, developing a growth mindset also takes time. But the amount of that span depends on your willingness and commitment to change your negative approach into a positive one and become a better version of yourself.
However, if your assignment writing tasks are not letting you get involved in other productive activities, then take academic writing help from the professionals who are adept at providing writing assistance to the college-goers.
FREE Tools
To Make Your Work Original
FREE Features
Topic Creation

Outline

Unlimited Revisions

Editing/Proofreading

Formatting

Bibliography
Get all these features for
USD 84.3FREE