Dangerous Chemicals We Probably Use Everyday
24 Jan 2018
5829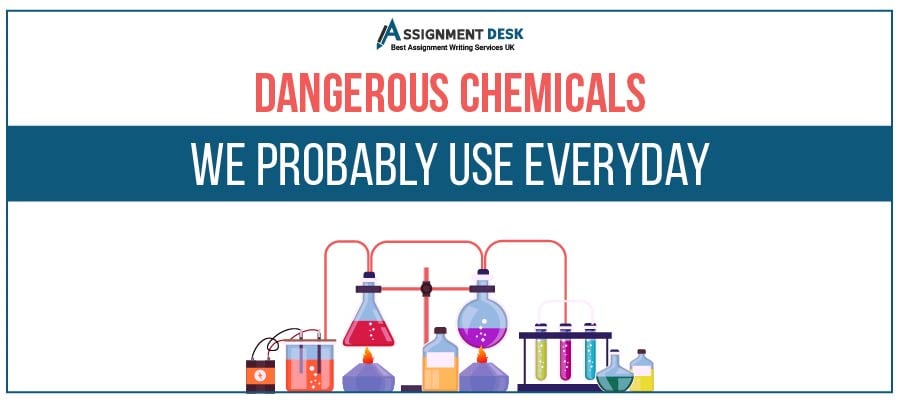 Science intends to make our life easy and we are thankful for all the wonderful discoveries given by it be it computers, cars, cooking stoves, mobile phones, cosmetics and beauty products, and the list goes on. But, as we know every coin has two sides, so is the case with these inventions. Along with convenience, they also brought the negative effect with them. If you haven't understood what we mean, then take a moment and look around yourself. What did you notice? A plastic water bottle, furniture, food wrap, electronics, beauty products, etc., right? Well, all these things are full of toxic chemicals, even the air we breathe is not an exception to it. Research has proved that the major cause of cancer and other severe diseases are these harmful chemicals. They are not only dangerous to humans but also contaminate animals and our environment.
So, let us take a look at some examples of the products with hidden dangerous chemicals:
1. Room fresheners
We all love it when our room smells nice, and for this, there are many air fresheners available in the market. Whether it's a plug-in, spray, or stick-on majority of people buy these products. But, studies have shown that chemicals used in these fresheners are not suitable for health. Some of the examples are phthalates, terpene which are used as solvents and artificial fragrance. This may increase the chances of asthma, reproductive and developmental problems. Avoid using such products or ensure proper ventilation in your room to avoid any serious results.
2. Pesticides
Areas which are more exposed to pesticides are mostly close to farms that spray them heavily on crops mainly food products. They are the class of neurotoxic chemicals and can harm your brain and health. Many of the children who were affected by this are diagnosed with higher rates of attention-deficit hyperactivity disorder. Try eating more organic products or using alternative pest control method.
3. Plastic bottles or boxes
We all know that plastic products are not good either for the environment or human being. The reason is that plastic contains phthalates that can have an adverse effect on our neurological and development system. They can leak into your water or food which can further adulterate them. When any plastic is burned, it releases a toxic substance called dioxin which is also found in toys, flooring, blinds, etc. They can damage your endocrine system and are especially harmful to pregnant women and children. Replace your plastic products with glass wherever possible.
4. Cosmetics
There are a number of cosmetic items that a person uses each day such as cream, lipstick, nail paint, etc. They use synthetic preservative known as phenoxyethanol which is also a substitute for paraben. It is also found in many other food additives and pharmaceutical products. This chemical can affect nervous system which causes vomiting and diarrhea. Use products which are made from minerals and natural oils and carefully check the ingredients before buying any cosmetic product.
5. Perfumes
We all love perfumes because of their wonderful fragrance and What is wrong with that? They just make everyone smell nice. But, these pleasant smelling products are full of disguised chemicals whether they're soaps, cleansers, perfumes, etc. You can't even know the correct and exact ingredient due to the law that allows the companies not to disclose the ones they consider trade secrets. Some of the toxic chemicals that are common in such items are acetone, methylene, ethyl acetate, linalool, benzaldehyde. When a person inhales the smell, it can cause irritation in eyes, throat, skin, lungs, headache, kidney damage, nausea, etc. So, avoid using products that are made from chemicals, use organic ones instead.
Well, it is scary to know that how hard it is to find anything that is not intoxicated and completely chemical-free. Chemicals have become so deep-rooted in our lives that it may be a challenge to get rid of them shortly. So let us start from our home and ourselves first. Start avoiding these products and prefer more of natural and organic ones, then their demand will automatically decline, and we will have a more healthy life.
If you find assignment writing tricky and difficult, then contact Assignment Desk for the same. Our team provides assistance to the students from various colleges and universities across the UK. Be it chemistry assignment help or any other complex subject; we are always ready to help you. For further information, call us now!
FREE Tools
To Make Your Work Original
FREE Features
Topic Creation

Outline

Unlimited Revisions

Editing/Proofreading

Formatting

Bibliography
Get all these features for
USD 84.3FREE