Cadbury PESTLE Analysis: Relive the Golden Age of Chocolate
09 Dec 2022
2088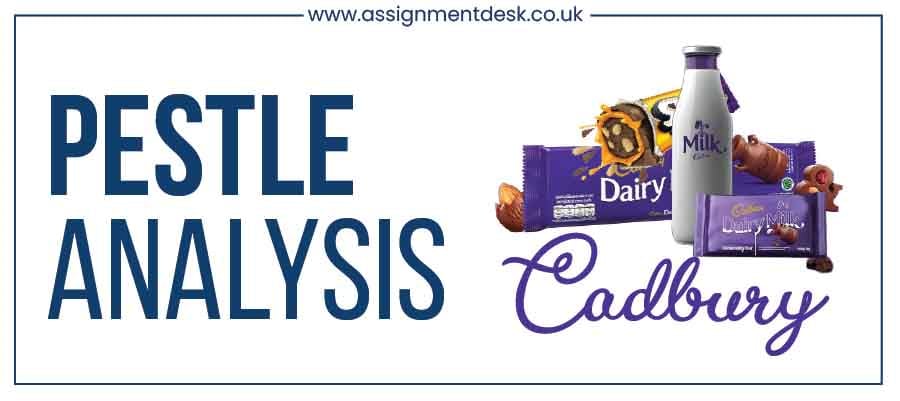 A brand that has changed the way people look at chocolate and sweets. A brand that is synonymous with chocolate. None other than Cadbury. Its chocolaty taste, inspired by the nineteenth century, fills everyone with love and warmth. And, here in this blog, you will get to learn in-depth details about this brand with the help of Cadbury PESTLE analysis.
Taking from morning breakfast to good night milk, whatever you consume in a day contains something that this brand has made. Cadbury has an endless list of products, but no one can get enough of its chocolate. If you are also one who cannot stop eating Cadbury-made. Then here is a little insight into your brand knowledge, through a PESTLE analysis of Cadbury. Fulfill your desire for chocolate. Before diving into the analysis, here are some details about Cadbury, that will help you in the process.
Cadbury's History: Relive the Golden Age of Chocolate
The era of chocolate is nothing but the rise of Cadbury. A brand name that has made people mad over chocolate, which was just an ingredient earlier. Know how it became the biggest chocolate brand with the help of the PESTLE analysis Cadbury.
Cadbury was born in 1831 when John Cadbury started manufacturing on a commercial scale and bought a four-story warehouse nearby on Crooked Lane. By 1842, he was selling more than 16 types of drinking chocolate and 11 types of cocoa.
The real turning point for Cadbury was when the new processing techniques were introduced in 1866. It resulted in the launch of "Cadbury Coco," which was the UK's purest. In 1875, when a Swiss manufacturer's chocolate bar dominated the market, Cadbury struggled to get the attention of the buyers.
In 1904, George Cadbury took on the challenge of developing a milk chocolate bar. For this bar, many names were suggested, but Dairy Milk was picked and launched in 1905.
This year, William Cadbury commissioned the first brand logo, used from 1911 to 1939. In 1920, Cadbury changed the theme and font to purple and golden, which was a great pick.
The current logo scripted on Cadbury was taken from the signature of William Cadbury, which started appearing in 1921. In 1928, the famous Cadbury "Glass and a Half" symbol was used everywhere. But this logo was not the face of the brand until recent times.
Cadbury has since launched several chocolate and milk products that are well-liked by all. Hence it was not a surprise to have their first advertisement in 1928 to the introduction of fudge and tray bars.
Company Name

Cadbury's and Cadbury Schweppes

CEO

Todd Stitzer, Irene Rosenfeld,

Dirk Van de Put

Industry

Confectionery

Established

1824 (198 years ago)

Birmingham, England

Head Quarter

Uxbridge Business Park

Buckinghamshire, England

Founder

John Cadbury

Net Income

$7.24bn
Cadbury Foundation is more than 0 years old today and continues to give all of us a moment of love and warmth. Now turn our heads toward the PESTLE analysis of Cadbury UK.
Also Read: Tesco PESTLE Analysis- A Marketing Deep-dive
A PESTLE Analysis of Cadbury: Love, Taste, and Joy
In the below-mentioned section of this blog, you will learn new details about Cadbury. The analysis is done based on six factors:
P: Political
E: Economic
S: Socio-Cultural
T: Technological
L: Legal
E: Environmental
These are the set of factors that creates a framework which is imperative for companies such as Cadbury. It helps in understanding the market analysis and performance dynamics of a brand, also called PESTEL analysis sometimes. Let's start the Cadbury PESTLE analysis:
1. Political
Being a multinational corporation, Cadbury has extensive operations all over the nation. With a strong presence in emerging markets, where about 37% of their total sales are generated,
Approximately 75% of their business is outside of the United States. Cadbury is also impacted by various compliances outside of the United States due to its extensive operations. These include laws like the Foreign Corrupt Practices Act.
Due to the March 2019 deadline and the absence of a Brexit, Cadbury increased its resources and warehousing facilities in the first quarter of the year. These expanded sourcing plans are now viewed negatively, which could impact the brand's future pricing and sourcing.
Although the precise impact on Cadbury's supply chain is not yet known, it will undoubtedly be significant. Another consideration for efficient operations in compliance with the various labour laws. The United States-Mexico-Canada Trade Agreement (USMCA), a new law that the American president has proposed, is also anticipated to cause tension for the company.
This PESTLE analysis for Cadbury will lead you to the change in the brand name with the help of political and government barriers and policies.
2. Economic
Any changes in political policies have an impact on the local economy. Any occurrence that results in a currency devaluation or fluctuation in currency values, particularly in developing markets like Argentina, Brazil, Mexico, Russia, South Africa, etc., affects the company's sales and revenue.
A time of inflation, like in Argentina in 2018, could be one of the factors causing these fluctuations, which could impact Cadbury's operations. The trade of finished goods or raw materials between nations is further restricted by changes in capital controls, government currency policies, such as India's demonetization, and others.
If the value is not directly related to the needs of the consumer, sales may suffer as disposable income declines and the cost of consumer goods rises. To combat rising production and ingredient costs, Mondelez and Cadbury have turned their attention to newer recipes and smaller products.
This section of the Cadbury PESTLE analysis UK should have made it clear that changes in any political factors affect the economy and, as a result, the brand.
3. Socio-Culture
For them, it begins with the consumer, as Mondelez puts it. People globally are more aware of what they eat as society shifts toward a balanced and healthy lifestyle. Consumers now expect a meal than just fast food or a snack, and preferences are changing at a faster rate.
The parent company of Cadbury, Mondelez, has introduced the idea of well-being foods with this in mind. The overarching goal is to enable people to indulge in Cadbury chocolates and other snacks guilt-free while also promoting their physical well-being.
The company's long-term goals to support people in maintaining their health include growing their portfolio of well-being brands from the current ten to twenty and doubling growth from the base rate.
Along with inspiring consumers to eat mindfully, they also hope to update and improve the nutrition and ingredients of their best-selling brands. Cadbury has also reduced the sugar content and produced smaller bars resulting in growing health concerns.
Cadbury has ensured that by taking these measures, the cost of potential future lawsuits that may arise resulting in the production of health food items will be reduced.
With the help of the socio-cultural part of the Cadbury PESTLE analysis, you can explore the new stages of cultural impact.
Also Read: 4 Ways in Which You Can Motivate Yourself to Achieve Your Goals
4. Technological
The technology used is constantly being improved, which has improved the quality of the product that Cadbury offers. These innovations, such as the orange twirl introduced in the UK, are the outcome of an ongoing research and development process.
By offsetting the effect of the rising cost of raw materials, the new technology used in the production of the goods has helped lower production costs and maintain prices. Facebook and other social media platforms are used by Cadbury to connect with and communicate with its customers.
Raising consumer awareness of the company's products, this aids in mending the relationship between the business and its clients. The company has a good chance of entering this market given the growing interest in AI. It would increase the value of its brand and give it a competitive advantage over rivals in the market.
These are the technological elements that the PESTLE analysis of Cadbury considered.
5. Legal
Cadbury's must maintain rigid and responsive regulations for violations of copyright and intellectual property rights because many small, local brands attempt to use the company's logos and symbols to sell their local products illegally.
The producer must list the contents of the product on the package following local legal regulations. These regulations are constantly changing and vary depending on the region. In contrast to nations like India or Africa, they are concerned with more problems in European nations.
For the business to run smoothly and effectively, it is imperative to keep track of these evolving regulations. Particularly in the UK, worries about obesity may make the laws governing the sugar tax even stricter.
While Cadbury wants to expand even further into newer regions, it must keep track of all the laws and patents already in place there. The company must follow all applicable environmental, labour, and manufacturing laws while establishing a new plant.
The only benefit Cadbury has is its well-known brand name, which makes it easier for the nation to accept it.
With this Cadbury PESTLE analysis, you can understand all the legal issues that impact the brand.
6. Environmental
Cadbury has reduced the amount of packaging; it uses for Easter eggs and the production of its organic green and black chocolate in response to environmental concerns (Mondelez 2017).
The carbon footprint left by their supply chain, which includes manufacturing and distribution, will be another area of environmental concern. Supporting cocoa bean farmers is another plan to make sure the industry is operated sustainably.
However, Mondelez is considering abandoning Fairtrade in favour of its initiative, which has drawn criticism for not being independently audited and for turning its back on a reputable program.
The preceding is a high-level overview of the environmental factor in Cadbury PESTLE analysis UK.
With the end of the last factor, the environment, you must have gotten a clear idea of the in-depth details of the Cadbury company and why it's booming even after more than a century of success. It is no secret: chocolate is the definition of love and warmth to millions of people. However, when it comes to deeply analyse the chocolate brand that has left its mark on the world, Cadbury PESTLE analysis is the method to know better.
Also Read: Amazon PESTLE Analysis - The Untold Secret
If you are a student in love with a brand like Cadbury, then writing its analysis report can be fun. However, this enjoyment is interfering with your learning time. If you want to cure this issue, then read further to know what you can do:
Let an Expert Help You Know What Happens Next at Cadbury
The first step in conducting a PESTEL analysis is to gain an understanding of the brand. Cadbury is a well-known producer and distributor of chocolate and milk-based products. The company was founded in 1924 and has gained much popularity now. Since then, chocolate and Cadbury have been part of the same sentence. Its popularity has compelled many to analyze its better understanding. By conducting a PESTLE analysis of Cadbury, we will gain knowledge about all the factors such as political, economic, sociological, technological, legal, and ecological and their effects on the operation of the company.
And if you are still unable to clear up your doubts through this blog, then you can contact our experts at the Assignment Desk. They will clear up your doubts about any brand analysis or any other academic writing services. Not just that, we have more for you to help with your academics, such as business assignment help on any topic or brand you have to submit it for. To even excite you more, we have features and guarantees such as:
100% plagiarism-free
Free amendments
Free high-quality report
100% Satisfaction
Ownership guarantee
Certified authors
There are also a lot more, which our experts can tell you about. What are you still holding out for? It's as simple to get in touch with us as purchasing a Coke can. Get in touch with us right away to take advantage of the best offers. So consult experts when it's time to perform a Cadbury PESTLE analysis.
Order Now
FREE Tools
To Make Your Work Original
FREE Features
Topic Creation

Outline

Unlimited Revisions

Editing/Proofreading

Formatting

Bibliography
Get all these features for
USD 84.3FREE