Creative Ideas for your Business Law Assignment to Stand Out
08 Apr 2019
2237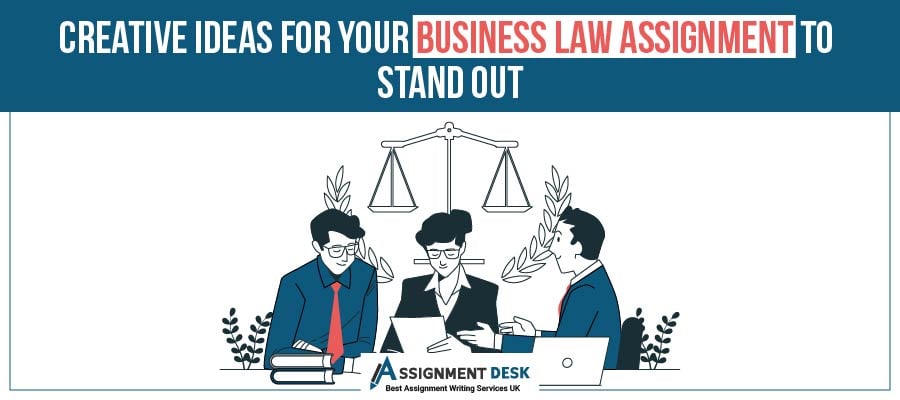 Business Law often referred to as Trade Law or Commercial Law is a body which governs business and commerce. This field majorly deals with the issues of both private, as well as public law. By and large, business law includes contract law, property law, corporate law, to name a few. It is an intellectually challenging study of the constantly changing legal puzzles that businesses of all sizes and types face . With it being so demanding yet so intriguing, it's important for your assignments of business law to be creative.
"Creativity gives rise to the limited out of the unlimited"
- Walles Huey
So, why limit yourselves to the same old ways to write your assignment. Let your creativity spread its wings for you to attain the zenith of good grades. Although, sometimes it becomes demanding to juggle between the idea of using creativity in your assignment and meeting the deadlines for the same. But, with the ideas given below your assignment is likely to shine out!
1.Working on Unique Topics
"Innovation and creativity are the juiciest part of running any business".
Let this concept flow in, and let your business law assignment topics be as unique as you are.
It might come to you that how is a unique topic going to help me?
Well, it surely will. As, not only a unique topic will make you stand out of other students but, it might help you get noticed by your professor (everyone loves creative heads). Along with this, from a future perspective, not only will you gain an insight into a naive concept but, will also gear up for the coming time.
To give your head some rest, we have certain topics to suggest:
The Three Basic Components: The three basic component of any business are- The company, the labor, and the consumer. The laws centralizing these aspects never go out of trend! You might find one or the other new story in the business world that involves law concerning these three. Some of these laws are:
Company Law
Labour Law
Consumer Law
Protecting the New Ideas of Young Minds: Innovation and inventions takes a lot of energy and earns you a lot of fame. Then, how can one just let it go! Hence, there are laws that protect a person's inventions, designs, and artistic work- Intellectual Property Law and Patent Law. With growing in inventions there has been an upturn in the understanding of such laws too.
Expecting Trust from Employees: In any business, a company trusts its employee and invests a lot into them. In return, the company expects the employees to be loyal to them as well. But, when the current employee or an ex-employee doesn't keep with the expected loyalty, there are laws for governance, like, Piercing the Corporate Veil.
The above-highlighted laws are unique in the sense that they are focused on the recent trends of business law and you can find paramount of data on these laws. To add more to these topics, and to your assignment don't forget to mention an example with each one of it.
2.Dig in a Little Deeper
"Persevere and study harder".
Don't let the challenging tasks stop you, just continue gaining more knowledge. The best source of it is- case study. Case study and law are inseparable. If you want to attain in-depth knowledge of how a law functions, how a case is handled and what are the dos and don'ts prevailing a certain law, there is no better way than to go through a case study of a particular business firm and include it your assignment. It not only broadens your concept but will surely make your assignment shine out.
3.Uncover the Covered
"Strength and growth come only through continuous effort and struggle".
Sometimes, to be a step ahead causes no harm. Of course there is data available in various books, journals, websites, etc. But, to make your work intensive it is suggested to contact a business firm or a lawyer in person and uncover the covered. This will not only help your assignment to be unique and reliable but, you might be able to have a different vision towards the case altogether.
4.Adding an Extra Bit
"Go the extra mile, it's never crowded".
Writing, copying down is what every student does to complete their assignment. It just takes a few things to uplift from the obvious. Here's a list of those extra bits which might take you to a new height-
Quoting a relevant saying not only interests others but establishes a stronger connection.
Taking an excerpt from any of your favorite novel, book or writing, will enhances your work.
Making use of info-graphics not only makes your assignment look beautiful but, also helps reader get a better and easy understanding of the concept.
Divide your assignment in a neat way, such that it follows a format of
Introduction
Body
Conclusion
5.Rectify Your Mistakes
"It's not how we make mistakes, but how we correct them that defines us".
With all the efforts you have put in a particular assignment, let's ensure that no stone is left unturned. For this purpose it is always beneficial to have your assignment revised. And if you want an expert or a certified writer to do the same for you, you can get it done at an affordable price at Assignment Desk. They are backed with the best of the team to ensure that, you get the perfect Business Law Assignment Help that you need. You can also get civil law assignment help and various other assignment help services at a shoe-string budget.
With that said, we hope that you impress your professor and surprise your own self by taking these ideas into consideration and make that business law assignment speak for itself.
Order Now
FREE Tools
To Make Your Work Original
FREE Features
Topic Creation

Outline

Unlimited Revisions

Editing/Proofreading

Formatting

Bibliography
Get all these features for
USD 84.3FREE