How to Beat Plagiarism in Assignments? | 3 Ways to Try
09 Nov 2021
805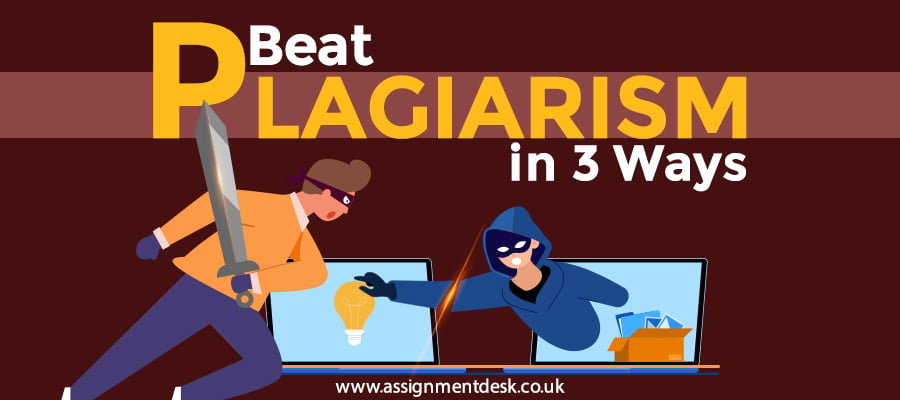 Table Of Contents
Put an End to Plagiarism Using These 3 Ways!
Out of all the problems in the world,
One issue that makes me shiver at any hour,
Irrespective of me being a first grader or college scholar,
This issue is a complete path obstruction from scoring high grades
Students of all academic grades are concerned with one common issue- plagiarism. Yes, every student knows about this, and some even have nightmares of it.
If you can also relate to this situation or want to know more about it and how it can impact your academic career, then read this blog and know more.
How is Plagiarism Bothering Students?
If you are a student, then you might have heard a lot about plagiarism. But do you actually know why this is not good for students or how it is bothering students? If no, then in this section, you can know some ways plagiarism makes the students lives tough:
1. It hampers your learning:
Let us begin with the learning part. Students are given assignments and academic tasks with a motive to improve their learning and understanding of that particular topic/subject. But when you plagiarize the content instead of doing the research and writing, you miss an opportunity to improve your knowledge. This then hampers your learning process.
2. It affects your document:
When you plagiarize or fall for it unknowingly, you put your document at risk. Yes, when you plagiarize an idea or information from anyone, you try to fit it into your work. This is when your document's quality gets impacted totally, and the actual essence or meaning of it is lost, affecting the document.
3. It impacts your grades:
Professors keep an eye out for plagiarism whenever any student submits their document. If they find any plagiarism in work, they either reject the document or grade poor scores for the students. Thus plagiarism impacts a student's grades adversely and should be taken proper care of.
You should also read Different types of plagiarism.
These are three major ways plagiarism bothers a student and negatively impacts his life. If you too can relate to this, you should know how to deal with it professionally. But how? Read the below section to know!
You should also read:- Different types of plagiarism.
How to Deal with Plagiarism in Academics?
Now that you know plagiarism is bothering students, the next question is how to deal with it in academics, right? Follow the steps below to know how to deal with plagiarism:
1. Do Research
Start with in-depth research on the topic. Often students fall for plagiarism because they did not do enough research. Do not let this stop you from achieving your goals. Instead, start your academic-only after doing in-depth research on the topic; this gives you enough information to draft a document without the need for plagiarizing anyone's work.
2. Follow Paraphrasing
One approach you can follow to keep your work safe from plagiarism is, paraphrasing the content. Sometimes you need to understand that you might not have plagiarized the content, but the inspiration you took can still impact you. Thus paraphrasing it will aid in avoiding any chances or traces of plagiarism.
3. Cite Sources
One straight solution to this is citing sources from which you have referred information. Yes, by doing this, you provide reference of the original content and credits to the actual author; thus, your work is not considered plagiarized.
These are three simple ways using which you can easily deal with plagiarism in academics. If you are still stuck or need any assistance, you can always count on our experts for help.
How to Find Help Against Plagiarism Online?
If you are wondering how to find professional help in dealing with your plagiarism online, then Assignment Desk is here to help you.
Being the top academic writing service provider, we have a team of professional writers, experienced proofreaders, trained editors, and expert quality analysts, everyone being the best in what they do.
We make the best of our qualities and experiences to deliver perfect work to you. Be it a simple essay or a complex dissertation; we have your back.
You need to go to our tools section and click on the plagiarism checker tool. Then you can copy-paste the content in the text box or upload the document before clicking on the button "Check plagiarism." Your document will be ready in no time.
If you need more personalized assistance, our experts can help you with that. The best part here is, you can avail our amazing services at the best prices with exciting discounts. So, reach out to us before it's too late.
FREE Tools
To Make Your Work Original
FREE Features
Topic Creation

Outline

Unlimited Revisions

Editing/Proofreading

Formatting

Bibliography
Get all these features for
USD 84.3FREE