Here's How to Get Professional at English Writing
28 Oct 2021
766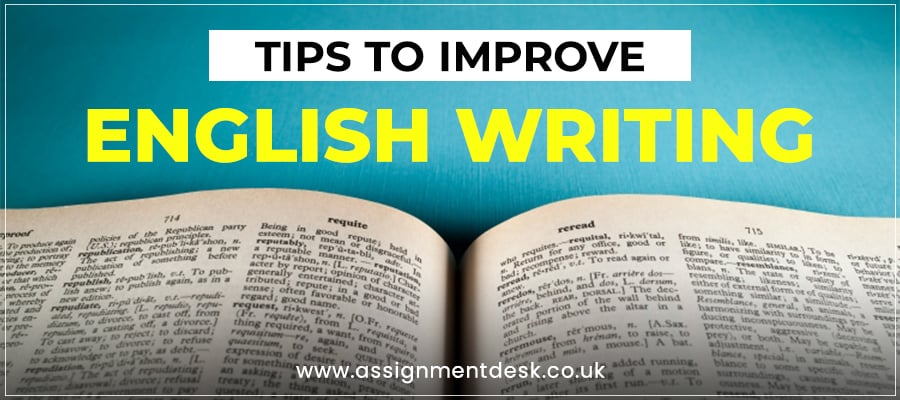 Table Of Contents
3 Ways to Improve Your English Writing
English is the basic medium of communication for everyone. Especially students are expected to learn and know this language and subject as this is a universal language that can open up better career opportunities across the globe.
Students manage to speak in this language though without proper grammar and accent. But when it comes to writing, they get stuck because they are too weak at this to present their thoughts effectively. If you can also relate to this situation, then Assignment Desk experts can help you.
In this blog, our experts have listed why students face trouble with English writing and then different ways to improve it for students. So, let's get started!
Why Students Face Trouble with English Writing?
There might be many reasons why students face trouble when writing documents in English. But listed below are the topmost reasons that every student should know so that he can prepare for them in advance:
1. Lack of knowledge
The very first reason could be that the student doesn't have any knowledge of this. So, yes, it might be possible that the student has not known much about English or is still learning due to which he is making mistakes in it.
2. Lack of time
The second reason could be that the student doesn't have enough time to spare for writing or editing what is already written. Finally, due to not checking or writing in a hurry to complete the task on time, students leave behind mistakes that put them in trouble.
3. Lack of seriousness
Another common reason is students' careless attitude. Many students assume this is a one-time thing and do not pay attention to details. Some do not take this task seriously and end up making mistakes that later lead to poor grades in their academics.
These are a few reasons why students face trouble when it comes to writing in English. Now, the question is how to improve it, right? So, read the below section to get an idea of it.
Also Read: Types of Language Techniques Used in Academic Writing Explained!
How to Improve English Writing for Students?
Are you looking for a way to improve your English writing skills? If yes, then you are at the right place. Here you can find some interesting ways which are tested and are assured to provide the best grades. So, let's get started!
1. Read
The first thing, to begin with, is, read more and more. They can be articles, blogs, newspapers, novels, or any other; all you need to do is, keep reading to ensure that you gain more knowledge on the topic, understand different styles, and present your thoughts in a better way.
2. Talk
The next thing in line is to talk/communicate. Yes, this is another important way using which you can easily improve your English. Wondering how talking can improve your writing? When you get fluent in talking, you learn to express your thoughts in a much easier way which is useful in writing.
3. Write
The next and obvious step is writing. Make it a habit to write regularly. Be it a diary, journal, or just your random thought, keep writing regularly to get used to it. This practice also helps you in performing better and improving gradually as you get into a habit.
These are three simple ways that you can use to improve your English. Of course, there are more ways to do this, but these are the most commonly used techniques. If you are running out of time and do not have enough scope to learn from the basics, seek our expert's assignment help. Wondering where you can get it? We can help you!
You may also like: Why Grammar Check Is Mandatory for Students?
"Who Can Help in Improving My English?" | We Can
If you are bothered about your poor English, don't be anymore, for we can assist you. We have the best Grammar checker tool you can use to check any mistakes in your documents and rectify them easily. If you want more professional assistance, our team of experts is always here to lend a hand to you. So, without a second thought, turn to us NOW!
FREE Tools
To Make Your Work Original
FREE Features
Topic Creation

Outline

Unlimited Revisions

Editing/Proofreading

Formatting

Bibliography
Get all these features for
USD 84.3FREE