Iconic Cartoons of the 90s That Are Irreplaceable for Any Kid
21 Jul 2017
6417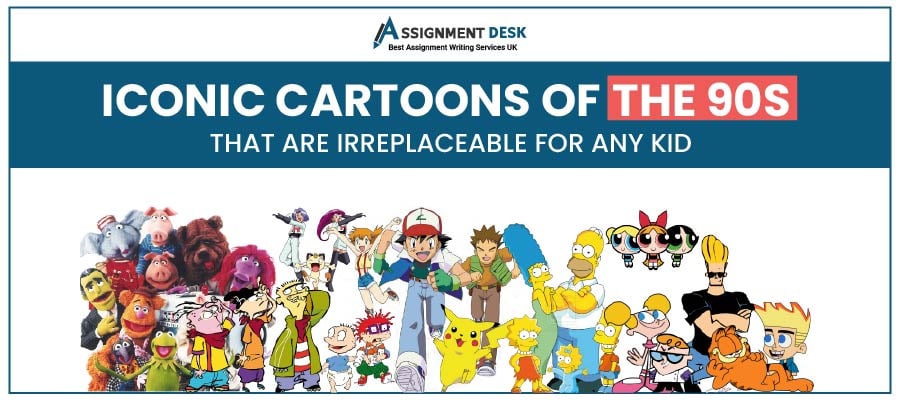 Growing up, cartoons were one of the best things we had. Today's kids may have the incredible VR games and modern gadgets, but 90s kids grew up watching some phenomenal cartoons that can never be recreated. The 90s was considered the golden era of cartoons. However, the characters today are not so bad either, but as a millennial now, we cannot get over a few of the impeccable cartoon series that aired during that time. So read this blog and relive your childhood when most of our time was filled with these brilliant cartoon shows.
Let's get started!
The Jetsons
This was the show that was nothing like any other. Although the show was aired in the early 60s, the technological developments shown cannot be matched even today. The super cool gadgets, robots, and flying cars were a few things we could not wait to witness, and the life of Jetsons was what we wanted to live.
Scooby-Doo
This was a brilliant show that traced the events that Daphne, Shaggy, Fred, Velma, Shaggy, and Scooby carried out to expose the evil plans of various villains in different episodes. This was one of the most progressive shows that illustrated that there is no such thing as ghosts and the only evil lies in the mind of an individual. And, do not even try to deny that you too wished to taste Scooby snack like shaggy did!
Tom and Jerry
One of the most popular cartoons of all time which is still aired is Tom and Jerry that depicted a love-hate story between a cat and a mouse. Getting in trouble while chasing or annoying each other was their favorite pass time which made us burst into laughter.
Courage The Cowardly Dog
A dog which lived with its owners in a deserted land often had visitors who had evil intentions. To save its owners Muriel and Eustace, the dog, courage, was ready to face every challenge in the world. It also had a super intelligent computer on which it could find answers to all questions.
The Flintstones
As kids, when we wanted to live a life like Jetsons, we admired the way Flinstones used their foot powered car, lived in caves that had stone chairs and tables and let's not forget Yabba Dabba Dooo!
Dexter's Laboratory
The intelligent lad Dexter had a secret laboratory in the basement of his room and was continuously being interrupted by his sister Dee Dee. This show was the reason why most of the young scholars loved chemistry more than any other subject because Dexter was always seen experimenting with chemicals.
Recess
This cartoon series was something everyone could relate to. It illustrated the life of students during recess. The group of six students, their interaction with others, and not to forget cunning boy who noted down everything to report to the old and scary teacher; all in all everything was fun to watch.
Popeye
The only reason why the 90s kids agreed to eat spinach was Popeye. It was a treat watching him save his silly girlfriend Olive each time Bluto had evil plans.
No one can thank these cartoons enough for making our childhood great!
Hope you liked reading this blog and for more have a close watch on our blogs section.
In case you are trapped in academia because of loads of scholastic documents, then heave a sigh of relief and contact the Assignment help Experts. We have the most skilled academic writers, proofreaders, and editors who are capable of composing top-notch academic documents.
Hurry! Place your order now and take benefit of some amazing features as well.
FREE Tools
To Make Your Work Original
FREE Features
Topic Creation

Outline

Unlimited Revisions

Editing/Proofreading

Formatting

Bibliography
Get all these features for
USD 84.3FREE