How Has Marketing Evolved Over the Years?
22 Jul 2020
8095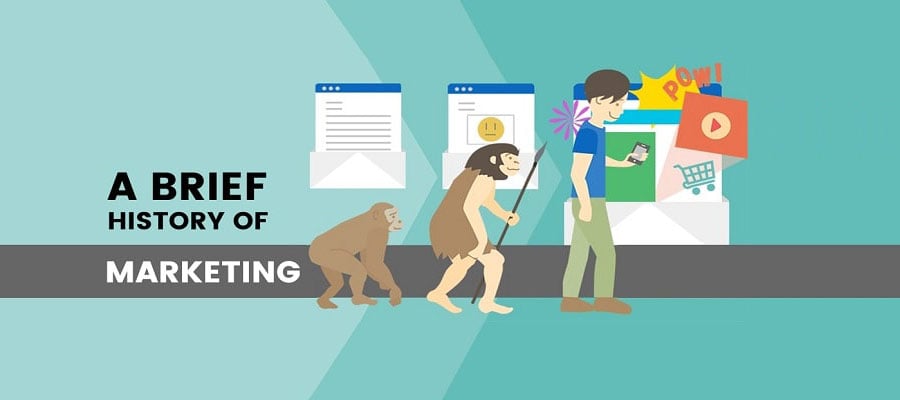 Table of Contents
Ever since people had something, whether it is a product or service to sell, they have been marketing it. The effectiveness of all marketing methods and strategies have waxed and waned over hundreds and thousands of years. Today, marketing is considered as an advanced blend of strategy and technology. However, it has not always been the same way.
The history of marketing goes a long back to ancient times. Back then, the most successful and dominant gladiators were getting paid in return for their life-saving services. Ever since people understood that to get anything, they must give something in return.
Nowadays, students who are pursuing business courses receive the task of writing a marketing assignment. No matter what topic you are assigned with, you should know about the evolution of marketing since everything is related to it. Many students, due to the lack of knowledge, search for marketing assignment help.
To help you understand how marketing evolved over the years, Assignment Desk professionals have shared a timeline from 1450 to the present day in this blog.
Let's take a read.
Evolution of Marketing Over the Years
1450 - 1900: Printed Advertising Evolved
The advertising industry achieved some major milestones during the 1450s to 1900s. Most importantly, it's become much more personalized and user friendly.
In this period, the world has seen three great inventions, which later changed the entire concept of marketing. The three elements are:
Magazines (1730)
When magazines were introduced in the world, people started paying to advertise their brands and promote their services. It is directed at a general and special audience, often published daily, weekly, or monthly. There are many types of magazines segmented in business, fashion, beauty, technology, and many more. Not only at that time, but people still believe in the power of marketing through magazines.
Posters (1839)
In the year 1839, people added another key thing to promote their brand other than magazines, through posters. Yes, posters were in huge trend as every second person was doing promotion through it.
There are many benefits of advertising the brand through posters, such as:
Affordability
Visibility
Credibility
Flexibility
Call to Action
Billboards (1867)
In 1867, the tech giants and almost every MNC started using billboard marketing. It was considered the most effective marketing tool for building brand awareness among the general public. It is a type of media used to communicate with consumers and promote the brand image to boost the business's revenue.
1920 - 1949: The Emergence of New Mediums
In early 1920, the entire world saw the emergence of new mediums that changed the way people see advertising. It impacted the reach. In simple words, the inventions that took place during those years reached the millions of people easily. The following are a few inventions that took place back then.
Radio (1922)
In the year 1922, the radio was invented and widely recognized as marketing media known as broadcast. The primary motive of radio was to bring entertainment to the life of people but it was also used as a tool to promote the business. People can listen to the advertisement without watching it.
TV (1941)
In 1941, TV was used for advertisement and promoting a brand by shooting a commercial, and since then, many brands used this media broadcast for the sake of advertising. It has immensely increased the reach of brands and resulted in boosting the company's revenue to its highest.
Telephones (1946)
During the evolution of marketing, 1946 was the year when the world saw the very first telephone. It was the medium through which people started communicating with each other. The telephones were used to make cold calls, and converting the business leads to real-time deals. It was expensive back then, but effective. But the big companies never considered expensive things a hurdle in promoting their brand.
1950 - 1972: Marketing Grows Further
During this particular time period, marketing grew more. Every medium through which marketeer was promoting their brand and products showed immense opportunities.
1954: The TV ad revenue surpasses magazine and radio sales, which was a huge thing back then. The TV revenue grew from 5% of total ad spending in 1953 to more than 15% in 1954.
1970: It was the year when telemarketing emerged as a common tactic for almost every business to promote its services and products and present its image in front of the consumer.
1972: For the first time, print media felt the monetary pinch of outbound marketing. It faced a huge competition from television, and the prospect of postal rate increased as factors in its demise.
1973 - 1994: The Era of Digitization
The marketing landscape took a new shape in 1973, when new forms of marketing gained strength and maturity. It was the same year when the researcher Dr. Martin Cooper makes the first hand-held mobile phone call.
1981 - 1984
The IBM corporation introduced the IBM personal computer. Three years later, in 1984, Apple launched its mega-successful Macintosh with an epic super bowl commercial directed by Ridley Scott. This ad cost around $900,000. The reach of Ad was around 46.4% of American households.
1985: Print
Print advertising was made even easier with the emergence of desktop publishing and personal computers, leading to an explosion in print advertising.
1990 - 1994 (Mobile)
2G mobile network advancements resulted in the rise of cell phone usage, paving the way for future advancements like SMS messaging, which arrived in 1992.
1995 - 2010: The Bubble
During this period, new advanced technologies continued to emerge and became adopted by wide audiences. The mobile phone industry boomed when it gained immense popularity, and the internet became a viable tool for commerce. It took the entire marketing world by storm.
1995 - 1997 (Search Marketing)
In the year 1995, search engine was launched, which was followed by ask.com in 1997. It helped the users find the information, products, and services they desire.
Total number of people using the web and searching:
December 1995 - 16 million people were using the services. (0.4% of the population)
December 1997 - The number rose to 70 million people who were using the services. (1.7% of the population).
1998 (Search Evolves)
Google and MSN were the two tech giants that came into existence and entirely changed the way people search anything over the web. Google introduced PageRank, which is the metric Google uses to determine how websites should rank.
2000 (Bubble Pops)
Tech-related growth was reflected in a 500% increase in the NASDAQ index, considered an indicator of the performance of technology companies. The dot.com bubble burst on March 10, 2000, when the NASDAQ composite index peaked at 5048.62.
After the dot.com bubble burst, the internet begun to enter a new age. It is characterized by a greater emphasis on information sharing, user-centered design, and collaboration.
2003 - 2004 (Social Media Begins)
In these particular two years, one of the biggest social media platforms was established. The LinkedIn Corporation, American business and employment-oriented online service that operated via mobile and computer launched on May 5, 2003.
Facebook was founded back in 2004, which changed the entire marketing strategy. People started promoting their products and services over the internet at the most affordable prices. They shared the pictures and videos of the business to attract the customers. Facebook also helped in steering traffic to their respective website and increased the overall revenue of the business.
2005 - 2010 (Telemarketing & Email Marketing)
Telemarketing was introduced back in 2005. It is a method of direct marketing through which the salesperson insists the customer to buy the product or service directly from them, either over a phone call or through face to face. However, email marketing is also a medium of selling products or services by sending a commercial message, typically to an individual or a group of people using email.
2011 - Present: The Era of Artificial Intelligence
Visualization Became Important
Heineken was on the No. 1 position for over 65 years as imported beer. Then Corona arrived with a new concept with a lime on top of the bottle. According to the latest figures, Corona easily outsells Heineken. This example was to illustrates the power of a visual. But following the visualization is not enough as almost every company is using images. What makes a difference is a visual that strengthens the verbal positioning concept of the company. Such eye-catching promotional concepts hammer the brand into consumers' minds. Yes, each marketing program's key objective is to leave its verbal concept into the mind of potential buyers, and the best way to do so is not with words but with a visual or image with an emotional appeal.
Google Got Smarter
Although search engines like Yahoo!, AltaVista, Infoseek, Lycos, etc., were quite significant for the digital evolution of search, the golden era started in 1998 with the launch of Google. Today's most popular search engine changed everything online with its tools like Ad Words and content targeting services. After advanced ranking algorithms, online browsing became more personal and had an immense impact on business. The target browsers and developed strategies provided a whole new way of selling and communicating. Now people can access the most relevant web pages instantly via voice or traditional search. If a company's marketing team is smart enough, then brand can reach anywhere, to anyone, at any time.
SEO Grew Up More
If we talk about the current scenario, SEO has become an integral part of marketing as it optimizes search engines sites. Earlier, keyword stuffing, link spamming, and article submission techniques were excessively recommended. People did not care much about social media influence. But as they learned more, they understood that overusing keywords was embarrassing; thus, adopted other useful strategies and channels.
Social Media Connected People
In the year 2011, Facebook started a new era in the digital marketing world. Social media platforms were no longer just a way to chat and connect with friends and the rest of the world; people came to know brands better. It was used as a medium to shop, complain, spread news, and influence other buyers. For companies, their online reputation management became significant than ever. Now with similar channels, such as YouTube, Twitter, Pinterest, and Instagram that have billions of users, a digital landscape that never sleeps, online media has become a powerful source of marketing.
The marketing world has changed a lot over the past decade and has the potential to witness major reforms in the coming year. A successful marketer needs to keep himself updated with all the latest trends and updates.
This is how marketing evolved over the years, and there seems to be no stopping. Each day, various websites and app are rolling out new features and marketers are using them to attract more customers.
Being a student of marketing, you too should keep track of all the updates and advancements to perform well in academics and make a successful career. If your pending assignments are taking a toll on you, turn to us. We have the best solution to all your marketing assignment writing worries.
Need Marketing Assignment Help? Best Professionals Are Here
Assignment Desk is trusted by thousands of students when it comes to writing an assignment on marketing. Our writers have years of academic writing experience and are qualified enough to cater to your requirements with perfection. You can even check out our samples to get an insight into our work quality.
The advantages you get by availing our services are:
Well-researched & original content
Free unlimited revisions
Money-back guarantee
Round-the-clock availability
A+ grades guaranteed
On-time delivery
Our customer care team works 24*7 to be at your service whenever you need us. No matter how complicated your marketing assignment writing topic is, we will write it for you. Have a word with us and know more about our services.
FREE Tools
To Make Your Work Original
FREE Features
Topic Creation

Outline

Unlimited Revisions

Editing/Proofreading

Formatting

Bibliography
Get all these features for
USD 84.3FREE