Emerging Trends for Operations Management in 2018
21 Jul 2018
13712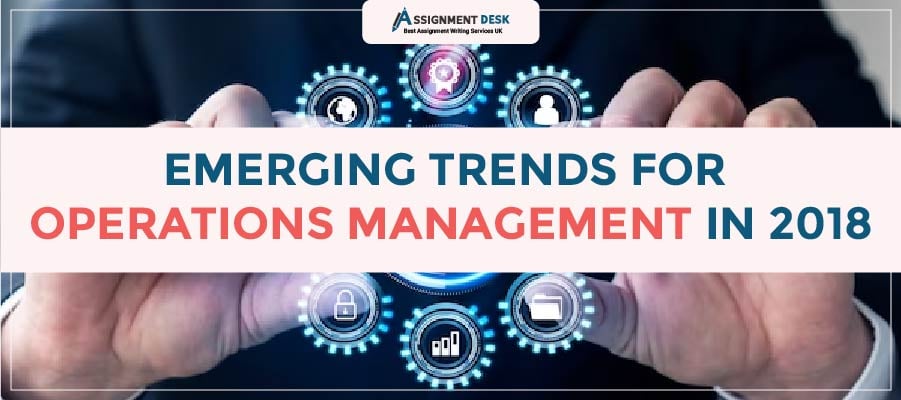 Operations management involves planning, organizing, and supervising the production and manufacturing process. It is the administration of business activities to maintain the highest level of efficiency within an organization. Global companies have started to focus on the trends in operations management to develop strategies that would help them to get ahead in their industry. The technology is changing too quickly, and modern ways are enhancing the performance and productivity of the businesses.
Assignment Desk offers Business Assignment Help services. You can look into them if you have Business Studies as a subject.
These five trends that are explained below will deliver the desired results and assist the companies to achieve operations management goals. Have a read:
Mobile Accessibility
Be it a technology industry that relies on mobiles to meet the targets or any other business where your clients reach you through online portals, mobile accessibility is essential for the future growth. It is not only companies that are dependent on mobile for communication, but even the consumers have started to use smart devices for availing each and every service, such as finding accommodations, jobs, household goods, etc. So, if the firms are not using mobiles, then they are definitely missing out on the opportunity to establish themselves in this competitive market. Moreover, it is also essential to connect easily with customers, and that can be done by launching a mobile application or website.
Customized Production
Earlier, production was done on a large scale with standardized production to ensure economies of scale. This often resulted in overstocking of goods which is not a favorable scenario for business organizations. However, with the increased flexibility and competition, organizations now have to produce goods according to the needs of the customers. If they want to sustain in this fast-growing economy, then they have to offer customized services and goods to meet the requirements of the potential buyers by adopting latest and upgraded techniques.
Outsourcing
Outsourcing tops the list of ways to reduce the cost of the company. It is the contract with outside agencies to hire help from time to time according to the prevailing needs and demands. This technique is more economical than hiring additional staff so startups and small scale companies can easily get their work done without putting a strain on their budget. As the market conditions are changing every day, firms have no qualms about accepting assistance from outside as this is the perfect opportunity to take expert opinion and guidance for their projects. Specialists provide insights into the industry that no other employee can offer.
Automatization
Gradually, automatization processes are proving to be beneficial for the businesses in saving money and increasing efficiency in all the areas of operations management. In the past few years, companies dependency on the advanced technology can be witnessed in automated chatbots, online reservations, mobile check-in, and more which are just a handful of examples. The organizations are now using several software and machines for specific tasks which has enabled employees to spend their time and focus on other productive activities and customer support. Now, they don't have to assign a team to monitor the website and answer the same questions multiple times because they can program a chatbot to do so which will save resources and time.
Employee Empowerment
There was a time when employees were treated the same as any other input, such as the machine which is a part of the production process. The employers didn't value their specializations and used to ignore their concerns and issues. They hardly had any say in the company's decisions. But with the changing time and development of human resource management, workers are now a valuable asset to the organizations and primary attention to employee empowerment. Their problems are heard, and arrangements are made for their welfare.
We are sure that this write-up helped you to understand the trends of operations management and their influence on the business entities.
If you need further assistance to prepare your assignments on its tricky topics and concepts, then ask for operations management assignment help from our experts. Our Management assignment help experts are having expertise in all fields of management which and its various subjects. Rest assured that they will guide you with all their might.
FREE Tools
To Make Your Work Original
FREE Features
Topic Creation

Outline

Unlimited Revisions

Editing/Proofreading

Formatting

Bibliography
Get all these features for
USD 84.3FREE