50+ Social Work Dissertation Topics That Would Build Awesome Dissertation
05 Jul 2022
334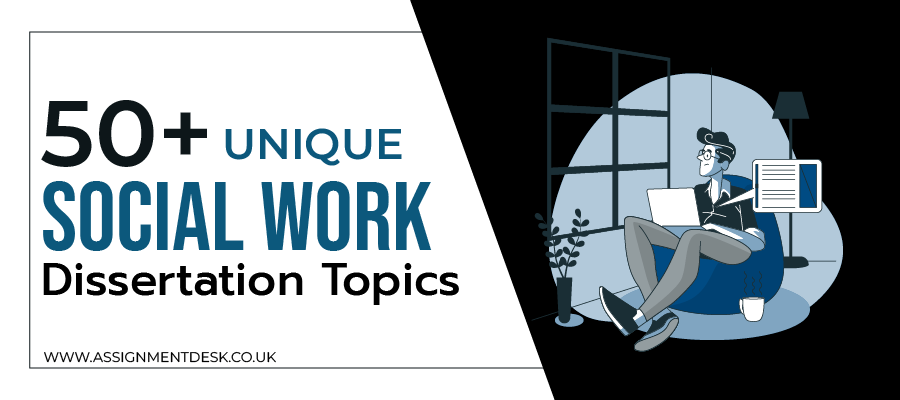 "Social work dissertation topics," what is the first thought that comes to your mind when you hear these words?
If you are social work course student, then there are many topics that you can write about during your dissertation. First, understand what social work is? In simple terms, we can say that social work is the set of fundamental functions that help to improve the lives of others. The people who are engaged as social workers help adults and children to cope with everyday life issues, relationship troubles, personal issues, and family issues. Know why students find it difficult task to choose the social work dissertation topics.
Choosing Social Work Dissertation Topic is a Difficult Task
One of the major works of the social worker is to promote change for the well-being of society at both the community and individual levels. In all these scenarios of social work, fulfilling all the challenging activities and responsibilities, the social work student simply does not find the right time to think about what they can write. All the problems are extreme, and the choice becomes much more difficult for students. It is tough for students to finalize the topic of the dissertation writing.
The topic should be the essence and indicates the direction of the entire research work. With the help of the perfect dissertation topic, students are able to write their long piece of the write-up in a short span of time. Due to a lack of knowledge, there are several scholars who find it tough to make their social work dissertation topics 2022. Selection of the right topic is most important for writing an impactful dissertation. Students basically do not understand how challenging it is to choose a dissertation topic. While developing a research topic in a way that helps to hold your interest in the area you are writing about. Also, students should select the topic that they are interested in and passionate about.
In this blog, we have listed some tips that will help in choosing dissertation topics that will help students in dealing with their academic tasks.
How to Find Perfect Social Work Dissertation Topic?
There are several students who find it tough to draft social work dissertation topics. Expert writers provided some tips that may be helpful in applying a few tried-and-true techniques while looking for a topic.
1. Browse Over Study Materials
Although this is information you have previously studied, doing so may help you organize all of the themes or subtopics you have studied (these can suggest new ideas).
2. Brainstorming
Look through your knowledge base; chances are you have a few intriguing subjects in mind that you'd like to learn more about.
3. Use Multiple Resources
When choosing the social work dissertation topic, students should look for multiple resources. These resources will help students in providing in-depth knowledge about the
4. Check Your Requirements
Students should also check for the practical requirements of their educational program. It helps to determine the scope of the possible research that students should conduct for the specific topic.
List of Social Work Dissertation Topics
Here expert writers are providing social dissertation topics that can help by giving suggestions for the selection of the topic. The following are a list of some social work dissertation topic.
Individual therapy vs group therapy for improving the adaptability of autistic children
impact on parents of children with autistic spectrum disorder children.
Role-playing is more effective than group discussions in educating high school pupils about drug usage.
dealing with the stigma attached to depression.
Actions to combat stigmatizing stereotypes about depression (explaining and highlighting the biological mechanisms underlying it)
identifying those serving in military forces who are at high risk of suicide.
Veterans' onset of PTSD is influenced by life circumstances.
methods to stop the emergence of PTSD in former US army personnel.
Social inclusion policies for veterans of war.
most effective techniques for preventing suicide in a classroom.
A look at the reasons southern women stay in abusive marriages.
Mental health treatment providers refrain from overly admitting and imprisoning young males in psychiatric facilities.
Social services to support dementia patients and their caregivers in their own homes.
The effects of marital abuse on children and the repercussions for social workers.
Communities of faith and social work: involvement of people with a stake in the organization's efforts to advance racial and ethnic minorities.
Social work practice and its impact on senior citizens' quality of life.
California's daycare system's success in schooling.
To what degree do adult users who are members of racial or ethnic minorities obtain equitable access to interventions and outcomes from mental health services?
Exist any inequalities that may be used to oppress these groups?
A study to see how smoking affects depressed people's feelings of acceptance or belonging.
Homeless persons as the subject of social study.
The primary causes of homelessness.
Difficulties faced by social care assistants while working with clients who have been sexually exploited yet are of the other gender.
Meeting the special needs of children who have been sexually exploited.
Welfare worker has compassion fatigue.
Difficulties faced by lone parents and supportive measures
The difficulty in obtaining medical care when one falls into a vulnerable category
Can a welfare worker practise spirituality?
Religious convictions hindering a care worker
Provide assistance to low-income families with children who have developmental delays.
Retrospective thoughts and opinions from young people about the foster care services they have used.
Facing Trouble in Finding Right Topic? Take Expert's Help
One of the difficult components of writing social work dissertation is identifying and choosing an appropriate topic, which takes a lot of time, effort, and research to finish. So, if you're having trouble choosing a social work dissertation topic, you can get help from experts with relevant expertise or from Dissertation Topic Selection. One of the difficult components of identifying and choosing an appropriate topic, which takes a lot of time, effort, and research to finish. So, if you're stuck with social work dissertation topics, you may take help from experts with relevant expertise. Due to lack of knowledge, students face problems and are not able to complete the social work dissertation writing and then take assistance from expert writers. They will help you to deal with the problems that arise in writing a dissertation.
Order Now
FREE Tools
To Make Your Work Original
FREE Features
Topic Creation

Outline

Unlimited Revisions

Editing/Proofreading

Formatting

Bibliography
Get all these features for
USD 84.3FREE