Tesco PESTLE Analysis- A Marketing Deep-dive
27 May 2022
1116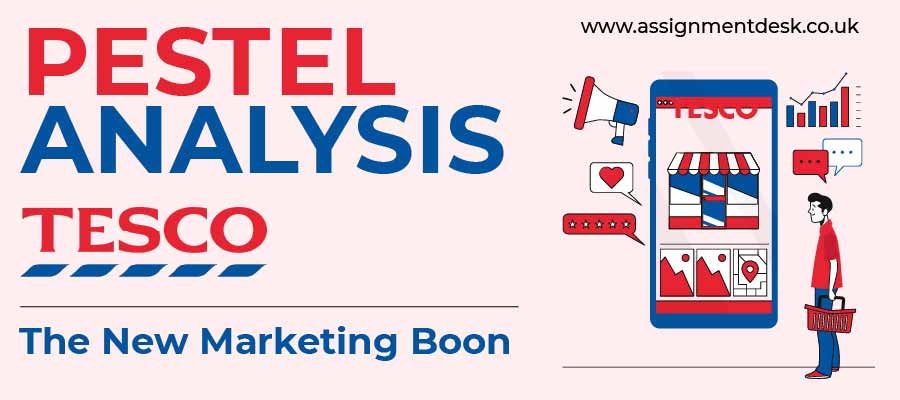 Table Of Contents
"The best marketing doesn't feel like marketing at all."
Being a marketing student or professional, everybody must have heard this phrase. Those who have rather sizable experience in marketing and have risen to a certain administrative or academic level, often say that good marketing should not feel intentional.
The reason is very simple, humans do not like to be pursued or pushed towards a point, in fact, they like to stumble upon it. To state it simply, whatever comes naturally to the consumers is more effective than a 100 ft neon-lit billboard.
For the same reason, experienced marketing heads keep coming up with strategies and ways to improve the brand name. Something similar is the PESTLE analysis. This newest marketing trend of PESTLE did, not spare Tesco. Discussions of separate data prepared of Tesco PESTLEanalysis or of any major brand for that matter have been a part of the ongoing wave.
The History of TESCO
To be able to talk aboutPESTLEfor Tescowe must begin with Tesco itself. A legendary chain of groceries and merchandise retailer with a 100-year history. Tesco was founded back in 1919 by Jack Cohen who combined his last name's first two alphabets with the first shipment of tea brought from T. E. Stockwell making, TESCO.
Having expanded globally since the early 1990s and introducing premium lines apart from pocket-friendly merch, Tesco has become the first choice of shopping experience.
TESCO

Trade name

Tesco

Type

Public limited company

Industry

Retailing

Founded

1919

Hackney,London, England, UK

Founder

Jack Cohen

HQ

Welwyn Garden City,Hertfordshire, England, UK

Chairman

John Allan

CEO

Ken Murphy

Present In

United Kingdom

Ireland

Hungary

Czech Republic

Slovakia

Products

Supermarket

Hypermarket

Superstore

Convenience shop

Revenue

£57.887 billion (as of 2021)
Clearly an entity of this magnitude was not built overnight and most certainly there must have existed some amazing wins and tremendous loss. PESTLE analysis looks into the aspects that get disregarded at times. For the future of the organization, we must learn from the past.
Why Is PESTLEAnalysis of TESCO Necessary?
To analyze, the brand on its business tactics, PESTLE for Tesco was is done. The framework examined the various externally affecting components such as:
Being a multinational chain has its own perks and drawbacks. Being present in over 11 nations, Tesco is subjected to different laws and the current political scenario of each region affects the brand differently. The factors include taxation, pending bills, legislation, export-import law changes etc.
Being a large contributor to the UK market and having to depend on the same creates many inevitable circumstances for Tesco. According to PESTLE Tesco the economical conditions such as minimum wage, stock market, etc., of the region, affected and will remain to affect one of the largest grocery store chains in the world.
With the changing world, the trends in consumerism also evolve and that creates a separate kind of demand and supply. Us humans have become very impatient and we need goods delivered at the earliest. These factors have affected Tesco's business in the past and surely will keep on manipulating further too. It takes predefined strategy and skills at the brand's end to employ this opportunity of loyalty shown by the customers.
One of the biggest challenges a company can face is the repudiatingnature of those in the decision-making state. Embracing technology in today's world is as important as drinking water. After making changes in the technological aspect of the brand and introducing payment, customer convenience, and retail support apps, Tesco was back at the top of the conglomerate chain.
A major contributing factor to the success or downfall of a company is the legalities that sometimes get missed, otherwise intentionally bypassed. Tesco has faced many legal suits over the years and has settled in a hefty sum. These settlements have without a doubt affected the outcome of the organization, be it profit-wise or productivity-wise.
Living in the 21st century has many losses and fewer fringe benefits. The degrading environment that is ever so rapidly changing is the result of the so-called "development." International agencies like the United Nations together with national governments are after companies and industries to reduce the wastage that may pollute the environment. Woke people of the planet are also in favor of supporting those producers who manufacture environment-friendly products. But this venture, in no way, is cheap and can affect the company profits when checked in the PESTLEanalysis of Tesco.
Looking at the factors there is no denying that extrinsic factors are unavoidable. The ups & downs of Tesco is the evidence of the need for PESTLE.
Let us know why?
What Is the Crux of TESCO PESTLEAnalysis?
Tesco PESTLEanalysis has been as necessary as real-time simulations during scientific experiments. The internal and external factors of any company matter a lot. No such organization exists that will not be inflicted with major, mind-boggling changes, given any of the above-stated element shifts.
pestle analysis is a way to predict those unexpected hurdles and explain them in the company's history. A good marketing professional must know how to go about doing a pestle analysis for curating impenetrable strategies. Moreover, they should enroll in courses that teach such important components during those learning years.
The PESTLE-life of Marketing Professionals
How do marketing students benefit from learning pestle analysis before professional life?
As mentioned above that the industry needs professionals who can carry out and comprehend reports like the pestle analysis of Tesco, and the education level needs toget modified. Students of Marketing and Research courses will have to gain knowledge regarding the same to be able to create such reports.
Certainly, these students will also be expected to create assignments in the university to show whether they have grasped the concept or not. This brings us to the major issues faced by many scholars around the world. Having learned a trade secrete that not all might know will put such a young professional in an elite league.
How Can We Help Students in PESTLE Analysis Assignments?
Knowing a particular topic and carrying out the creation of educational assignments are two different things. Besides, students are always loaded with academic tasks that it is impractical to believe they can put equal effort into all of the work.
Assignment Desk comes into play here. We are your best bet for academic write-ups and reports like PESTLE Tesco. Our writers are subject matter experts along with having experience in the marketing profession. We only work with the best to create masterpieces that bag you nothing but the highest grades.
Best academic assessment on your assignment is not just our guarantee but also our responsibility. We insist on no-charge revisions until you are satisfied and offer refunds in those rare cases that anything went wrong on our end.
Order Now
FREE Tools
To Make Your Work Original
FREE Features
Topic Creation

Outline

Unlimited Revisions

Editing/Proofreading

Formatting

Bibliography
Get all these features for
USD 84.3FREE