BMW Pestle Analysis
06 Apr 2022
1804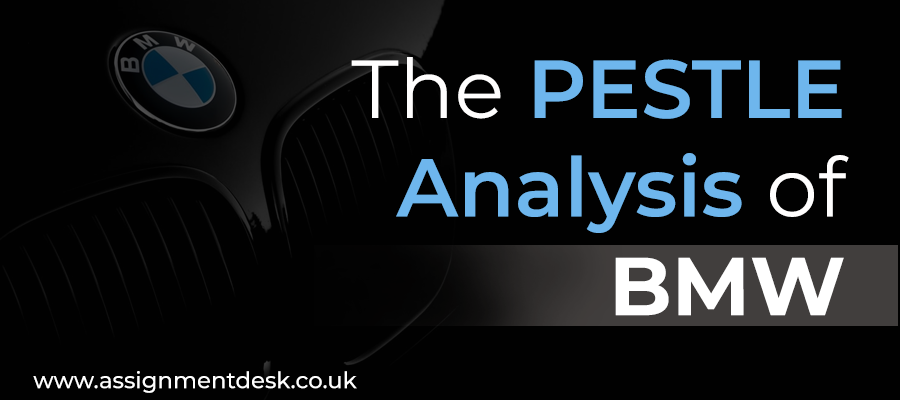 BMW Pestle Analysis for Tracking the Exponential Growth
There is an entire universe that exists for people who love and appreciate automobiles. Be it cars, bikes, scooters, vintage models, hybrid models, etc. For acar enthusiast, it is a dream to stumble upon something that shows them behind the scenes of building their favorite automobile company. So, if you're a fan of automobiles, this blog is definitely for you. It covers the details of the German multinational brand called BMW. So gear up to be amazed.
Introducing BMW: The Ultimate Driving Machine
There are very few people who are aware of the full name of the company, BMW. It is the Bayerische Motoren Werke. And they are all car enthusiasts at heart.BMW was established on March 07, 1916. It is a German multinational manufacturing company that ventures into creating vehicles and motorcycles. Its headquarters are inMunich, Germany. The company manages major brands such as:
Rolls Royce
MiniCooper
Motorcycles
Automobiles
BMW Motorrad
BMW MSport
BMW
Some must-know Facts About The Ultimate Driving Machine, i.e. BMW:


The BMW logo is inspired by the company's Bavarian roots.It has the colors, black circle with an alternate pattern of blue and white, which represents the Bavaria flag. As a tribute to the company's birth nation.
The company originally ventured into building aircraft engines in the early 1900s for a short time.
It has an employee count of over 1.3 million.
It is a 100-year old company.
It has a connection to WW2 and the Treaty of Versailles was the main reason that BMW began making cars.
The company is a producer and manufacturer of luxury vehicles and sports cars. Its logo says "Sheer Driving Pleasure" and the company tries to stand true to every word of its logo.
The annual turnover of the company is estimated at around 111.014 billion dollars by the end of 2020.
BMW has launched its first ever passenger vehicle using hydrogen. In order to reduce the pollution in Europe produced by taxi vehicles.
Exploring BMW with the Help of PESTLE Analysis
When one sits down to analyse the workings of any company or track the growth of one, there are many ways to do so. One can pick external factors, internal factors, competitors, markets, etc. All of them are picked to be able to create a better and clearer growth chart for the company. For a luxury car brand like BMW, there is so much going on in its external environment that it definitely affects the company's functioning. Pestel analysis is the best way to assess the overall functioning of a company.
This type of analysis is not just good for figuring out the workings of a company by the students, but has greater benefits for the company itself. As it tracks down external and internal factors like politics, economics, law, society, and so much more. This helps the company to mould its policies in an efficient way.
So without further delay, let's begin the BMW pestle analysis.....
First up are the political factors that might be either helping or hindering the growth process of the company. When we talk about political factors, we involve different ways in which a government can affect the workings of a company. The government holds power over all natural resources and other necessities that a company in its running time may require. It has veto power over these businesses because it can draught and pass regulations that they can't overturn. Regardless of the size of the organization, the government has the ability to influence it from the outside.
Examples of political factors are:


Tax policy
Environmental regulations
Trade restrictions and reform
Tariffs
Political stability
BMW is a German company and has a market outside its boundaries.So,naturally it gets affected by the introduction of new policies and regulations. Here are some of them:
Political Instability: Many countries that have some kind of uprising going on hinder the process of growth for the company and decrease the ability of customers to purchase the product. BMW has gone through this in countries like Russia, China, and Brazil.The conflict between the US and China also affected the brand adversely. It made the stock market fragile, which led to a decline in the stock prices of BMW. This was a hindrance in attracting investors.
Lobbying Cost: Like every company, BMW allocates a certain amount of funds towards influencing the various political lobbies across the globe in order to create smooth business flow and absolve any hindrances.
Country-Specific Laws: For example, the BREXIT deal had a major impact on the company. It triggered an array of events like; decrease in sales, an increase in costs, and more trade restrictions.
Laws on Recycling: The end of the life cycle of a vehicle has become a leading bone of contention between the automobile companies and governments. If a new regulation is passed, BMW could be in great trouble due to its 15 manufacturing units that will have to stop production.
Money is at the root of everything, especially at the base of an automobile giant like BMW. These factors are crucial for any company as they help it grow and retain influence. If a company is lacking in the capital department, it will most definitely face severe repercussions. These factors include:
Economic growth or economic decline
Interest, exchange
Inflation and wage rates
Minimum wage
Working hours
Unemployment (local and national)
Credit availability
Cost of living
A company that has been in operation for more than 100 years,must have a stronghold while also facing financial difficulties.Here are some major economic factors affecting the processing of BMWs:
Major Competitors: The company deals in luxury cars and so much more, so it has to have competitors. The major ones are Hyundai, Renault, Nissan, Ford, Fiat Chrysler Automobiles, Chevrolet, Zorya, Volkswagen, Koenigsegg, General Motors, Daimler AG, Toyota, and Tata Motors. Toyota and BMW have been in fierce competition since 2012.
Recessions: Global economic recessions most definitely hinder the marketing and operating processes of any company. It factors in performance, growth, valuation, and profitability in all the regions of the world. For example, the COVID-19 pandemic impacted the annual revenue. It decreased by 1.48% and 34.64%.
Tariffs: Being a global multinational brand, BMW has to manage various tariffs and they usually affect the profitability of the company directly. Regional conflict also plays a major role in the tariff impositions. For example, the EU and the US have high tariffs. So, if BMW manufactures its car in the US and sells it in the EU, it will have to pay an extra 10% tariff. While on the other hand, manufacturing the cars in Mexico and selling them anywhere would save the company money.
The growth and customer base of any company is based on its people. This doesn't mean a specific section of the world, but the global population. BMW has a worldwide reach, and thus social factors are very important for the company's growth and outreach. Social and cultural factors can sometimes lead to the much-needed breakthrough that a company might need to grow its business in certain parts of the world. These factors include:
Cultural norms and expectations
Health consciousness
Population growth rates
Age distribution
Career attitudes
Health
Safety
All of these factors combined can completely change the outlook of people towards a company. If a company wants to be popular with the public, it should try to target these factors. By achieving them, it will create a place in the hearts of people.BMW knows exactly how to do that, and that is precisely why it is a much-loved automobile brand all over the globe. Here are some social factors that affect the company:
Marketing: The company has to know its USPs and utilise them well. Every country has different cultures and needs. For BMW to master and rule all over them, they will have to do heavy research before launching any product.
Understanding cultures: The prime focus of any company has to be on how they will get sensitizedto the people of their target country. Because that would be the contributing factor between exponential growth and a complete failure in any given location. The same strategy cannot be applied to all countries.
Customer service: The automobile industry is not just about manufacturing and delivering products; it's about the entire experience of using the vehicle. And this is possible only if the wishes of the customers are considered even after the purchase is made. It establishes the company's credibility and creates a long-term customer base.
Social media: This is the best and most popular way to make a company more aware of its customers.For this purpose, the brand has created its official pages on various social networking sites like Instagram, Facebook, Twitter, etc. This has given it a direct medium to communicate with the customer base and get their genuine feedback.
There is nothing about technology that is constant. Everything in this field is constantly evolving. It has been the most dynamic field ever since its creation. But if we were to point out a constant, it would be the consistency in change. And with these technological advancements,comes a plethora of new opportunities for other industries.Technology plays a very crucial role in the progress of any company. These factors include:
Artificial Intelligence
IoT
Machine Learning
Deep Learning
When these factors are placed in the correct places at the correct times, they have the capacity to completely change the growth indexes of any company. BMW has been very adaptive to the latest technologies and the vehicle models speak of the same. But you have a very strong competitor in this field, i.e., Tesla. There is a constant comparison between the two brands, and this usually ends badly for one or the other. Since Tesla's boon for its renewable energy efforts, there have been some difficult days for BMW. Even though the cars have features like:
Automatic car parking
Hybrid vehicles
Autonomous driving
Bluetooth
Wi-Fi
Still, it has a long way to go in comparison to its leading competitor.
These factors play an important role in the process of brand expansion. If any company wants to expand its branches in any other part of the world apart from its root country, it has to have a strong legal base. This is to avoid any breaking of the law and getting in trouble with the justice system of the following country. They can be both internal and external. Legal factors include:
Changes to legislation impacting employment
Access to materials, quotas, resources
Imports and exports
Taxation
In-industry trends
Company policies or regulations
BMW has reach across the world and for that specific reason,it has many legal factors weighing in the path of its stellar success. Here are those factors:
Copyright laws
Legal matters due to some mysterious fires or faulty engines.
Because of our planet's deteriorating condition, environmental factors are receiving a lot of attention these days.There has been a constant concern over how to restore the environmental balance to its previous stages. And every other manufacturing company has to take responsibility to make it a possibility. If these factors are not followed efficiently, they can even cause an array of problems for the company. Some such factors are:
Company'simprinton environment, or ecosystem
How it affects surroundings
Waste disposal rules
Environmental protection legislation
Energy consumption regulations
BMW has to work towards:
Reducing its carbon emission and overall carbon footprint
Need to switch or at least introduce hybrid car models
Unable to Completely Grasp Nuances of BMW PESTLE Analysis? Take Experts'Help!
Tracking the footsteps of any company or, for that matter, a human being is a tedious job. And when you have to analyze those steps in order to understand the evolution of that particular company, it is an overwhelming task. Firstly, one has to pick a method for doing the said analysis. Next comes the through-combing of the company and its various moves. For this purpose, PESTLE Analysis is best suited due to its extremely diverse and surprisingly comprehensive nature. To cover the marketing analysis of BMW, there were multiple factors to keep in the application. Thus, BMW PESTLE Analysis is the best way to go. Even after going through this blog, if you face any difficulties, you can reach out to the experts at the Assignment Desk, and they will solve all your doubts. Below are some reasons why the above-mentioned Assignment writing service providers are the best for students:
24*7 Customer Support
Timely delivery
Free Plagiarism Report
In-depth Research
Free Referencing Page
Free Unlimited Revisions
Quality Content
Zero-plagiarism
Money-Back Guarantee
We provide all the above mentioned guarantees and so much more. So do not waste any more time and get started.
FREE Tools
To Make Your Work Original
FREE Features
Topic Creation

Outline

Unlimited Revisions

Editing/Proofreading

Formatting

Bibliography
Get all these features for
USD 84.3FREE