Trickiest Languages to Learn for English Speakers
04 Aug 2018
3461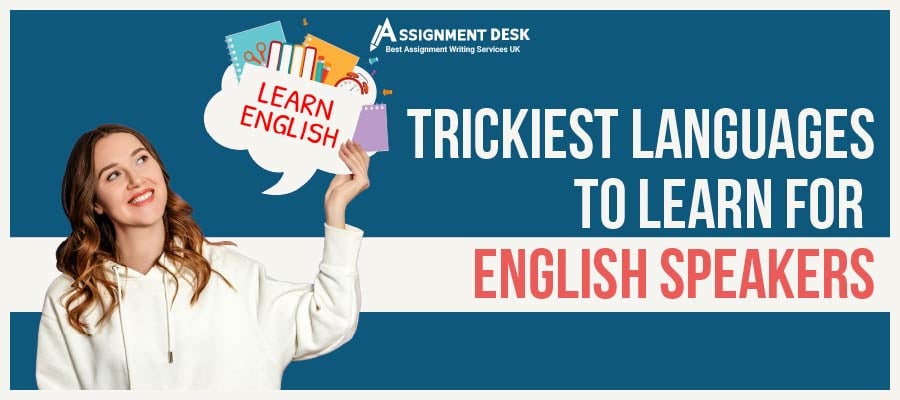 Undoubtedly, learning a new language is not a cake walk, but who is interested in easier tasks? Our mind often looks for something that is challenging for us and tests our abilities. Of course, aiming to learn Spanish or French comes with its own set of complications, but other than new vocabulary and grammar, there is nothing exciting. If you're also going through this sort of boring stuff, it's high time for you to master a more difficult language which has unique characters, alphabets, writing styles and new sounds.
Today, our assignment writing service providers have jotted down the hardest languages to learn for English native speakers. Take a look:
Mandarin
Mandarin belongs to the Chinese language group and has been declared as the most spoken language in the world. Why is it difficult to learn for English speakers? Well, the credit goes to its tonal language with every four different pronunciations for every sound in Mandarin's phonetic transcription system. Even a slight change in tone, a word can have an entirely distinct meaning. Moreover, there are thousands of complex systems, characters, and a wide range of homophones along with idioms and aphorisms that were discovered over the years.
Arabic
With over 221 million native speakers, Arabic is one of the hardest languages to learn. There are certain reasons for it to be included in this list. First, most of the letters are written in four different ways depending on their placement in the word. Second, no vowels are included in writing. These factors make the translation from Arabic to English a strenuous task as compared to other languages. Furthermore, it has various dialects which imply that it is spoken differently in Egypt (where the native speakers are maximum) than in Saudi Arabia.
Finnish
Do you know that the author J.R.R. Tolkien has based the Elvish language on the Finnish in his book 'Lord of the Rings'? Yes, that's true. It is a Finno-Ugric language which takes the grammar to the extreme level of complexity. Although letters and pronunciations are similar to that of English, grammar makes up for any other similarity in these two languages. If you like, you can learn this language and translation but let us inform you that there is a catch. Just when you will be sure that you have mastered Finnish, you will realize that natives have their own way to express the emotions. So, there is a long way to go before you get a strong grip on this tough to learn the language.
Korean
Korean is a language isolate which implies that it has no demonstrable genealogical link to any other language across the world. And to add more to this, it has seven different speech levels which are flipped back and forth by native speakers depending on the formality of the conversation. For example, while describing an action in Korean, the subject is used first, followed by the object, and finally, the sentence ends with the action. Saying "나는 물을 마실" is translated as "I water drink" rather than "I drink water."
Japanese
One significant factor that makes Japanese challenging to learn than an average character-based writing system is thousands of distinct characters that one needs to understand before he/she starts writing this language. There are three independent writing systems, hiragana, kanji, and katakana with each of them having different alphabets. However, looking at the positive side, the Japanese is much easier to learn than other languages like Mandarin.
Each language has its challenges, but one cannot deny the fact that it also comes with its own rewards, fulfillment, and experience. So, whichever language you choose to learn, it must be worth your time. Start your lessons soon and be assured of discovering a new and exciting linguistic world in the best possible way. Yes, you will have to invest more time with these languages as compared to the ones that are closely related to English, but trust us it'll be fun!
You can learn all about the language features in english here.
FREE Tools
To Make Your Work Original
FREE Features
Topic Creation

Outline

Unlimited Revisions

Editing/Proofreading

Formatting

Bibliography
Get all these features for
USD 84.3FREE