Tunes That Can Enhance Your Parade Experience 10X Times
17 Mar 2020
716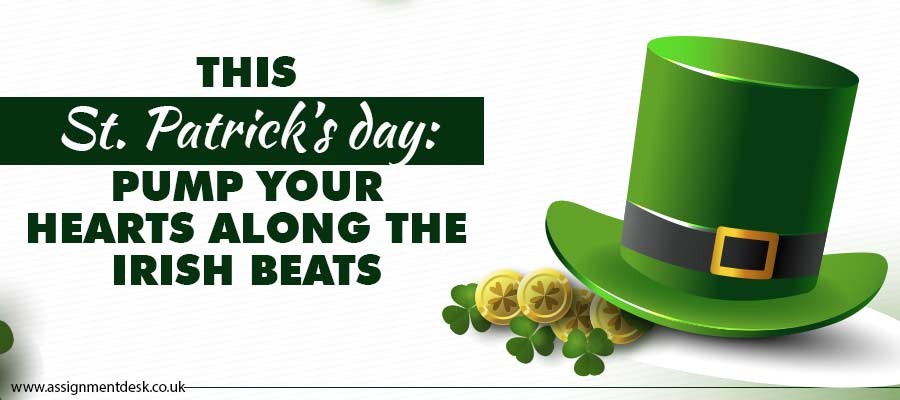 Table Of Contents
"May you have all the happiness and luck that life can hold—and at the end of your rainbows may you find a pot of gold." - An old Irish saying for luck and St. Patrick's Day. You may be wondering how it all started? When the church in Dublin established a feast day in the name of St. Patrick who was the patron saint of Ireland in the 17th century the people came together to pay homage . And in no time it became the Irish national holiday where people sang and danced in the memory of St. Patrick and his good deeds.
Revamp Your Celebration with Beats on St. Patrick's Day
Just as the month of March rolls out hearts, Irish people start to pump out green blood for St. Patrick's Day decorations and celebration. People celebrate this day with traditional dinners, parades, going to church, carnivals, or pubs. And if there is one thing that can make your experience of St. Patrick's Day 10x more enjoyable and help people connect to their origin, it is by adding music to this day and if you are unable to hop on fun parade because of your universities assignments, read this blog and get acquainted to St. Patrick's Day music and in the end get to know the best assignment writing services in this industry that can solve all your assignment problems.
Events and Music of St. Patrick's Day
There is no shortage of fun things to do on the St. Patrick's Day, here are a few of them with music to exemplify these event.
Go Green & Put on a Shamrock with Pride
The shamrock is closely connected to St. Patrick's Day. When shown to anyone, the only thing that comes to their mind is the celebration of St. Patrick's Day. So why not carry it along with your outfit on this special day. To get immersed in this green fashion, you can play these tunes.
"Molly Malone" — The Dubliners
It is one of the most famous Irish song of all, Molly Malone is song that tells the tale of a fishmonger who sells cockles & mussels on the streets of Dublin.
2. "Brown Eyed Girl" — Van Morrison
This song is Van Morrison most iconic song and famous as an Irish tune for the line "Making love in the green grass", and got the 14th place on the billboard hot in 1967.
"The Foggy Dew" — The Chieftains & Sinead O'Connor
Sinead O'Connor carried her beautiful voice with the chieftans for a rendition of the traditional Irish ballad. This songs will connect your souls to the nation of Ireland.
"Where the Streets Have No Name" — U2
This song was written by Bono and encouraged the people to unite in green attire to forget everything about their religion or any other kind of differences.
"The Irish Rover" — The Dubliners & The Pogues
Dance in the Parade of St. Patrick's Day
The first ever St. Patrick's Day parade began in 1601 in St. Augustine, Florida. Now it is celebrated all over the world and is known as the largest and rowdiest parade of them all. It is attended by 150,000–250,000 marchers. To get all of these attendees jazzed up, play these songs to groove along.
"Whiskey in the Jar" — Thin Lizzy
This song when played can take the whole crowed into the metallica universe, energizing them to their fullest potential.
"The Rocky Road to Dublin" — The High Kings
This song brought to life the 19th century Irish song about tale in which a man travels from Liverpool to his home in Ireland. And long the way, he finds stunning women, thieves and a time when he spend time with pigs on sea.
"Beautiful Day" — U2
You don't have to be a dedicated U2 fan to recognize this 2000 hit. The optimistic rock performance by a duo or group with vocals that will fill feats with heat.
"Song for Ireland" — Luke Kelly
A song to the beautiful hills of Ireland, Luke Kelly used his magnificent voice to move the masses, that they could forever sing with pride and joy in the parade.
"Galway Girl" — Ed Sheeran
On St. Patrick's Day 2017, Sheeran announced his new song which was immediately loved, reaching number two in UK charts and number one in the Irish single charts.
"C'est La Vie" — B*Witched
The upbeat tune topped the charts, and can help attendees of crowd grove to the St. Patrick's celebration event.
Enjoy the Irish Jigs in Pub's on St. Patrick's Day
Because of the Irish origins spread because of the potato famine, you can never be far from an Irish pub. Australia to the United States, you will never find a place where Irish ancestors are not present, to entertain the crowd present on St. Patrick's Day you can play these jigs/songs.
"Drunken Lullabies" — Flogging Molly
This is an upbeat track from Irish-American band, that can rock the whole pub and set the desired mood for St. Patrick's Day.
"Seven Drunken Nights" — The Dubliners
What began as a spoken tale became widely known when The Dubliners shared it in 1967. This is a tale converted into a song that is about a man who comes home after drinking and notices signs of his wife's illness, but chooses to believe her horrendous explanations.
"The Auld Triangle" — The Inside Llewyn Davis Soundtrack
This song is about the life in Dublin's Mountjoy Prison, and is a maxim for fans of the Dublin Football Club, which plays near the institution's grounds. And are mostly found playing in pubs during St. Patrick's day to move the spirit of the crowd.
"The Fields of Athenry" — Paddy Reilly
The song is set during the Irish Potato Famine and relates to the story of a man who is caught stealing food for his hungry family and is sentenced to a faraway place to pay his sentence. This songs evokes the feeling of St. Patrick's in pubs.
Celebrate the St. Patrick's Day Without Any Assignment Headache
So, whatever event you attend, whether it's the dressing, parade, or pub, enjoy the Irish music to the fullest. And if you are still on the fence about taking part in this amazing musical event, because of academic writing assignments? Then you can rely on the best assignment help writing service and enjoy the St. Patrick's Day music and events.
We, at Assignment Desk, have the best team of experts that are not limited in numbers but over 4500. Additionally, they are PhD holders in their respective subjects, so it is assured that you will receive an A+ grade in your assignments.
FREE Tools
To Make Your Work Original
FREE Features
Topic Creation

Outline

Unlimited Revisions

Editing/Proofreading

Formatting

Bibliography
Get all these features for
USD 84.3FREE