Write Your Oracle Assignment Like a Pro| 5 Tips to Help
24 May 2019
3871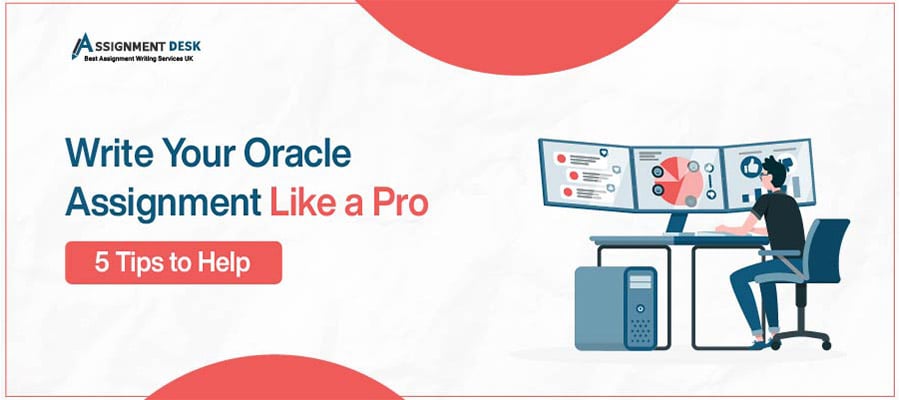 Oracle is a software that provides big companies and government, tools that are used to run computer servers and systems. Recently, this software has gained much recognition in the domain of academics and has been incorporated in the curriculum of computer science. As a part of curriculum, students are allotted with the task of writing an assignment on the same. But, it often comes a challenging task for them to work on. Therefore, oracle assignment help experts have extended their helping hands to assist students to write their Oracle assignments like a pro. They have given 4 tricks and tips that a student can follow and achieve outstanding grades in the assignment.
The fabulous four tricks and tips are:
TRICK-1: Develop Prior Understanding
As the saying goes- "Prior planning leads to precision"
The same goes for understanding certain aspects of Oracle before writing the academic paper on the same. Therefore, a basic understanding of the following aspects of assignment writing should be considered-
General Details: When you are given an assignment, the first thing to do is to get the details, this includes-
Identifying the due date,
Checking the word length, and
See the weightage of the same in the overall grades.
Depending on these factors, you should plan about starting to work on the assignment and the amount of information that has to be incorporated.
University's Guidelines: In order to write an assignment that does not face any disapproval, the prerequisite is to write it as per the university's guidelines. Every university has its own guidelines. Make sure you adhere to them, while structuring your assignment.
Question Asked: The task of writing an assignment begins with the aim of answering the question asked. To fulfil this purpose, you can begin by identifying the question in two contexts viz.,
The content and the phrases of the question (this helps you to gather further information)
Instructions on how to approach the content (through this you learn what actions are to be performed on the given given phrases and content).
TIP: Look through the work of your seniors and take proper guidance from the professor as you write the assignment. This helps you to understand the university's guidelines and get answers for all your queries, respectively.
TRICK-2: Use Different Resources
Thinking of sticking by your books alone to deliver a top-notch assignment on Oracle? If yes, dump that thought right away. As relying on just one source has never helped a student to write an informative and A+ grade worthy assignment. Therefore, our assignment writing service providers suggest that relevant information should be derived from various resources. A list of other resources from which you can take help in writing the assignment are:
Journals: To incorporate the details, statistical information. facts, and content that is based on the recent researches that are taking place in the world of Oracle take data from journals. There are various journals that are devoted to computer science. You can take information from them.
Blogs: Blogs cover the recent trends that are the highlights of the field of Oracle. Some of the famous blogs that are centralized around Oracle are- Oracle Blog, The ORACLE-BASE Blog, Oakie Blog, etc.
Cheat Sheet: This helps you to cover the syntaxes in your assignment, like a pro in the field. You can visit various websites an blogs and find a cheat sheet that will aid you in delivering a flawless assignment.
TIP: You can check reference list in the samples that are based on Oracle and solved by subject experts. Through this list you can identify the resources that will help you to get pertinent information.
TRICK-3: Use Technical Jargon (with care)
Writing an assignment on a technical subject without using the technical jargon is nearly an impossible task. But, using a lot of these jargon can make it difficult for you to finish that assignment on time. Also, it might call for lots of comprehension on part of your professor, thus impacting your grades.
TIP: Don't be over ambitious to fit any and every technical aspect in your assignment. Use these jargon carefully. If you face any issue in understanding the application of a technical term contact your professor.
TRICK-4: Proofread and Edit
A major reason why students' grades suffer in an assignment, despite of so much of hard work on it is- not re-reading their assignment before submission. Let us address the fact that writing an assignment is a stressful task, and it is written under immense pressure. Therefore, it leaves room for grammatical, structural, or factual error in the same. The consequences of this can be seen in the grades eventually.
So, always proofread your document and edit it accordingly, before submitting it to the professor.
TIP: Read out your document loud, to yourself, bring all your senses into play, scan for all the possible mistakes, and omit them accordingly.
(It will hardly take 10 minutes of yours to do it. But, the end result will be worth every minute of it. So don't skip on it.)
With the help of these simple tricks and useful tips you surely will be able to write your assignment on Oracle like a pro and fetch exceptional grades on the same.
Bonus Tip: Stay calm and composed while writing an assignment, and don't rush on it. Remember, every notation in a syntax matters, be careful!
FREE Tools
To Make Your Work Original
FREE Features
Topic Creation

Outline

Unlimited Revisions

Editing/Proofreading

Formatting

Bibliography
Get all these features for
USD 84.3FREE