Introduction
Foreign Direct Investment is related to investment made by the firm or an individual in the interested business which is located in another country. It generally takes place when an investor plans to take part in foreign business operations or acquires any foreign business assets. It can be inclusive of ownership establishment or related to controlling interest in some foreign company. FDI can be pivotal in company's growth strategy, and thereby helping the country to grow and enhance its econom
The aim of this report in Section 1 is to provide a comprehensive understanding through various empirical studies about the importance of FDI and its roles in progressing different economies worldwide, and also it elaborates the factors affecting FDI, particularly it focuses on sovereign credit rating in developed and developing countries in general. Additionally, the report focuses on Germany's economy and illustrates the crucial factors attracting FDI inflow in Germany including political and economic stability, sovereign credit rating, market size and so forth. In Section 2 the analyses the economic situation of Germany statistically in terms of FDI inflow, GDP, market size and risk rating extracted from the risk rating agencies. In Section 3 the report evaluates the current and future economic situation of Germany. Eventually, the report sums up all the findings and conclusions retrieved from the analysis and literature review.
LITERATURE REVIEW
2.1 The Importance of FDI and Its Impacts on Different Economies
According to Moran, (2012) a strong relationship has been assessed on foreign direct investment and economic growth. Large inflow of investment is generally required by countries, so as to achieve sustainable high trajectory of economic growth. Foreign investments and borrowings help in bridging the gap between investments and savings. FDI It is considered as a powerful engine which enables low income countries to build physical capital, generate employment opportunities, enhance skills of their labours, increase productive capacity and managerial competency. Moreover, FDI also contributes in integrating domestic economies with global ones. (Morgan, 2012). However, in contrast to this, as per the views of Alfaro and Johnson, (2012) a considerable change in flows of trade and finance have been noticed due to extensive surge in FDI. There are various underlying factors that are directly contributing in increasing the flows of FDI in Bangladesh. Those factors are trade exchange liberalisation, appropriate emphasis on development led by private sectors and opening and enhancing of infrastructural services. The most important factor which led in increasing the FDI in the country is the privilege of the advanced energy and telecommunication sectors and thus, in turn, foreign investors will be benefited. Myanmar has also become a new destination for multinational companies, due to its stable economic growth and its ability to deliver higher rate of interests to the foreign investors. (Alfaro and Johnson, 2012).
According to Ramasamy, Yeung and Laforet, (2012) FDI acts as a supplement to Australia's national savings, develop infrastructure, supports local businesses and also helps in building its regional economies. (Yeung, et al., 2012).
Figure 1: Foreign Direct Investment in Australian's economy
(Source from: Impact of Foreign Direct Investment on Gross Domestic Product, 2011)
As per Blonigen and Piger, (2014) FDI can be categorized as being horizontal, vertical and conglomerate. A horizontal direct investment is related to investment made by a company in same type as it operates in its home country. For instance, a mobile phone provider, currently operating in United States, planning to open up new stores in China. (Blonigen and Piger, 2014). Jadhav, (2012) defined a vertical investment as the one which is related to investment made in some different organuization, but related companies, from that of investor's main business, so as to acquire some foreign company for its smooth operations. For instance, a manufacturing concern acquires the interest of some other foreign company which is involved in supplying raw material required to its main businesses. A conglomerate type of FDI is one when a company plan to invest in some other organization which is totally unrelated to the existing one in home country. (Jadhav, 2012).
2.2 Factors Attracting FDI
According to Fernandes and Paunov, (2012) there are various factors that can tremendously affect the flows of FDI positively or negatively. Investor are driven to go for FDI in order to access to cheap raw materials, natural resources, communication and transport links, wage and skills related to labour, availability of strong infrastructure, new customer base, and potential and bigger market sizes. On the other hand, political instability can negatively affect FDI aspects of any country. Exchange rate measures have to be taken into consideration by multinational firms in order to go for FDI, due to their huge impacts on the business transactions of those firms, whereby any company operates in any foreign country, has to use the local currency of that foreign country, which, in turn, will result in appreciation of that local currency, and if the volatility of the foreign currency is not high, this will help companies to reduce their costs and achieve economies of scale. Hence, it can be stated that a preferable flow of these factors can lead to create a positive impact over its functioning. However, factors questioning the existence of the company can act as a negatively affecting factor of FDI. In contrast to this, as per the views of Buchanan Le and Rishi, (2012) investment criteria may differ based on the opportunity cost available in some other countries. For instance, if a multinational company finds that it will be able to generate higher profits by investing in China rather than US, then, despite of having favourable conditions in later, it will invest in the later one. (Buchanan, et al., 2012).
2.3 Effect of Sovereign Credit Rating on FDI
According to Kasemsap, (2017) Sovereign credit rating is an evaluation which is performed by credit rating agencies based on the future abilities and willingness of sovereign governments with respect to their fulfilment of debts. There are approximately 150 national, regional and global credit rating agencies that are being involved in addressing the competencies of companies based upon various factors. The stars are given to the companies on five major factors. These are, economic scores reflecting economic structure, political risks, external liquidity, international investment position, debt burden and monetary flexibility of the company.
Figure 2: Factors Affecting Rating

(Source: Impact of Foreign Direct Investment on Gross Domestic Product, 2011)
However, in contrast to this, as per the views of Alfaro and Charlton, (2013) based upon financial stability of the company, creditworthiness of the organization is determined. It ultimately helps in taking decisions that whether to invest in the organization as FDI or not.
2.4 FDI in Developed Countries and Germany
As per Lau, Choong and Eng, (2014) FDI in developed countries is operatively higher than developing countries, due to many reasons, such as availability of technology, skilled workforce and government support. Moreover, the possibility of growth in developed countries is rather higher in comparison to developing and under developed ones. It also helps in assuring constant economic growth indicating positive results through the investment. Germany has been able to become the dominant in foreign direct investment flow comparing to other European countries in 2014, due to its outrageous increase in its revenues which are enhancing its ability to invest for FDI. However, in contrast to this, as per the views of Holmes Jr and et.al., (2013) the United States and japan have currently being experiencing outward FDI. They are being able to create themselves as an avenue to deliver knowledge intensive services. The growing investment income from outward flow of FDI has been able to counterbalance trade deficit.
2.5 European Union and other treaties made to attract FDI and trade
European Union has been able to become the largest source of Foreign Direct Investment as per the global economy. International investments into EU are worth €5.4 trillion which is equivalent to approximately 36% of the total wealth produced by EU. FDI has been able to provide 7.6 million jobs in EU. It also provides capital and technology in order to foster European research, competition and innovation. EU investing abroad are worth €6.9 trillion which is 46% of the annual wealth produced by EU supporting 7.6 million jobs in EU. It also helps in optimizing production, adequate access to raw material and other components which can help in serving the market in better format. However, in contrast to this, as per the views of Chandran and Tang, (2013) the main aim of EU so as to promote FDI is to open up foreign market for EU companies. It has also been able to make investment rules clear and concise so that it can effectively be followed by the organizations functioning in EU territories. (Sbia, et al., 2014).
3.0 Analysis
FDI Flow of Germany

Figure 3: FDI Inflow of Germany
(Source from: Germany Foreign direct investment, 2017)
Figure 3 reveals the FDI inflows of Germany from the period of 1970 to 2016. In 1990 there was upward trend of the FDI inflow in Germany, due to the European Union. In 2000 the FDI inflow of Germany has surged dramatically to nearly 250 billion Euros due to the.. The FDI net Inflow in Germany is $52,474,200,000 as in the year 2016. The value has been constantly fluctuating since the year 2004. In the year 2008 and 2009, the value of FDI decreased to a great extent due to prevalence of economic crisis that took place in US. Its impact was borne by inflow and outflow of FDI in all the European Union countries, inclusive of Germany. Comparing the graph with the value of FDI in the year 2017 and 2018, it can be assessed that the values have increased tremendously indicating FDI inflow growth in the country. The main financial motive of FDI is to ensure strategic movement of currencies from home country to host country. Germany have been able to represent as the unique location with utmost consistency. The first essential industrial characteristics of German market is related to presence of large number of SMEs which have been able to become financially famous in both domestic as well as international market. The second important aspect related to presence of FDI in Germany are the big and successful companies who have been able to get themselves renowned at global level. Some of the automobile companies include, Bayer, BMW, Volkswagen. There are various chemical related companies as well, such as, Soda Fabrik, Baddische Annilin and Hoechst. They have effective managerial structures which have been able to achieve economies of scope and scale (Lee, 2013).
Figure 4: GDP of Germany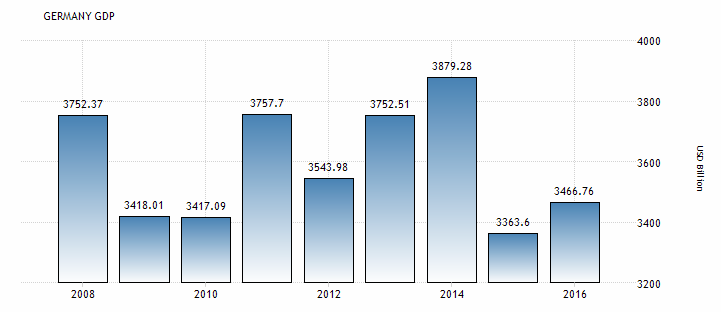 (Source from: Germany GDP, 2017)
GDP of Germany has increased in 2016, in comparison to the values of 2015. An enhancement in the overall GDP helps in stating that the country is heading towards economic growth. It generally attracts high amount of inflow of FDI in the country.
3.1 Sovereign credit rating and its conduction by Moody's, Fitch and S&P
Sovereign credit rating is related to rating the organizations based upon various factors of creditworthiness. It helps the other company to decide that whether they must invest in it or not. Moreover, it also helps in calculating the amount of profit, one can generate by investing in that company. Moody's, Fitch and S&P are the three main companies having highest reliability factor. The three tends to opt for choosing similar model of analysis and hence are being able to generate similar results as well. It also helps in analysing the level of risk an investor can have while investing in a particular company. The political and economical risk governing in that country are taken into consideration for its better initialization of the same and also act as an important factor to take decision regarding investment. The companies are given grades based on their performance and position of the economy of the country (Moran, 2012). Moddy's considers investment grading bonds in the form of Ba1, Baa3, etc. It also helps in assessing the risk portion highlighting the potential for the government and if they will be able to meet the requirements of debt or not.
Figure 5: Sovereign Credit Rating of Germany
| | | | | |
| --- | --- | --- | --- | --- |
| Country | S & P | Moody's | Fitch | TE |
| Germany | AAA | Aaa | AAA | 100 |
(Source from: Germany Credit Rating, 2017)
The above helps in displaying the grades that have been given by Sovereign credit rating agencies. S&P has given, AAA, which is the highest rating given to the organization having tremendous set up based on which it is effective for the companies to make investment in Germany. The position of the country is stable enough and have high rated creditworthiness. Hence, investment made in the country will be less risky in comparison to the other countries. A bigger impact of the same can also be assessed on borrowing cost of the country as well. The transparency of grade for Moody's, Fitch and S&P is quite higher in comparison to other small sovereign credit rating companies. Hence, it is better for the investors to rely on the results of these three corporations (Fernandes and Paunov, 2012).
Market size, GDP and other economic factors affecting FDI
Market size act as a dominant positive factor in order to attract FDI inflows in the long run. Investment made through FDI helps in adequate enhancement in economic condition of the country in such a manner that it helps in generation of higher economic profits. However, no influence of market size has been seen on short run FDI investment (Blonigen and Piger, 2014).
With more than 38 million households. And 82 million inhabitants, Germany is considered to be one of the largest country of European Union. It is also one of the largest hub of potential buyer. Due to this reason, majority of FDI in EU is attracted by this country (Moran, 2012).
FDI is considered to be major component of capital flow in the developing countries. Its contribution towards economic growth Germany is quite positive. In this manner, the country is able to generate higher amount of revenue, initiate employment to a high level and bring overall development to the practices of the Germany in terms of technology and productivity. It ultimately leads to generation of high income and thereby making positive contribution to GDP.
Inflation, deflation and interest rates are the other common factors that have high impact on FDI. A positive growth and stability in them helps in attracting high amount of FDI to the country.
There are various factors that are prevailing in Germany, which ultimately affect overall condition of FDI in the country. The responsible factors are, market size, economic stability, prevailing labour cost, etc. There are other three factors as well which can influence the motives of FDI related to investment in Germany are, market seeking, resource seeking and efficiency seeking (Moran, 2012).
Volatility of exchange rates
The volatility of exchange rate in Germany and in other states of EU is quite low. Hence, any impact of currency on decision making with respect to currency stability is not an issue while any organization is planning to make any kind of investment in EU territories. The policy makers of EU ensures that the trade policies are effective enough so that maximum number of companies can be attracted towards it. Moreover, feasibility cost related to settling up of business is kept high for investor's attraction in the country. Exchange rate stability is an important aspect to be taken care of by the policymakers so as to attract positive cross border investments (Fernandes and Paunov, 2012).
Brexit concerns and its impact on the economy of Germany
Brexit happens to be the situation where Britain is planning to take an exit from EU territory and is planning to follow its own set of laws, rules and regulations. An indirect impact of FDI will also be borne by other territories of EU. It has led to financial market turmoil. It has led to decline in the prices of FDI and making it difficult to estimate accurately. It can lead to slow down of GDP by 0.5% and 0.1% more in the upcoming years due to retrenchment of FDI by various ongoing companies in the territory
FUTURE OUTLOOK
After analysing all the aspects that are directly or indirectly linked to FDI, it can be stated that, it is important to opt for preparation of new policies are procedure that can be followed by the territories after Brexit. High impact of ineffective presence of FDI can be borne by the other territories of EU as well which requires some set of laws and policies to be developed by policymakers to reduce the impact of this change. Currently, Germany have been performing effectively with highest rating from all the top Sovereign Credit Rating Agencies. Hence, it can be stated that it is performing effectively in terms of inflow and outflow of FDI (Fernandes and Paunov, 2012).
Another aspect is related to consideration of various market factors that are to be assessed before making any investment in any organization of the country. In such cases, it becomes important to address common aspects, such as GDP, market size, market stability, rate of currency fluctuations, availability of resources, etc. In the end, it can be stated that the current position of Germany in terms of FDI is quite effective.
Since the overall economic condition of the country has been increasing day by day, the expected inflow of FDI is higher in the upcoming years. Moreover, an enhancement in overall economic condition of the country can also be noticed through the prepared analysis aspect.
CONCLUSION
From the above report, it can be concluded that, Germany have been able to gather highest rating from various Sovereign Credit Rating Agencies. The common aspects that are considered while takings investment decisions are, , access to raw material, communication and transport link, wage and skills related to labour, availability of infrastructure, etc. in the end, it can be stated that investment is made in the country that can help in generating high profits.
REFERENCES
Alfaro, L. and Charlton, A., 2013. Growth and the Quality of Foreign Direct Investment. In The Industrial Policy Revolution I(pp. 162-204). Palgrave Macmillan, London.
Alfaro, L. and Johnson, M. S., 2012. Foreign direct investment and growth. In The evidence and impact of financial globalization (pp. 299-309).
Blonigen, B. A. and Piger, J., 2014. Determinants of foreign direct investment. Canadian Journal of Economics/Revue canadienne d'économique. 47(3). pp.775-812.
Buchanan, B. G., Le, Q. V. and Rishi, M., 2012. Foreign direct investment and institutional quality: Some empirical evidence. International Review of Financial Analysis. 21. pp.81-89.
Chandran, V. G. R. and Tang, C. F., 2013. The impacts of transport energy consumption, foreign direct investment and income on CO2 emissions in ASEAN-5 economies. Renewable and Sustainable Energy Reviews. 24. pp.445-453.
Fernandes, A. M. and Paunov, C., 2012. Foreign direct investment in services and manufacturing productivity: Evidence for Chile. Journal of Development Economics. 97(2). pp.305-321.
Holmes Jr, R. M. and et.al., 2013. The interrelationships among informal institutions, formal institutions, and inward foreign direct investment. Journal of Management. 39(2). pp.531-566.
Jadhav, P., 2012. Determinants of foreign direct investment in BRICS economies: Analysis of economic, institutional and political factor. Procedia-Social and Behavioral Sciences. 37. pp.5-14.
Kasemsap, K., 2017. Foreign Direct Investment. Handbook of Research on Economic, Financial, and Industrial Impacts on Infrastructure Development, p.239.
Lau, L.S., Choong, C. K. and Eng, Y. K., 2014. Investigation of the environmental Kuznets curve for carbon emissions in Malaysia: do foreign direct investment and trade matter?. Energy Policy. 68. pp.490-497.
Lee, J. W., 2013. The contribution of foreign direct investment to clean energy use, carbon emissions and economic growth. Energy Policy. 55. pp.483-489.
Moran, T., 2012. Foreign direct investment. The Wiley-Blackwell Encyclopedia of Globalization.
Ramasamy, B., Yeung, M. and Laforet, S., 2012. China's outward foreign direct investment: Location choice and firm ownership. Journal of world business. 47(1). pp.17-25.