3 Mistakes Students Make in Academics That Lead to Failure
09 Nov 2021
941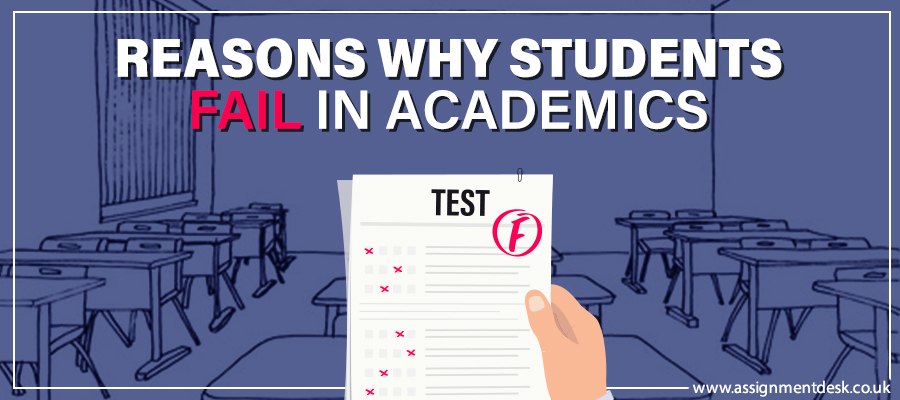 Table Of Contents
Why Do Students Fail in Academics? | 3 Mistakes to Avoid
Academic Tasks!
This is not less scary for any student!
Yes, for many students, academic work sounds scary.
The reason could be anything but the reaction is the same.
But what if we say, not anymore! Yes, you heard it perfectly right!
The experts of the Assignment Desk had thought of making academics easy.
Want to know more about how and what? Read this blog carefully till the end!
Every student, irrespective of their grade, has to do academic tasks. This is something oblivious and can't be changed. But what can be changed is your attitude towards it. Yes, students hate academic tasks because they fail in them. And this is because they make so many mistakes in it. But we will help you change that. But before that, let's discuss why students usually want to score better in academics.
Why Do Students Want to Ace in Academics?
Students are usually found striving to get that A+ and top grades, right? But have you wondered why acing in academics is that important for students? If yes, then this section has all the answers you need to know!
1. Boost Confidence
The first and basic reason why students want to score well is that they can build confidence. Generally, students who do not perform well in academics are often low on self-esteem and confidence. This affects their education and other factors of life like a social circle, communication skills, and so on.
2. Get Better Universities
The second most common reason why students want to ace in academics is to get better universities. Yes, if the student wants to continue education and go for higher education, then their grades seriously matter. The best and top universities around the globe prefer taking students with good grades only.
3. Open Employment Opportunities
Another important reason why students want to excel in academics is to get better employment opportunities. Companies choose students with good educational backgrounds and high scores over those who are average or poor scorers. So, students who want to get good jobs or any particular dream job strive to ace academics for it.
These are the top three reasons why students want to excel in academics and score high grades. Now in the below section, let's take a look at the mistakes students make in academics that fail them.
Why Do Students Fail in Academics? [3 Mistakes]
Now, let's get an idea of the mistakes which students usually make in their academics and land up with poor grades. So, let's get started!
1. Distracting from Topic
Students get so much involved in their assignment writing process that they sometimes get totally distracted from the actual topic. So, yes, students miss the actual theme and end up writing about everything about it, which sounds vague to the professor, and he rejects the document.
Solution:
When researching something interesting, set boundaries and know when to stop and what to write in the document.
2. Poor Research
Students have limited access to resources. But even after that, some do not make the best of it. They try to write anything that comes to them easily and does not bother researching the topic in-depth. This thus degrades the quality of the document and also affects the grades of the student.
Solution:
Spend more time researching the topic rather than anything else. If the traditional research process bores you, try including case studies, surveys, interviews, etc.
3. Plagiarizing
Often in a hurry to get the work done, students try to plagiarize their work. Unfortunately, this creates a fix for the student because when the professor finds out about the same, he makes the student pay for his mistake by either rejecting the document or sometimes terminating the student.
Solution:
When you think you have plagiarized something or might have any traces, use a plagiarism checker to ensure everything is rephrased or edited and the document is plagiarism-free.
These are the top three mistakes students make in academics that cost their grades. If you want to score well, then try to avoid these in your work. However, if all these sound hectic to you, try our academic tools to make your academic life easy. Want to know more? Read the section below.
Why Should Students Use Academic Tools?
Students often get stuck with academic writing tasks. Sometimes they have time to reach out to our experts but sometimes not. In such case, you can make the best of our academic tools listed below, and your job was done in just a snap of fingers:
Essay Typer Tool
Plagiarism Checker Tool
Paraphrasing Tool
Grammar Checker Tool
Reference Generator
You can use these tools for instant results. But if you have time, then you can also turn to our experts for Assignment help service. We have got you covered; so, contact us at the earliest.
FREE Tools
To Make Your Work Original
FREE Features
Topic Creation

Outline

Unlimited Revisions

Editing/Proofreading

Formatting

Bibliography
Get all these features for
USD 84.3FREE