Copying is Not an Option! 3 Ways Paraphrasing Can Help You Avoid Plagiarism
28 Oct 2021
865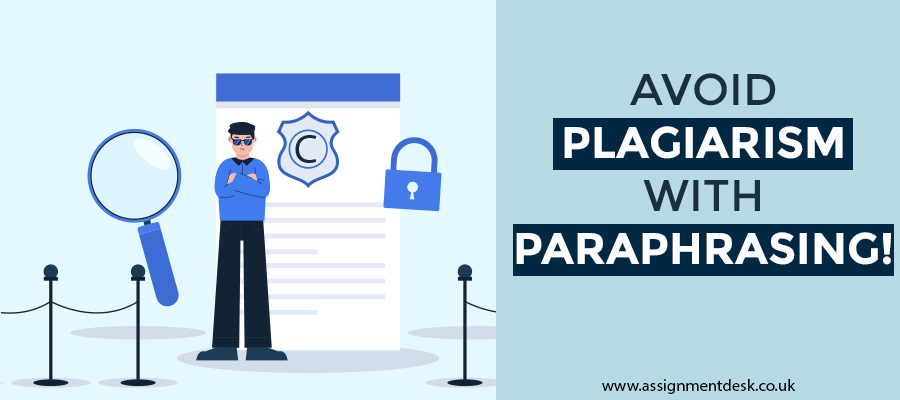 How Paraphrasing Saves You From Getting Trapped in Plagiarism?
Have you ever faced trouble because you used two-three lines from a source without knowing that it will account for plagiarism in your work? If yes, you are not alone as thousands of students suffer from this problem regularly. Plagiarism is toxic for students as a professor does not wait a minute before failing a student based on the copied content present in the document, irrespective of whether the student did it deliberately or it was accidental. Students in the UK have to be extra careful as the rules and regulations related to plagiarism are explicitly strict and can even cost the students their entire year.
Over the past decade, students have tried to find several ways to eradicate this problem, but nothing worked. Finally, paraphrasing has come to the rescue of thousands of children as it works in eliminating plagiarism from the documents of the students. In this blog, you will learn how exactly paraphrasing can help you beat plagiarism and make your content original and good to submit.
Before we move to how paraphrasing helps, you must first know what is considered plagiarism in academics and why you should take care of it. Check out the insights in the next section!
What is Plagiarism in Academics? Why You Should Worry?
A lot of students have a misconception that using the exact terminologies can cause plagiarism. Well, plagiarism is the act of copying someone's work, content, idea, or style of working. However, when it comes to academics, in particular, the definition gets slightly lenient. The only thing that professors want from their students is that they should not copy their assignments among each other. Professors expect a student to grasp the concept and answer the document based on them in original words.
An assignment is plagiarized when it consists of facts and answers from a source without proper referencing. If you copy someone's document directly without changing a word, you will be violating the plagiarism rule, which means you will have to face consequences. It is a thing to worry about as the repercussions of this activity are severe. Some of them include -
Failure from the submission, An F grade with no chance to re-submit.
Possible suspension from the classes. Yes, plagiarism is that offensive!
Destroyed reputation in the classroom as well as in front of professors
No benefit of the doubt from the next submission means strict checking!
All these consequences are common ones, some universities even make the matter legal if copyright infringement is is found in the assignment. It is a factor that a student must worry about, and therefore if you are a student, you must avoid plagiarism.
Paraphrasing can help you stay away from plagiarism without hampering the quality of your document. How? There are three ways, and you are about to find out about them in the next section!
How Paraphrasing Eliminates Plagiarism? 3 Ways!
A lot of students often stay in doubt that how paraphrasing can eliminate plagiarism when it is done directly from a source without references and credits to the source. Well, as correct as the students are about understanding the citations in paraphrasing, they do not realize paraphrasing is stating a concept in your own words. Technically that is exactly what you are supposed to do while writing the answers on your own. The only difference between the two processes is that in paraphrasing, you have the desired outcome in front of you, and while writing the answer, you do not know what works and what does not.
Paraphrasing helps you to avoid plagiarism in the 3 following ways -
Paraphrasing Changes the Structure of Your Answer Without Changing the Sense


Paraphrasing creates answers that are never before written, which means unique content!


Paraphrasing helps the student understand the answer in simple words, which means they can back up the answers they write.
These are the three ways that paraphrasing ensures that your document is plagiarism-free. With the help of this technique, you can minimize the margin of error and reduce the risk.
Paraphrasing is all about making the document unique without losing its essence and the meaning that it wants to deliver. If you paraphrase an answer yourself, there are chances that you might write some sentences and terminologies that may match a friend's answer as the level of understanding, and the area of working is almost the same for both of you. However, there are tools available that can spin the entire answer into something completely unexpected and unique.
You may also like to read: How to Paraphrase an Essay? 5 Best Practices by Experts!
Want a Guiding Hand in Paraphrasing? This Tool Can be of Help!
By now, all your doubts about the connections between plagiarism and paraphrasing might have got cleared. The only thing that you need to ensure is that you find the best way to paraphrase so that there you can make the most out of the opportunity. You have to be very careful about how you go about the task of proofreading.
Assignment Desk is dedicated to delivering the best assignment writing services to the students, and the reason behind creating this blog is also the same. Thousands of students reach out to us with their issues related to plagiarism. To help those, we have introduced a paraphrasing tool that changes the entire composition of your document without tampering with the meaning. If you want to get your answers checked for plagiarism, you can use the plagiarism checker tool available, and spin the lines that you find affected using.
You can find all the solutions under the same roof! Hope this blog helps you realize the effectiveness of paraphrasing in eradicating copied content from your document. Feel free to reach out to our experts for any other assistance! Good luck!
FREE Tools
To Make Your Work Original
FREE Features
Topic Creation

Outline

Unlimited Revisions

Editing/Proofreading

Formatting

Bibliography
Get all these features for
USD 84.3FREE