How to Paraphrase an Essay? 5 Best Practices by Experts!
22 Oct 2021
833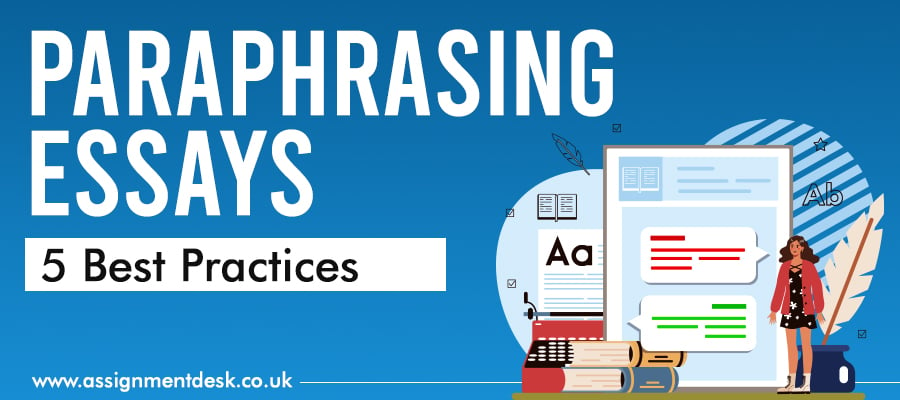 Table Of Contents
5 Do's to Paraphrase Your Essay & Finish it Faster!

Students in the UK often face trouble while finishing their essays. It is not limited to a finite number of students as students look for assistance with these tasks. Some go for professional help and hire an expert to write the essay for them, but not everyone has the luxury to use these services. Some are too short on time to place the order, and some cannot afford them. For such students, paraphrasing serves as the only way out. As you might already know, essay writing is not a piece of cake as it requires a lot of research effort and above all, time.
Students who have nowhere to go at the 11th hour start implementing paraphrasing, but sadly they fail that task too, as they do not know how to paraphrase an essay. They start working on the document by changing the synonyms in the existing content, which is of no use as paraphrasing is a lot more complex than it seems. It states that paraphrasing is the process of using content from sources by presenting it in your own words, without directly copying the idea or structure of the work. There are many paraphrasing tools available, but none of them is smart enough to finish the task on its own. You will play a crucial role in the task even if you are using a tool.
In this blog, you will learn five best practices that you must implement while paraphrasing your essay. These practices will certainly help you perform well and yield better results when you submit the document. If you often find yourself stuck in the same situation, this blog can be the torchbearer for you so, make sure you read it till the end.
First, let us take a quick look at why students paraphrase their essays in the next section!
Why do Students Paraphrase Essays?
As mentioned in the introduction, writing essays is not an easy task. One has to ensure that every piece falls into the place to make things work for their document. Writing an essay is like curating several perspectives and ideas into a single creation while maintaining a proper flow. There are so many aspects to writing an essay that one has to follow. While students feel they have to write thousands of words on a single topic, the core is about facts and information than length and wordiness. Students often have to go down the paraphrasing path because of the following reason -
1. Lack of Opinion
Not every student has an opinion about what they write in academics. While assignments pose a question to be answered in a limited number of words, an essay requires the student to give in every bit of knowledge they have about the subject. If students have it in their hand, they do it happily, and if something comes across that they do not have an opinion about, they have no other option left than to use pre-existing content with the help of paraphrasing.
2. Inability to Meet Word Count
Essays are lengthy. An essay usually goes 1000-3000 words which is a lot for a student who is used to writing 500-word answers. Students who know about the topic often stretch it to meet the count, but as they say, not everyone is the same. While some smoothly flow through the task, some find it difficult to fill words. Once they realize that they exhausted their knowledge bank, they have to research and paraphrase a few sources to meet the appropriate length of the essay.
3. Last Moment Hassle

Students who finish their work on time might not be familiar with the hassles a student faces while working at the last minute. One has a lot going on in the mind. How will I write it? Will I be able to finish it? These questions occupy a student completely, and they have no time left for finishing the research. Without thinking twice, students take the only road visible to them, paraphrasing!
These 3 are the most common problems students face, and no doubt, paraphrasing presents itself as a great savior. Students can easily skip steps like creating an outline, researching, and framing a theme as paraphrasing does it for them. All they have to do is read an existing piece and put it in their own words without bluntly copying the essay. But that is not as easy as it sounds. You have to be careful about how you write things and what approach you use. Check out the next section for best paraphrasing practices.
5 Best Paraphrasing Practices By Experts
Now that you know why students paraphrase, the question that arises is how effective this process is? The academic experts state that it is one of the best things that a student can master, provided they know what they are doing. Without further ado, let's take a look at 5 best practices that experts have shared -
Find a Reliable Source

- Paraphrasing can only yield results if done via a worthy source. If you paraphrase a document that has no value whatsoever, there is no point. You might have to research a bit but once you have found a reliable reference, your research is over.



Highlight Key Points

- Not everything from the source is worthy of paraphrasing. Do not blindly change sentences. Use only those that add value to your work. This way, you can maintain originality in your work. When you find the source, underline the lines that you want to include in your document. It will help you highlight your work.



Citations are a MUST

- A lot of students skip citations while working on their documents. Paraphrasing in no way allows you to include an idea without mentioning the source. You must cite the reference to ensure that when the document is run on the software, it shows no plagiarism.



Use Paraphrasing Tools

- While you try to change the sentences, you will not give them a completely new identity as it requires changing the structure and molding the idea according to you. Tools can perform these tasks easily, and hence you must include one in your process.



Understand the Core of Your Essay

- You must be familiar with the idea of what your essay is about. To re-write something in own words requires one to understand what they are writing in the first place. You must be familiar with the idea, the core of your essay. This also helps you create the structure in your paraphrased document.
These are the 5 best practices that you must use in your work. Paraphrasing is in no way easier to implement if you do not know how to do it. It is better to use proper steps to get the best results. These 5 practices can make you a pro at paraphrasing your essays, and the best part is they all are easy to implement!
You may also like to read: 3 Ways Paraphrasing Can Help You Avoid Plagiarism
5 Practices Seem too Much? Use this 1 That Does it All!
In case the above-mentioned practices feel like a lot to complete, you can keep them all aside and implement only one, using a smart paraphrasing tool by the Assignment Desk. Yes. We have a tool designed specifically for students who want to take things in their hands but d not know how to begin. Simply use the tool and get yourself the best results!
If you need more detailed assistance, seek our essay writing service. They can help you with an original essay written from the scratch! The choice is yours!
FREE Tools
To Make Your Work Original
FREE Features
Topic Creation

Outline

Unlimited Revisions

Editing/Proofreading

Formatting

Bibliography
Get all these features for
USD 84.3FREE