How to Start a Conclusion? | 4 Effective Ways to Make the Ending Best
12 Feb 2021
1284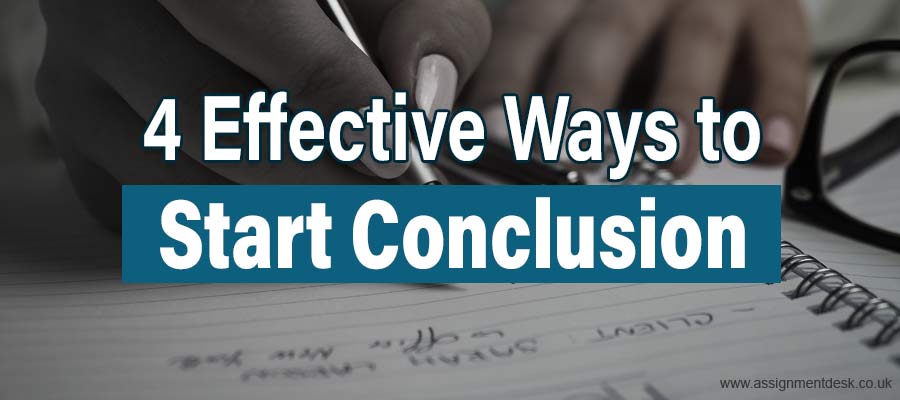 Table Of Contents
Lazing around on the campus, enjoying lunch with friends, playing games, and others are the activities that most of the students do in their school or college life along with studies. But when it comes to writing, they face difficulties. Although students want to write impressive papers, due to many reasons, they fail to do so. Many a time, they don't know how to start a conclusion and write it badly.
To write any paper impeccably, an impressive end plays a crucial role. But a lot of students overlook this fact.
When you don't consider the conclusion important, how can you write it impressively?
If you are not aware of its importance, then let's understand it in the below section.
Why Is Conclusion Written?
If you have read any book or piece of paper, then you must have noticed that their endings are very compelling and intriguing. When the important information has been mentioned in the book, then why present it again in the end?
This is important to make the reader understand what the summary or conclusion of everything you read is, so that he can get the gist of the piece of information and understand why it is written.
By reading a conclusion, you can understand what the main idea of the entire paper is. The conclusion is nothing but the squeezing of all the writing in few words. Many students don't know how to start a conclusion paragraph, because they are not aware of its importance.
So, now you must have known its importance and understood that a conclusion is vital for any paper. If you want to make your conclusion memorable, then you need to start with a bang. Assignment Desk presents you with some words through which you can start a conclusion or use them while writing sentences.
To know what are some good conclusion words , read further.
What Are Some Good Conclusion Words?
Finally
In brief
Briefly
In a word
In conclusion
In the final analysis
On the whole
Thus
To conclude
To summarize
To sum up
In summary
You can use these words to start the sentences of the conclusion. They can be used in between the conclusion also. So, the uses of the above words depend, and you can start sentences in many ways if you are aware of all of them. Some students use them when they are not aware of how to start a conclusion.
There are some other ways also to begin the conclusion of any essay, assignment, thesis, or for that matter dissertation. These are 4 effective ways and are widely used by many professional essay writers also.
You can use anyone at the very beginning of the conclusion to make it memorable and impressive.
4 Effective Ways to Start the Conclusion
Hot Question : If you start the conclusion with a burning issue or hot question, then the reader will feel more compelling and satisfying. Have a look at some examples below.
Can we never stop global warming?
How important equality and why we can not achieve it till now?
Famous Quote: You can start conclusion sentence with any of the famous quotes. But always remember they should be relevant enough and not look completely different from the theme and the concerned author's name is also mentioned. Read some of the famous quotes below.
"The greatest glory in living lies not in never falling, but in rising every time we fall"
"Life is what happens when you are busy making other plans"
Striking Statement: They are generally longer than quotes. If you are confused about how to start a conclusion, then this way of beginning it can be proved best for you. But always remember that you should use the statements of only famous personalities. Let's know examples of striking statements.
"My concern is not whether God is on our side; my greatest concern is to be on God's side, for God is always right"
"The woman who follows the crowd will usually go no further than the crowd. The woman who walks alone is likely to find herself in places no one has ever been before"
Impressive Phrase: This way of starting a conclusion can also make the reader feel satisfied after finishing the entire paper. The phrases are generally more famous than statements because they are used by many people commonly. Have a look at examples to know them better.
These are some conclusion starters. You can make your essay or any other academic papers' conclusion impressive by starting it with any one way. Even after knowing how to start a conclusion, many students fail to produce an excellent one.
Let's read the below section to know why students can't produce an amazing conclusion.
Why do Students fail to Produce an Excellent Conclusion?
Overlooking the importance of the conclusion stops them from writing an excellent one.
Several students not aware of how many words conclusion should have, and they miss adhering to the word count.
Lack of writing skills become an impediment in the way of students to restate the ideas at the end.
A proper guidance can make the students understand how to start a conclusion. If they don't have guidance, then they fail to produce an impressive conclusion.
Many students write the same sentences in the conclusion as those written in the paper. The conclusion is not about writing the same words rather restating the idea differently and impressively.
A lot of students make these mistakes and fail to write a good conclusion. If you want to distinguish yourself from them, then you can seek writing help from experts.
Where to Get the Best Essay Writing Help?
Assignment Desk has helped countless students with their essays, assignments, thesis, dissertations, and many other academic papers. It has renowned essay writing service who work day and night to make students' document impeccable. Many students have got excellent marks in their academic papers under our experts' assistance. If you avail our services, then you can enjoy exciting discounts, offers, and get the papers at lower prices.
Are you excited? Then let's know how to place an order on our website
Register by clicking on login, here you can register with the mail ID.
Select the service and click on order now.
Now fill in the details. You can mention the remarks here if there are any.
Now place the order and pay.
The conclusion is a vital part of any academic paper, so starting it with impressive ways can get you extra marks. You can take the help of the above-mentioned conclusion starters and 4 effective ways to begin it. If you face any problem, then we are here, contact Assignment Desk at any hour of the day.
Order Now
FREE Tools
To Make Your Work Original
FREE Features
Topic Creation

Outline

Unlimited Revisions

Editing/Proofreading

Formatting

Bibliography
Get all these features for
USD 84.3FREE