How to Write Homework Fast & Stay Motivated Until the End?
17 Oct 2020
965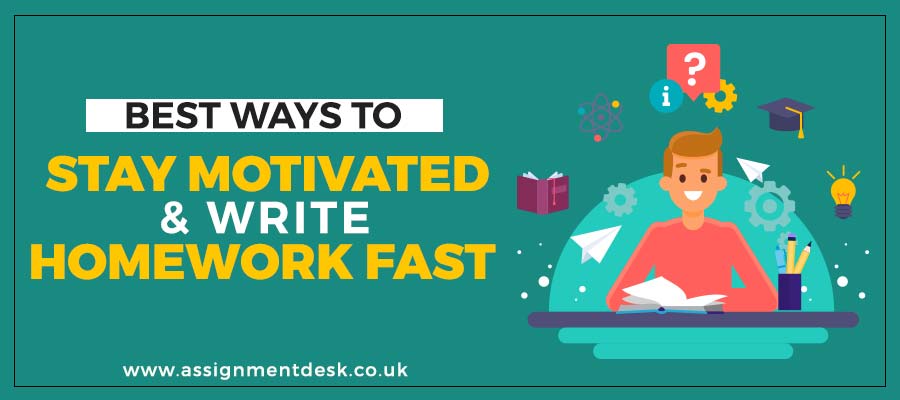 Students are not robots, but teachers tend to forget it by assigning them plenty of homework writing tasks. You will be amazed to know that even 5th-grade students have a minimum of five subjects, and they also have to complete their homework every night before going to bed. It creates immense pressure on the shoulders of the student, which also results in failing to manage their personal and academic life.
Apart from this issue, they also lack knowledge of how to write homework that ultimately results in getting bad grades. To cater to all of the issues of students, the professional writers of Assignment Desk have shared a few ways that will help in completing the homework without getting distracted. It will also help in extracting some of your precious time for your personal life.
Let's get started.
3 Ways to Finish Your Homework Writing Fast Without Getting Distracted
One of the major reasons behind students' homework writing help requests on our portal is because of their lack of concentration. It happens because they take homework writing task lightly and get distracted very easily. They need to understand that every academic task contributes a significant amount towards achieving a perfect scorecard. We know that students contact us to achieve their desired grades in their homework, which is only possible after learning the following three ways. These ways help complete the task fast without getting distracted.
1. Set a Timer
One of the best ways to discard the time you waste on other activities while writing your homework is by analyzing the whole day. You can do it by setting a timer. When you set the timer, it will help you know your growth and how much time is needed to complete it. In any case, you fail to complete the work within the period, the alarm will buzz, and you need to manage the work accordingly.
2. Have All the Required Resources
Other than setting a timer, you also need to ensure that you have access to every required resource that will help you complete your homework writing before the deadline. Most students consider that having the required resources helps them complete their homework in a snap of their fingers. It includes access to the internet for research, having books, notes, tools like pen, pencil, paper, etc.
3. Isolate Yourself from Electronic Devices
According to the stats, most of the students get distracted because of their electronic devices, especially smartphones. You need to understand that you can not afford distraction while writing your homework as it results in mistakes in your final draft. Sometimes, you even fail to complete the draft on time. Thus, it is always advisable to isolate yourself from electronic devices as soon as you possibly can.
These are the best yet the easiest ways that you must consider to excel in your homework writing. However, adopting these ways can also sometimes not assure satisfactory grades. It is because motivation is the only key that drives you to complete the task within the period. In case you don't know how to stay motivated until you finish your homework writing, consider the next section of this blog.
Also Read: Best Possible Excuses for Not Doing Homework! List of 8 #BEST
How to Stay Motivated Throughout the Homework Writing to Ensure an A+ Grade?
There is no rocket science behind staying motivated throughout the homework writing. According to the last year's survey report, almost seven in ten students feel less motivated to write their homework or complete the work within the given period. It happens because they don't know how to remain productive and efficient. You need to understand that the secret of getting ahead or completing the task is actually getting started.
Thus, here we are sharing you a few ways to help you stay motivated throughout the homework writing task.
1. Thinking of Consequences
When you have a mindset of completing your task within the given period, nothing on this planet Earth can stop you from achieving your target. In case you get distracted or feel less motivated, thinking of the consequences of not completing the task will be helpful. You need to know that when you get daunted or have no choice, you start finding ways to just complete it anyhow. It is because failing to complete the homework would ruin your chance of scoring an A+ grade and also impacts your overall academic performance.
2. Taking Short Breaks Is a Must
When you are writing your homework or completing it, it is mandatory to take short breaks. It is because working for hours and hours minimizes your productivity and leads to unwanted mistakes in the draft. On the other hand, taking 10-15 minutes of break every hour boosts your productivity and motivates you to generate new ideas, which ultimately improves homework writing quality.
3. Listen to Your Favourite Music
As an academic homework writing service provider, we highly recommend relaxing music for students who are writing their homework. Keep the volume as low as you can so that the music doesn't bother you or the people around you. Indeed, you are free to use speakers/headphones if you wish. Instrumental music works best as there are no lyrics to pay attention to. Symphonies from Bach and Beethoven are great choices.
4. Setting Goals & Establishing a Reward System
If you want to stay motivated while writing your homework, it is important to write your goals down to not forget about them. Split complex and lengthy part of the homework into smaller parts and prepare a strategy for every part. After completing each part, reward yourself with 5 minutes off, a pastry, or even a quick football match on a video game. You will quickly learn how to stay motivated to do tedious homework with rewards.
After reading the ways mentioned above, you must have gained knowledge of how to stay motivated and complete your homework writing. If you are wondering how to write homework when you are left with less time or not in a mood to complete it, seeking homework help from the professional writers of Assignment Desk is the best available option. In case you have any doubts about our services, consider going through the following section of this blog.
Can't Write or Finish Your Homework Within the Given Time? Here's the Solution
It's been over a decade that we have satisfied several students who are struggling to write or finish their homework within the given time period. It can be because of many reasons, such as lack of concentration, interest in the subject, knowledge, et cetera. In every situation, they search for an authentic homework help provider who provides them with an assurance of completing the task on time and charges a very nominal price.
If you are searching for the same, seeking help from us would be the best thing. It is because we charge the lowest price and provide high-quality documents that possess the ability to score an A+ grade. Along with this, we also provide students with a few features when they place their homework writing order on our website.
The following are the jaw-dropping features:
Best Quality Content
In-depth Research
Zero Plagiarism
Error-free Document
Unlimited Free Revisions
Free Plagiarism Report
24*7 Customer Support
Money Back Guarantee
These are a few benefits that you or any other student will enjoy in the form of features when availing our homework writing service. What else are you looking for? Place your order now and avail all the on-going pocket-friendly deals.
FREE Tools
To Make Your Work Original
FREE Features
Topic Creation

Outline

Unlimited Revisions

Editing/Proofreading

Formatting

Bibliography
Get all these features for
USD 84.3FREE