Looking for Tricks to Improve Your Academic Writing Skills? This Is the Place
09 May 2019
1913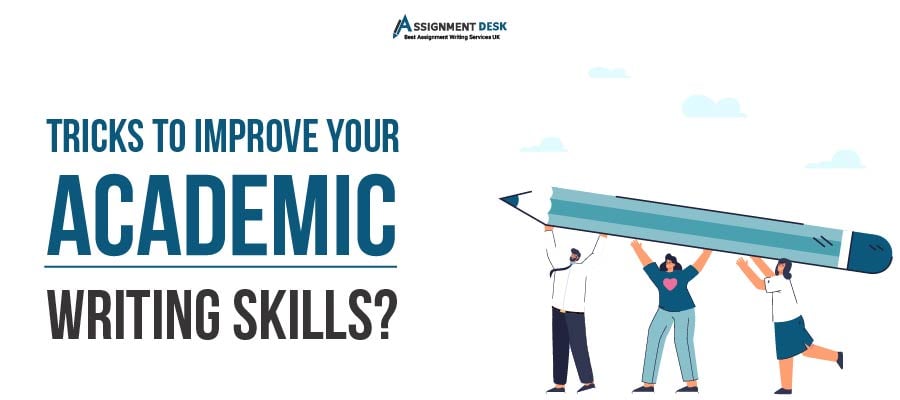 Hola Amigos!!!
Got a writing task, but can not find a better way to write?
All your assignments seem to be monotonous and similar?
The assignments are fetching you satisfactory grades, whereas you can do better?
Well, relax. Your friends, the assignment writing experts from the Assignment Desk have come up with some brilliant tricks that can add a personality to your document. They are always a click away, but if you need to work on your own, go ahead with reading this.
Definitely, you are doing good with your academic writing task, but there is no harm in getting better.
"Without change, there is no innovation, creativity, or incentive for improvement. Those who initiate change will have a better opportunity to manage the change that is inevitable."
William Pollard
To help you get better, the assignment writing help providers have listed here some very interesting tricks that add a pinch of innovation, creativity and incentive for improvement in your regular writing style.
Improve Your Academic Writing Skills by Adding Your Voice
Trick 1: Storytelling Is an Art
The assignment makers are definitely not advising you to write the story "Story" here. All they mean is write your assignments like you weave a story. No definitely don't go overboard with the story, but yes keep your content engaging. It is important that the assignment has strong connectivity. Your reader would love to read something that has a strong plot. It is important the reader can go through the complete document in one go without any voids in the information provided.
Alert: Don't go off track when building the story. Just some anecdote or some small incident related to the topic can help.
Trick 2: Emotional Angle Works
Trigger the emotions in your reader with some strong words. It is not that you need to make the reader breakdown to emotions, but the information must sound relatable. Also, it should intrigue your professor to read the complete assignment. This may seem a little tough, but a few question words at places can do the job really well.
Tip: In an attempt to make your document intriguing do not leave any loophole in the information. Your reader should be able to answer the who, when, what, where, why and how of the information always.
Trick 3: Little Drama to Hold
Work on your assignments in a subtle yet intriguing way. Yes, you have been writing assignments for long and that too in a very basic formal tone. So, just add a little essence of dramatic tone, with some rhetorical questions in your content related to your topic. For example, "How do you catch a cloud and pin it down?" and then continue the document relating your information around the question.
Advice: Frame a question that not only introduces the next concept that you want to talk about in your assignment, but also connects with the concept that you finished talking about.
Trick 4: Formatting Is the Key
It is not how you write your content that makes it interesting, but also how you present it that matters. Use italics font, bold the important terms, use interesting fonts, if not specified, let your work speak for itself. But be sure the fonts you use are readable and the font size is just perfect. Your professor doesn't want to struggle with his specs while reading and evaluating your work.
Warning: If you have any strict guideline to follow for your writing task, you can definitely skip this point.
Trick 5: Choose Your Words Wisely
An important life lesson that can make your assignment writing a little better. Many of you would choose to use some tough words from the thesaurus to mark an impression on your reader. But this is not the right practice. Use good vocabulary, not the terms that come directly from the dictionary. Your professor has a few assignments to read and he is definitely not struggling with the dictionary anyhow.
Important: Use the jargon from the subject, and they reflect the information in the most simple language possible.
Trick 6: What Interests You Interests Your Reader
It is important that the assignment that you are working on holds your interest. If you get a chance to choose the topic, choose something that you want to work on. If your professor gives you a topic, then revolve it around something that interests you. It is not easy to express your work in a way that interests your reader. The professor has been reading the same topics for really long, and they would expect something interesting from you.
Remember: If you are interested in talking about your topic the reader would be interested in reading it equally. You lose interest you lose your reader's interest and in case of academic writing even your marks.
Trick 7: Read Content That Makes You Happy
The key to excellent writing is continuous reading. This is to all bibliophiles out there. Read interesting stuff, and use the terms, tone and the plot building styles for your assignment writing. The logical reason behind the point is, what makes you happy stays in your head. And you can easily reflect it on your documents. So read and write as in the best possible mood you can.
Ensure: Choose to write only with a calm mind. This would not only help you keep the document sorted but also to let you maintain a happy tone in the work.
Trick 8: Fact Check to Add Flavors
The tone is perfect, you have added some drama and a few interesting colors to the document, but in the end, it is a formal document. Write about some interesting facts and stats related to your topic that would not only make it an interesting read but also informative. The way you work on the documents is important and what goes in it adds to your grade card.

Assure: The facts that go in the document are to be checked and verified. Also, do not forget to cite the sources in the given referencing style.
Trick 9: Writing and Talking Are Indistinct
Write as you talk. Sounds easy, isn't it? But it is not. Your document cannot reflect a one-way communication with the reader. It should ask questions, surprise the reader, and keep them engaged. The document that you have prepared must reflect a two-way communication. This would not only improve your academic writing skills, but also add a tone to the document to keep your reader occupied.
Secret: Read the complete document once you are done the writing. It would help you identify if the tone goes very offbeat in any part and also to mark mistakes. Thus, get a flawless document and also see if the tone works for you.
Trick 10: Climax Is Awaited
When writing your finding or concluding your document, make sure that you do not lose the track. Just build your readers' interest and then clearly tell them the climax. Don't overdo the explanations or writing work. Many students to meet the deadline repeat unnecessary information in the document. Avoid this practice for better grades.
Bonus: Writing an interesting document is not just the tone but the way the findings and information are reflected. Always be sure that your work has a voice but serves the purpose too.
Whoa...!!!
"You get better at working by working. And if you don't work, you're not getting better."
Terry Crews
Keep writing and keep getting better. So, next time when you choose to work on your academic writing task on your own do follow these tricks. If you are not sure how to begin working on the task, you can read here the basic checklist of writing an assignment.
Giving these write-ups a quick read is definitely going to make your assignment writing task much easier and get you the best grades. But if you still find it difficult to accomplish the task, just relax we are right here just a click away.
FREE Tools
To Make Your Work Original
FREE Features
Topic Creation

Outline

Unlimited Revisions

Editing/Proofreading

Formatting

Bibliography
Get all these features for
USD 84.3FREE